As pretend play food products become more unique than ever before, picky eaters may be a thing of the past - at least during play time. These toys come in a range of materials and colors, and some even offer an educational aspect, such as teaching colors, numbers, classifying and fine motor skills.
In addition, the trend in pretend play appears to be on the rise. "Parents, day care centers and preschools want to spend money on more natural play products, rather than structured play," says Kati Elliott of KEH Communications, publicist for Educational Insights (ToyDirectory), "which is why we see pretend play products as a growth area for us." In fact, Educational Insights will release a line of pretend appliances in May.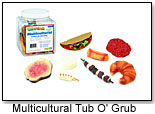 Currently, the company features a variety of food products in its Tub O' Grub line ($19.99 to $49.95; ages 3 and up). Available in Breakfast, Lunch, Dinner, a combo of the three or the Multicultural Tub O' Grub, the colorful plastic food helps kids learn about nutrition through imaginative play. Breakfast contains 12 pieces of food, Lunch contains 20 pieces and Dinner contains 10 pieces. The Combo Tub O' Grub has all 42 pieces of the Breakfast, Lunch and Dinner sets. A small sampling of the food choices includes pancakes and eggs for breakfast, pizza and sandwiches for lunch, and steak and apple pie for dinner. The Multicultural Tub O' Grub contains eight pieces of food which include a taco, refried beans, shish-kabob, sushi, egg roll, roast beef, rice and croissant. All sets are packaged in a sturdy transparent canister for easy storage.


In addition to their tubs of grub, Educational Insights offers children the Let´s Pretend Food Box Set ($5.99; ages 3 years and up). The set includes 12 illustrated boxes in four different shapes and sizes, but still the right size for small hands. The set includes cold cereal, frozen waffles, macaroni & cheese, pizza, frozen dinner, cake mix, granola bars, popcorn, animal-shaped cookies, snack crackers, milk and orange juice.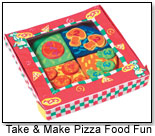 Manhattan Toy (ToyDirectory) offers the Take & Make Cake Food Fun ($19.99; 2.5 years and up) and the Take & Make Pizza Food Fun ($19.99; 2.5 years and up). Both are made of soft, colorful fabric with "ingredients" that a child can attach with Velcro to either a cake stand or pizza box with clear plastic top. The cake comes with flowers, candles, frosting and plates, while each of the four pizza slices has individual crusts, sauce (in fabric pieces) and toppings (tomato, mushrooms, broccoli and pepperoni), which allow the child to count, sort and plan. The bottom of the box has a sliding "oven element" in which a child can pretend to cook.
The Baking Set by Kidkraft ($39.95; ages 3 years and up) is a sturdy wooden mixer set made of real hardwood. Attractive in its design and a fun classic toy, the Baking Set includes four wooden cookies, a mixer that lifts and lowers, bowl, rolling pin, spatula, spoon, fork, and a cookie sheet. Its smooth surfaces are finished with nontoxic paint.

Pretend & Play Lunch Foods by Learning Resources ($17.95; ages 3-7) allows kids to plan lunch from this 13-piece set of foods. It includes a hamburger, sandwich, potato chips, watermelon slice, lettuce, tomato, ice cream cone and milk. Foods are made of soft, unbreakable, non-toxic plastic.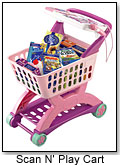 Intelli-Tikes ($13-$15; ages 2 years and up) by Little Tikes (ToyShow) uses technology to spice up the kitchen. Chips in these pretend foods are read by sensors in a Little Tikes RFID kitchen that responds with over 50 food and cooking phrases. It works with the 440Y MagiCook™ Kitchen, sold separately. Kids can choose from the Intelli-Tikes product line that includes the Breakfast Pack, Birthday Pack, Pizza Pack and Pasta Pack.

The Barbie "Scan ´N Play" Shopping Cart by Kid Designs (ToyShow) ($69.99; ages 3 years and up) includes 30 pieces of interactive play food packages that can be scanned and recognized. Its exciting technology features the interactive touch-pen, a screen built into the cart and cool speech and sound effects.