Click here to check out new toys for 2006.


Top-bidding at this year's Toy Fair, held annually in New York City, was given to high-tech toys, highlighting the blurring line between toys and electronics.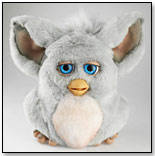 An updated Furby, the brainchild of Richard C. Levy and a product of Hasbro, Inc.'s Tiger Electronics division, utilizes emotronics to boast features like sophisticated voice recognition, breathing simulation and heightened interaction, including frowns, smiles and laughter.
Hasbro has also introduced the I-Dog Interactive Music Companion, a palm-sized, pup-shaped toy which listens and grooves to tunes by wiggling its ears and nose.
Rival Mattel has released its own handheld gadget, Pixel Chix, a dollhouse-shaped device that allows a child to interact with an animated friend.

These electronic toys are a sign of the times, claim industry analysts, as children grow up faster and have more sophisticated demands for their toys and more outlets of entertainment, from video games and DVDs to electronic gadgets and the Internet (To view TDmonthly's most recent report on this phenomenon from May 2004, click here.)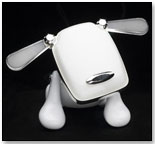 The Times They Are A-Changin'
The distinction between a toy and an electronic gadget is no longer clear. On top of that, traditional favorites like board games and coloring books are being made-over to fit into the electronic world – an indication of the lowering cost of technology (To view TDmonthly's July 2003 coverage of Cheaper Technology, click here).
Crayola has a tech-version of an old paper favorite, My First Electronic Coloring Book, while Hasbro has an electronic version of its popular Candyland game.
Old favorites like Etch A Sketch, Pound Puppies and Mr. Potato Head have been re-wired and re-worked to reflect the zeitgeist (To view TDmonthly's September 2003 coverage of Toy Nostalgia, click here).
Ohio Art is releasing a new battery-powered Etch A Sketch, which can be plugged into and viewed on a television set.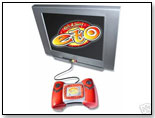 Mattel's Pound Puppies, introduced over 20 years ago, are now embedded with motion sensors, enabling the dolls to move their heads and bark when approached.

Toy giant Hasbro has given Mr. Potato Head a slightly sinister look, adorning him in a Darth Vader helmet and cape with the hope of selling big with the release of George Lucas' sixth Star Wars film.

Nonetheless, a great deal of low-tech toys – both electronic and plastic free – created and marketed by husband and wife duos and aspiring inventors were exhibited at the Javits Center, giving hope to the next generation of toy inventors that a simple toy can still be a good one.

Seeking Life Outside of Toys

Major toy manufacturers like MGA Entertainment of BRATZ fame and Spin Master are setting their sights on products outside of traditional toys.

MGA, cashing in on the popularity of its hit BRATZ doll – of which there are five new lines this spring, including BRATZ Babyz and BRATZ Sportz dolls – will release a lip-stick shaped MP3 player, Bratz-adorned video camera and a television/DVD combo set this year.

The company is also extending its reach into home décor, with Bratz pillows, folding chairs and desk clocks due out soon.

"Our philosophy is that we don't think of ourselves as just a toy company but as a consumer entertainment products company," company CEO Isaac Larian noted. "It even says that on our business cards and that's the direction that we're heading in."


Spin Master will introduce a

Marshmallows

line of licensed bed canopies, sleep sacks, room tents, and mini sofas and chairs.

Mattel will issue the first-ever spring direct-to-video Barbie property,

Fairytopia

, in which the beloved Barbie plays Elina, a beautiful flower fairy who longs to have wings.

The DVD is set for release on March 8, 2005. The company expands further into multimedia with the release of

Superman Stereo

surround speakers.



Industry Prospects



While the show exhibited the newest products of 2005, one topic not widely discussed was the prospect of the stores which will sell these products.

Toy sellers FAO Schwarz and Zany Brainy have all but disappeared after parent company FAO Inc. filed for bankruptcy just over a year ago.

The investment bank D.E. Shaw purchased the two remaining FAO Schwarz stores – one in New York City and one in Las Vegas – for $41 million in January of last year.

Retail giants Wal-Mart and Target have been the top toy sellers in the country, taking considerable business away from Toys 'R Us and KB Toys.

Declining innovation is an additional industry problem. There is a history of top-selling products being imitated and produced at low-cost in China for Wal-Mart, a fact that provides disincentive to innovators.

Still, as long as the creative spirit is alive, newer and better toys will continue to be produced. And the Toy Fair was proof of that. New technologies, new faces and creative energies were all on display – everything from old classics to new designer toys.

As the industry grows into its 21st-century identity, toys of the most grandiose kind will continue to secure a prominent place in the hearts and minds of children worldwide.