---
An Annual Pilgrimage
"Do you know any toy stores?" asked my cousin.

This question confused me at first. Sure, we live an hour from just about everywhere, but we do have plenty of department stores nearby that stock toys.

"You know, not the same old toys," she explained.

Oh, now I understood.

It's easy to find the toys that have advertising campaigns bombarding our senses during every major holiday, but what she wanted was something special for her son.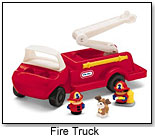 While many people these days consider the Internet to be a treasure trove for lovers of unusual toys, it's only useful if you have some idea of what you want. If you want a kit to build a mini-Egyptian pyramid or a board game for a little boy who loves fire trucks, the Internet can help you find it. But until they invent a search engine where you can type in "5-year-old Bette Davis clone, loves shoes and talking 24/7" and be led to the ideal plaything, the Internet is still too vast a place for browsing.

I racked my brain and finally remembered that when my daughters were younger, I made an annual pilgrimage to a tiny store in a city 45 minutes away. I never knew what I was looking for but I always managed to find the perfect gift. It was there that an employee amused me with a

Morphing Morty

hand puppet. I had never considered buying puppets, but they turned out to be the perfect companion for a little girl who loved to talk.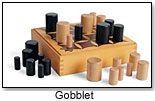 A few years later I found a book that transformed into a Victorian dollhouse, complete with paper dolls. They introduced me to many things I had never heard of, from

Tubers & Zots

to

Klutz

books to board games like

Gobblets

.

I promised to e-mail her directions to my favorite toy store - the only one I know that isn't part of a national chain. But maybe she can just hitch a ride with me. I think it's time for me to make another pilgrimage - I've been searching all my local superstores for a set of play pots and pans for my nephew. I've found plenty of tea sets in princess pink and purple, but nothing to suit a mini-Emeril. I bet they have the perfect set for my favorite little chef.



Writer's Bio:
The mother of three children ages 13, 10 and 2, Jodi Webb started out as a toy seller. She´s happy to find a job where her accountant will let her write off her toy purchases!
Read more articles by this author
THIS BANNER IS AN AD:
---
---