The

BRATZ

spring 2005 line is sure to be a must-hit among girls ages 6 and up. Five hot lines have already hit the market.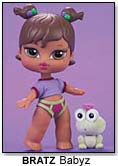 Before They Were BRATZ, They Were BRATZ Babyz




BRATZ Babyz

are the miniaturized, toddler version of BRATZ dolls. The dolls come with an animal accessory and fashion pack for a Babyz night out. Attached to the packaging is a full-color memory book highlighting the Babyz line.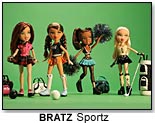 Each BRATZ Grooves to a Different Sport
BRATZ dolls are bringing style and attitude to the world of sports this spring with

BRATZ Sportz

, when the girls we've come to love bring their own mojo to athletic pursuits. The girls come in four styles –

Slammin' Soccer

,

Rockin' Cheerleadin'

,

Groovin' Golf

, and

Bangin' Bowlin'

. Don't let the girls' fashion sense disguise their competitive groove.

Causin' a Commotion in the City, Sand, or Ocean!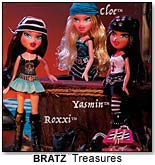 Pirate booty and treasure chest take on new meaning this season with

BRATZ Treasures

. The hip dolls, clad in jewels, high leather boots and head scarves, under which sits their silky long hair, come with Rouge-Vogue accessories like sunglasses and earrings. They can even go mobile with the

Scorchin' Sea Scooter

.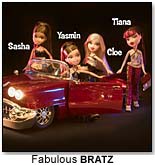 Party All Night Under the Lights!
Paint the town red with

Fabulous BRATZ

. Sasha, Yasmin, Cloe and Tiana are ready for a night out with their

F.M. Cruiser

. The dolls come with a collectible poster, key chain and stylish hand bag. An assortment of accessories and a pair of high boots come with the dolls.

BRATZ Hear London Calling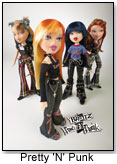 Check out

BRATZ Pretty 'N' Punk

at stores near you. Donning brightly dyed hair and plenty of black, metal and Union Jack patches, these rebellious girls take London by storm. They even have a travel suitcase that will hold their mix 'n' match fashions.



(Below is an article that was published last month in TDmonthly Magazine.)



Click here to see the TDmonthly Magazine August 2003 article, "Doll Wars." 


UPDATE: Doll Wars: Mattel's Flavas Take on BRATZ in a Battle for Tween Girls' Dollars

The pop-culture savvy, ultra-stylish BRATZ dolls were first produced by MGA Entertainment in 2001. MGA introduced its line of eight dolls and has followed suit with a host of accessories. The BRATZ Tokyo a Go-Go Twiins and Holiday Bratz New Year's Cele-Bratz-Tion! Yasmin Collector's Edition were a big hit in 2004, as was the Bratz Funk 'n Glow: Cloe doll.


Though MGA will officially announce its newest lines of BRATZ dolls on Feb. 17 at the American International Toy Fair in New York City, big hits for the early days of 2005 include BRATZ Sportz, Fabulous BRATZ, BRATZ Treasures (which includes a Watercraft accessory item), and BRATZ Babyz – the toddler version of the doll – with a large playset to be incorporated into that line this month.

A new street-stylish Pretty 'N' Punk line was introduced in January; accessories to the doll include a Phone Booth, Sushi Lounge and Party Spot. This summer Universal Music Enterprises, teaming up with MGA, will release the first BRATZ CD, a project that will feature "some of the top producers and songwriters in the music industry," according to a company press release. A major motion picture is also in the works.


BRATZ extended into publishing in July 2003, when Grosset & Dunlap publishers unveiled the first six titles in its BRATZ publishing series. The early titles included BRATZ: Stylin' Salon ´N´ Spa and BRATZ! Slumber Party. Nearly 30 titles have been published since then, including Lil Bratz Makin It Up!, BRATZ All-Night Mall Party and BRATZ Will Work For Fashion. In 2005, Grosset will release another set of titles, including Xtreme Outdoors in January and Superstar Sensation in April, both of which focus on the new BRATZ Boyz.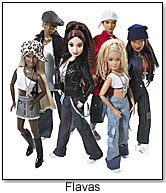 The dolls have achieved phenomenal popularity in their short time on earth. A February 2004 survey by Funosophy Inc., the self-described "brand-building consulting firm," showed that girls preferred BRATZ over Mattel's Swan Lake Barbie, My Scene Barbie, and Flavas Dolls.

Why all the success? According to Dave Malacrida, senior director of public relations for MGA Entertainment, BRATZ dolls "are the best looking fashion doll on the market – the most original. They are their own characters."

BRATZ's popularity drowned Mattel's Flavas dolls in its first year; the doll was quickly discontinued, though Mattel is making a strong comeback with its American Doll line. As of January 2005, 10 million American Girl Dolls had been sold (the dolls start at $84), with sales of the dolls up 9 percent as of October 2004.