With a background in retailing, Louis Klaitman, owner of Lookinglass (ToyDirectory), began recycling clothing for wholesale in 1972. Today, he sells under the Cabaret brand name to international clients. He supplies Halloween retailers and party planners of special events and Mardi Gras. He targets the "celebration" crowd instead of capitalizing exclusively on the Halloween craze.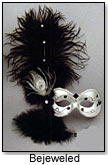 A successful costume is unique and recognizable. Emphasizing quality over mass production, he sells make-up, fairy wings, wigs, and novelty items appropriate for all ages. Though his gag outfits are popular, he specializes in Mardi Gras masks, his best-selling merchandise. The mask tradition began in Italy, and an Italian manufacturer remains his primary source. He sells via his Web site and catalog, while offering a consulting service to entrepreneurs opening businesses in the costume industry.
In an exclusive interview with TDmonthly Magazine, Klaitman discusses the art of designing and selling masks.
TDmonthly: What makes a good mask?

Louis Klaitman: A good mask is one that is comfortable to wear in that it is not obstructive to vision or the ability to talk or eat. Therefore, masks with larger eyeholes are better for night vision and ones that do not cover your mouth…also…masks that are not too heavy or unbalanced or require special attachments to hold them in place and are not too complicated to put on or take off.
TDM: Are specific styles superior?
Klaitman: The most popular styles are those called domino, which is a traditional mask that mainly covers the area around the eyes and a bit of the nose. They are simple and easily worn by men or women. This basic shape is used in many cases as the basis for making more elaborate masks.
TDM: Does your catalog include personal designs?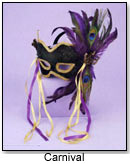 Klaitman: I did request that the manufacturer alter a domino mask by making the eyeholes bigger, which I call Mardi Gras eyes, since much of the Mardis Gras activities take place at night. These masks allow the wearer to have greater peripheral vision. Other than this I make regular suggestions to the manufacturer as to style and design.
TDM: What special knowledge do you apply to wholesaling masks?
Klaitman: I think that Halloween and Mardis Gras are very special in that they give people an opportunity to express their innermost fantasies and bring out a lot of their creativeness.
TDM: How do you devise design ideas for special order masks?
Klaitman: Ideas for special masks are created with the customer´s needs and use in mind, and then I work with their ideas to incorporate color, style, and current trends from past and present experience with knowledge to create what they are looking for.
TDM: Do economic fluctuations have a negative impact on sales?
Klaitman: When the economy is down people are more likely to want to feel better and look to have fun and party to divert their minds from poor economic situations.
TDM: How do sellers advertise a costume to attract buyers?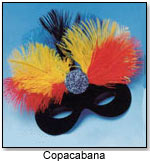 Klaitman: Although many people like to be unique in their costumes, the customers that do not have the time to create something will usually buy what is most popular, trendily advertised, and in the public eye.
TDM: What advice can you give newcomers?
Klaitman: Focus on what you are looking to do. Do a lot of research, so you know as much as you can about every aspect of the business, the good and the bad, ups and downs, and put it on paper so you can easily review what you found out. Then sit down and ask yourself if this is what you really want to do.