As iPods, VAIOs, Blackberries and Treos become mainstays of modern adult life, children and teenagers have often lamented the lack of trendy electronic products targeted towards their age group. Finally, the toy industry has heard their cries.


A few companies have caught on and announced new, cheaper, attractive electronic toys that take into account the rising presence of technology in modern life. Children will enjoy the products that seem especially tailored for their needs and desires; parents will rejoice at the solid designs that encourage creativity and learning comprehension.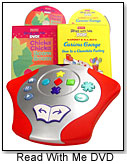 LeapFrog, for starters, will sell the FLY Pentop Computer this fall—a revolutionary computer shaped like a pen that comes with a patented FLY platform. Users, grasping the computer as one would a pen, are able to write, draw, and create on special FLY paper. The computer offers audio feedback — for example, a written word could prompt a translation into another language, or assist with math homework through interactive applications. This innovative invention has great potential for the elusive tween age group.
According to Leapfrog´s Media Fact Sheet page, "The platform strongly positions LeapFrog to establish and grow a completely new business segment with broad potential for core FLY products and a tremendous range of applications. It will strategically extend LeapFrog´s successful learning product line into new markets, new technologies, and to broader audiences." It goes on to say that it´s what "tweens want and need to manage their hectic lives."
Embracing technology to improve children's reading comprehension, Fisher-Price and Scholastic have collaborated on an interactive DVD learning system that was unveiled at this year´s American International Toy Fair. Aimed at children ages 3-7, Read With Me! DVDs include a child-friendly wireless remote control and interactive DVDs of classic storybooks from the Scholastic library. Titles include "Chicka Chicka Boom Boom!" and "Curious George Goes to the Chocolate Factory." Each DVD features an array of interactive options which the user controls with the remote; from having the story simply read and animated, to learning the meaning of certain vocabulary words, to playing in-depth games based on the story.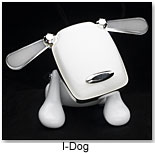 Kevin Curran, general manager for Fisher-Price, claims, "With the new Read With Me DVD system, we are using DVD technology to make reading the classics a more engaging, multi-media experience for kids."

Devised purely for entertainment purposes, Hasbro´s new offering, the i-Dog, has been billed as an "Interactive Music Companion" and is a descendant of the popular Sony AIBO. Compatible with any number of portable music devices, such as the iPod or the Discman, the i-Dog lights up and dances along to music when held next to a speaker or plugged into the headphone jack of a music player. The i-Dog also changes personality and mood depending on the genre of music it is exposed to, and will also respond to reinforcement, whether negative or positive. Positive attention is indicated by a pat on the head; and a tap on the tail indicates naughtiness.

These new toys are the products of an electronic age; they are full-featured, well-designed innovations that even adults can enjoy. Parents will appreciate the flexibility and creativity inherent in the design of these electronics, and the growth potential of these toys.