When The Bear Mill (ToyShow), an Idaho-based company, opened its doors for business in 2000, it was initially involved in the design and manufacture of pillow stuffing machines. Yet things changed in a dramatic fashion in 2001, according to the company's co-founder Janis Fenton.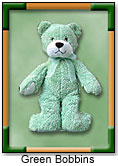 She and her partners were approached by a Canadian company to design and manufacture a teddy bear stuffing machine. Rather than use standard box-style machines, The Bear Mill became the first company to introduce themed machines to the market. It pioneered the portable machine.

In addition to its state of the art teddy bear stuffing machines, The Bear Mill also offers a line of stuffed animals headed by the lovable, huggable Bobbins, the company's showcase bear. While a number of wonderful plush animals are available at The Bear Mill, some of Bobbins' most popular playmates include: Spools the raccoon, Mills the moose and Allister the lion. Colorful, creative and safety-conscious clothing items and accessories complement these plush animals.

A native of Manchester, England, Fenton sees big things on the horizon for The Bear Mill, as she relates in her own words below.

A Winning Formula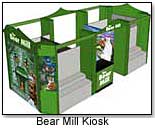 Our company will be five years old in June. We learn by listening to our customers and are always striving for new designs. It was at the request of our customers that we entered the plush and clothing line market. I think this has been the most exciting time of all and it has added a whole new dimension to our company. It is the breadth of our top-quality products that has everyone abuzz. Our quality and variety stands out. Our customers are the key to our success. It is their knowledge and experience we draw from when introducing new products.

My husband (David Fenton) and I are also very excited about our prospects in the franchise market. The Bear Mill Store is a very unique turnkey franchise offering for retail. Utilizing The Bear Mill brand, we now offer professionally finished teddy bear stuffing franchises throughout the United States and internationally. We're taking the idea of "Stuff Your Own Bear" to new levels.

Custom Made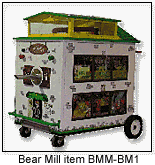 These franchise offerings, professionally developed and refined in both a store and mall kiosk model, allow children to select their own bear or other animal and then stuff it the way they like it. I must say that the children love the bear stuffing machine. They no longer follow the attendant around but actually put their own fiber in the machine, press a button and launch the fiber into the main hopper. The end result is a personalized stuffed animal the kids are sure to love.

The Bear Mill brand is becoming nationally and internationally recognized as a top-notch and fun-filled offering for customers and business interests alike. What we have done here, that we believe sets us apart, is that we can provide and support a polished and professional end-to-end system, in a very powerful and cost effective manner. We have the total package that our customers and business associates are looking for.