According to the experts, the boys of the Thames family of Penn Wynne, Pa., are typical Halloween consumers. Twelve-year-old Alex and his 9-year-old brother, Daniel, don't start thinking about costumes until the day before All Hallow's Eve. Last year, the two bought grotesque monster hands and wigs to freshen up costumes they already owned.
This year, the typical consumer will spend about $45 on Halloween treats, costumes and decorations, says Ellen Tolley, spokesperson for the National Retail Federation. But choosing which items consumers will buy is a challenge for retailers, she explains, because orders must be placed months in advance.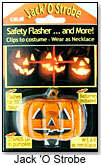 "Retailers try to identify trends and look at what has sold well in the past," Tolley says. "Each year they keep an eye on which items sell best. Even within a category, like party goods, retailers follow specific things – like maybe candles sold but people didn't buy Halloween napkins," she said.
Two newer categories that have proved their popularity are outdoor lawn decorations that feature lights and/or fiber optics, and motion sensitive props that come to life and scream, cackle or moan when someone walks by. New products in these categories are expected to sell well this year.
"Fiber optic pumpkins and witches were big last year and we anticipate they'll continue this year," says Joseph Purifico, CEO of more than 75 Halloween Adventure stores. Purifico expects to see new designs and even more lit inflatables this month at TransWorld's National Halloween, Costume & Party Show in Chicago.
"The whole outdoor decorating venue has just exploded," he adds. "Every year manufacturers create new figures - more things that talk, fly, scream, light-up, or glow-in-the dark. Another hot category is specialty music CDs. More and more people in the music industry are putting out recordings just for Halloween that feature haunted house music and creepy songs."
An item that arrived in many stores too late last year to make an impact but was nonetheless popular was walkway lights. Designed to line both sides of a path or driveway, the lights feature mini-orange pumpkins, tiny ghosts and green, glowing spiders. With adequate time for the manufacturer to meet production demands, Purifico expects the walkway lights to be a big hit this year.
Rubie's Costume Co. Inc. is a worldwide manufacturer and distributor of children's costumes, masks, boxed costume sets, wigs, make-up, prosthetics, theatrical costumes and more. Rubie's has employees dedicated to discovering the next big hit. "We've been in the business for more than 53 years, so we know what's going to be big and what's not," sales assistant Kathleen Villegas says. "We rely on our contacts in the media and the toy business. We start planning for Halloween 2005 in August 2004."
At Rubie's, Halloween 2005 is all about the two blockbuster movies set for release – the final Star Wars epic, "Revenge of the Sith," and "Batman Begins."
"We're doing everything new – new costumes, new accessories, new colors – for both movies," Villegas explains. "All the traditional Batman props have been reworked. New items include a flashlight that projects the Batman logo, redesigned Batman grappling hooks, and rings that are gilded instead of black."


In "Batman Begins," Batman starts out as a ninja. Thus, all things ninja – bo-sticks, hoods, sashes and weapons – will be popular, she predicts. She noted that overall Halloween is bigger – more anticipation, more parties, more spending – when it falls on a weekend.
This year Halloween falls on, of all days, a Monday.