In the 1970s, radio controlled vehicles became the rage, with covers of racing magazines featuring images of lovely girls next to petite racecars. Today, those racecars have shrunk to fit into your hand or pocket.
Sleek Race Cars
Dave Malacrida, senior director of public relations for MGA Entertainment, says recent research shows that the Extreme Race Pack ($54.99) is one of the best-selling mini RC assortments of 2003. A backpack carrying an accessory case comes with a track that can be easily put together for slot-less car racing. A car and controller are included. MGA Entertainment also has SUVs and Cars ($12.99) available in two frequencies for dual racing.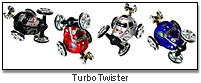 A popular stunt devil from Ecoman (ToyDirectory), the Acrobat RC Mini Car ($19.99) flips, twists and rolls its way into the lead. With two frequencies and four bold colors available, this mini RC racecar can perform super wheelies at amazing speeds with a hand-held wireless remote control.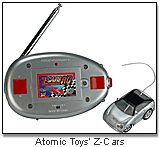 Advertised as "The World's Smallest RC Cars," Atomic Toys' Z-Cars ($19.95) micro racers are smaller than most mini RC racers. With up to five minutes of running time, engine revving sounds and upgrades available for all-terrain specialized tires, the tiny powerhouses will likely finish first.
Sturdy Land and Sea Rovers
The new line of StuntMonsters™ from NKOK includes the Die-Cast RC Dodge Raminator Monster Truck ($29.95) and the Die-Cast RC Dodge Rammunition Monster Truck ($29.95). Both RC vehicles are full-function and built to last.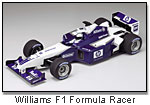 New from Nikko (ToyDirectory), the Micro RC Jeep Rubicon, Micro RC Military Humvee, and Micro RC Boat ($19.99 each). Each comes with a transmitter holding station and moves in all directions. Charging time of two to three minutes provides a full running time of up to seven minutes.
NKOK's 64X ChargerZ™ line of boats operate at a range of 50 feet and come with a "Quick Charger" that charges in approximately 45 seconds and runs up to 15 minutes. The Micro Harbor Tug Boat ($29.95), Micro USCG 47' Motor Life Boat ($29.95), brilliant red or yellow Plastic RC Micro Offshore Racing Boat ($24.95) or white Plastic RC Micro Sea Explorer Boat ($24.95) can brave the sea (or pool).

Megatech's Ocean Explorer-1 Submarine (ToyDirectory, ToyShow) ($100) can explore depths up to six feet. This submarine dives, ascends and "turns on a dime." It comes with twin motors, flashing running lights, and an all-in-one carry case.

MGA Entertainment also offers Submarines ($22.99), and Wolf Shark's Daring-S Green Dazzle ($15.50) is quite possibly the least expensive micro submarine available. This deep-sea vessel dives to 60 centimeters and includes a two-motor system with automatic surfacing.