Not all the great new toys out there have flashy lights, electronic sounds, or synthetic materials. Some toy manufacturers understand the virtue of durable, high-quality, classic toys. A few of these toy manufacturers are still coming out with new products that, to a parent's delight, don't require batteries. Wooden toys are a great addition to any child's toy chest, and their quality and sturdiness will last into the next generation.
Toots n' Scoots
From the family-owned, Vermont-based toy manufacturer, Maple Landmark Woodcraft (ToyDirectory), comes several new products under the NameTrains and Montgomery Schoolhouse product lines.

In the NameTrains line, the new TimberToots ($2.95 each; Ages 3 years and up) are train cars that feature all 26 letters from the alphabet to spell out a child's name, along with an engine and caboose. Each car is made from solid New England rock maple and connects with magnets. Each letter comes in a choice of three colors, red, blue and green, colored in run-resistant ink and sealed in a non-toxic finish. With four independently rotating wheels, TimberToots are specially designed to choo-choo on the Maple Landmark tracks sold separately.
From Montgomery Schoolhouse come the new Scoots ($4.80 each; Ages 2 years and up), which include a Downtown Trolley, Pizza Delivery Truck and Tractor to add to the more than twenty other Scoots that include taxis, fire trucks, ice cream trucks and more. Each Scoot is about 4"in length and made from New England pine. Each vehicle has four independently rotating wheels, is painted on both sides, and is sealed in a non-toxic finish. Scoots are lightweight and easy to pack.
Make Beautiful Music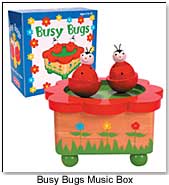 The Busy Bugs Music Box ($11.99; Ages 3 years and up), from Schylling features two smiling ladybugs spinning and dancing to the theme of the movie "Love Story." The hand-painted ladybugs are rounded and magnetic at the bottom and attach to the wooden base that houses the music. As the music plays, the base spins around as the ladybugs dance.
PlanToys Are Quality Toys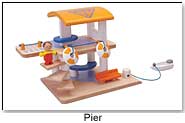 In its Plan City line, BRIO (ToyDirectory) introduces new toys with a water theme. An interactive Ferry ($50; Ages 3 years and up) includes a car ramp that opens and closes with a winding crank, benches, a lifeboat and drivers to man the ship. Also available is a two-story Pier ($30; Ages 3 years and up) that is compatible with the car Ferry. The Pier includes a snack bar and bench on the first floor and a waiting area on the second floor. Life Preservers and steps make this realistic Pier lifelike and interactive.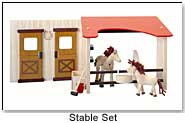 BRIO's new equestrian toys include the Stable Set ($30; 3 years and up) with a horse and pony, wood stable and accessories that include a trough, a bucket and realistic detailing. The horse's head and legs move for play positioning. Sold separately are the Horse and Rider ($16; 3 years and up) and an Equestrian Barrier accessory ($16; 3 years and up) set for horse jumping.
Among the new toys for preschoolers under the PlanToys line, BRIO introduces the Fun Shape Sorter ($20; Ages 3 years and up) featuring four color plates with shapes that must be matched up on the board in order for the pieces to fit. The Fun Hammer Ball ($20; Ages 1 year and up) features a rotating peg panel that flips over once the pegs have been pounded so that pounding can start again.
Encourage Aspiring Artists to Express Themselves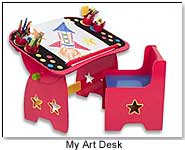 My Art Desk ($150; Ages 3 years and up) by ALEX Toys is made of durable hardwood and features an adjustable tilt top surface, making drawing and painting more comfortable. The chalkboard tabletop has a paper cutter at the bottom that also serves as a rest to keep pens, pencils, crayons, etc. from rolling off. Also on its tabletop are four recessed cups to hold art supplies. A paper roll holder and paper roll are included (and conveniently tucked underneath the tabletop) to pull over the chalkboard top for drawing and painting. My Art Desk also comes with a matching, wide-based chair. Each piece has safe, rounded corners. Desk measures 31.5"w x 24"h x 21.5"d. Chair measures 14.5"w x 18.5"h x 14.75"d.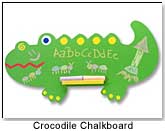 The Crocodile Chalkboard and Fish Chalkboard ($20 each; Ages 3 years and up) both feature a chalk holder and recessed holes for easy wall hanging. Crocodile measures 28"w x 14"h. Fish measures 26"w x 15"h.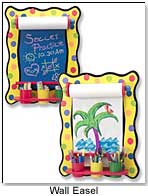 The space-saving Wall Easel ($45; Ages 3 years and up) turns any room into an artist's studio. Easy to mount, the easel features a colorful dot frame and a blue chalkboard center. Measuring 19.5"w x 26"h, the easel also includes a paper roll holder and paper roll (12" x 100") that pulls down over the chalkboard, a safety paper cutter and three cups to hold art supplies.
Letters, Numbers and Shapes
Designed to stimulate imagination and development of intelligence in children during the early years in life, Think And Grow (TAG Toys, Inc.) (ToyDirectory) continues to live up to its name with several new products that help children learn writing, spelling and shapes.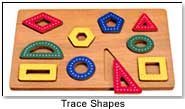 Traceable Shapes and Traceable Numbers ($39.95 each; Ages 3-4 years) are wood puzzles with brightly colored pieces that are raised above the surface of the puzzle board for easy removal and fitting. The surface of each puzzle piece is made of a durable laminate and conveniently marked with a guided dot pattern on which children can trace over with chalk and erase. These two great toys help children develop their writing and drawing readiness skills, and teach the shape of basic geometric forms and numbers.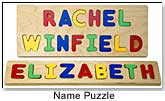 When children are just learning to read and write, what better word is there than their own name? TAG's Name Puzzle ($29.95 one line, $39.95 two lines; Ages 3-6 years) has a wooden base puzzle board and brightly colored letters that can be removed for puzzle play. The Name Puzzle is available in a single line and double line, up to 11 spaces each line. A smaller version of the single line is available up to six spaces ($24.95), for a child with a shorter name.
Superior Quality for the Superior Child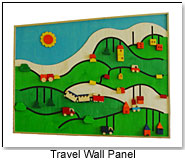 Suitable for mounting, the Travel Wall Panel ($199; Ages 2 year and up) by Wood Workers Toy allows a child to travel through rolling green hills by moving the variety of vehicles through the scenic landscape. Measuring 40"w x 33.5"h it's not only a fun toy, but also an aesthetic addition to any child's bedroom or playroom.
The six-wheeled heavy-duty Wooden Crane Truck ($89; Ages 3 years and up) can handle the biggest building jobs of your budding contractor. Haul, lift, pull and move by raising and lowering the crane's hook. The front driver part of the crane can turn independently with its flexible hinge, and detach to be interchanged with its companion products, the Dump Truck and Log Truck.
The Magnetic Play Theatre ($25.95; Ages 5 years and up) features a king, queen and three other wooden figures that are moved from behind the backdrop by magnetic sticks. With an 8-inch high miniature theater has two different backdrop scenes, the Play Theatre is a great toy for children who love puppets or the theater.
The Indoor Wooden Log Playhouse ($259; Ages 4 years and up) is made of solid wood pieces that slide together so that a child can easily assemble it and change the look of her own special space. When built into a covered house structure, the Playhouse measures 41.3"d x 41.3"w x 55.5"h.
Read, Build and Paint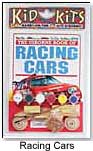 The Racing Cars Kid Kit by EDC Publishing ($15.95; ages 7+) combines several elements that will inspire young race car enthusiasts to read about cars, build one, and then paint it. The kit includes The Usborne Book Of Racing Cars which contains information about various race cars and their parts, as well as the actual races that they partake in. There are numerous vivid and inviting illustrations to inspire the next level of the kit, which is the assembly of a car.
The kit includes expertly cut pieces of wood as well as glue, acrylic paint and a paintbrush. There is also a rubber band that is placed through the rear wheel assembly so that children can race their cars against others. The standard length for the race track is ten feet, but the cars can also be raced for long distance.


Ravensburger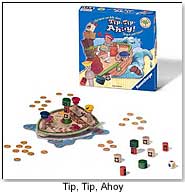 (ToyDirectory)

Children 5 years and older will need a steady hand when playing Tip, Tip, Ahoy!, a wooden stacking toy by Ravensburger that requires skill and 3-dimensional thinking. While the boat is being rocked by waves, little sailors try to stack the barrels. The first player to balance the ship and keep all the barrels from tipping over is the winner.

Holztiger


Holztiger (ToyDirectory) is a German company that crafts simple but elegant wooden toys for ages 2 and up (pieces start at $5). There are several different products that can be combined for endless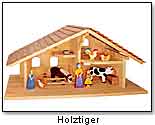 play: Fairy tales; medieval; dinosaurs; farm animals; exotic animals and more. Each piece is made of select hardwood, with a smooth minimalist feel that is simple enough for children to identify, yet colorful enough for amusing play. Non-toxic, water-based paints decorate each toy and allow the natural beauty of the wood grain to show through. Every wooden toy is crafted to last a lifetime and endure years of play.