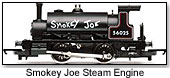 For Scalextric USA, trade shows are for test driving. To bring the thrill of the company's latest 1/32 scale cars and track designs to life for Toy Fair 2004, Scalextric has called on Exposition Sales & Design to create a 20'x 30' island exhibit with a test track for the cars and a train track for the new Live Steam 00 Gauge Steam Engine and Train.
Around the Track
"Building the exhibit around the tracks is the key to success at the shows," said Paul Conway, president, ESD, who works closely with Scalextric's Ian Lennon to design each exhibit. "It depends on whether Scalextric brings a two-lane track or a four-lane track. This year, we'll also need to build around a separate track for the new live steam engine."
The engine, which is similar to an HO Gauge engine, was introduced this fall by Hornby Hobbies Ltd. in England, Scalextric's parent company. The engine and its tender use superheated water that powers double-action cylinders to move the train. Low-voltage electricity from the track is used to heat the water, which is pumped from the tender to the engine. The electricity in the track also carries the control signals that open and close the engine's steam valve that forces steam into the cylinders.

"Toy Fair will be the first time we run them together," Lennon said, "and we think it will be well-received. The control unit has a voltmeter that shows the level of steam available, and the steam regulator sets the power to the boiler heater. The system can produce enough steam to run the model for 20 minutes or more."
Built to Show Off
"Our customers are real enthusiasts," Lennon said. "It's not unusual for them to buy cars on a whim, and it's not unusual to buy two cars: one to race and one to display."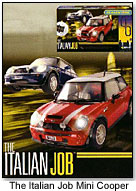 Scalextric's series of Italian Job cars, BMW Cooper Minis, was tied to the release of last summer's popular film. Its Porsche 956C/962C racing cars, Chevrolet Corvettes from the 1971 and 1972 Daytona International races and 1969 Chevrolet Camaro are classics for aging baby boomers. The MotoGP World Championship motorbike slot racing products in Valencia, Spain coincided with the final MotoGP race of the current season.
"Our customers vary from the eight-year old at the entry level to the 40-year-old dad who remembers his cars and was unaware that model cars still exist," Lennon said. "Slot car racing is on the rebound, and we need to get the fun out to the public. Even though we sell only through dealers, some shows are open to the public, and we want people to test our cars and tracks to feel the excitement."