Even with over 30 years in business, Ravensburger is still a relatively new name to North American toy buyers. Consumers in Europe, however, have known the company for more than a century.
Begun in 1883 in Germany, Ravensburger´s founders were inspired by an innovative educator named Froebel, who posed the theory that children learn through play.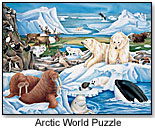 "With games, children explore the world around them. Give them toys for their heads, hands and hearts," quotes Thomas Kaepperler, general manager for Ravensburger - F.X.Schmid USA, Inc. & Simba Toys USA, Inc. (ToyDirectory) Kaepperler adds, "Our products are safe, family oriented and seek to engage the minds and hearts of children as well as their parents. This rules out anything that glorifies violence.
"We strongly believe in producing product in superior quality that will last." This commitment to quality has made the company second only to Hasbro in sales of cardboard puzzles, according to The NPD Group.
"We are mostly a specialty company in North America, whereas Ravensburger in Europe is competing head-on in all retail channels with Hasbro, Mattel and the likes," says Kaepperler. "Total North American sales make up eight percent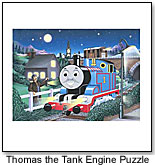 of Ravensburger's company revenue."
Like most toy companies, license and distribution agreements add considerably to the company´s success. Currently, Ravensburger is the exclusive licensee for Thomas the Tank Engine and Harley Davidson puzzles.
"Both licenses are doing extremely well for us and we will continue to expand in this area," Kaepperler says. "We recently signed a deal with Big Tent Entertainment on Miffy, and have another major license lined up for adult puzzles next year."
However, he is quick to point out that retailers have been reluctant to buy into wide licensing programs in recent years.
"After Pokemon, we saw a weakening—or I should probably say, less tolerance—on the retail side to take on everything that was licensed," he claims. "Retailers seem more careful these days about which licenses they commit to."
The company also established distribution arrangements with Siku and Simba, relationships Kaepperler says have definitely impacted his company.
"We started distributing Siku in July 2001 and added Simba to our product mix in October 2002," he said. "Both lines are very well known companies in Europe, and we felt that they stand for the same philosophy and quality standards as we do. In addition to that, they helped us in making better use of our warehousing capacities as well as making us a more important player in the specialty market."
Kaepperler claims the company has received a sales boost over the last two years as people turn to more traditional family entertainment, such as board games and puzzles.
"In the aftermath [of September 11], and to this day, most consumers seem to have refocused on spending quality time with their family," he said. "This seems to include traditional activities like playing games and doing puzzles."
On the other hand, the company´s North American operations have been hit by struggles in the specialty toy retail market. Kaepperler believes specialty toy retailers are suffering because they didn't stay true to their original concept, rather than trying to compete with Wal-Mart on price.
"The toy market has become more competitive [with] manufacturing, as well as on the retail side. At the same time, the overall traditional toy market is not growing. In fact, lately it seems to be shrinking," Kaepperler says. "Consumers seem more focused on quality and things that last than they were a couple of years ago."