Going Ga-Ga Over Going-Going Crazy, the Board Game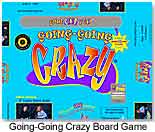 Kurt Kirckof's eureka moment came in the form of a dream. In it, he envisioned himself playing a board game that he had never seen or played with before. Everything from the board design to the set of rules came directly from this vivid dream.
That morning, Kirckof wrote down all he remembered from his dream and put it in a drawer, where his idea lay dormant for a few years. After starting a family, Kurt found his notes and started materializing his dream. His inspiration: he wanted the game to serve as a great way to help his kids further the use of numbers--stimulating the logical area of the brain.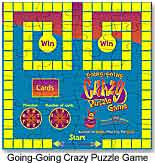 And so Going-Going Crazy (ToyShow) was born.
Designed for children ages 4 to the elderly in nursing homes, as well as developmentally challenged children and adults, this family board game is a fun way to teach and strengthen counting and comprehension skills.
In addition to the Going-Going Crazy Board Game there is the Going-Going Crazy Puzzle Game, a puzzle that when put together turns into the original board game; and Going-Going Crazy the Travel Version, a compact-sized version of the original board game.