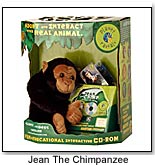 Planet Rascals (ToyDirectory) has come out with a series of plush toys based on real zoo animals, including Jean the Chimpanzee, Jill the Leopard, Kobar the Koala, Leo the Lion, Rachel the Kangaroo and Timbo the Elephant.
Packed in a box stamped with "Real-Live Rascal" and ventilated with "air" holes, each wild animal replica comes with a CD-ROM filled with educational games, trivia questions, pictures and a friendly, knowledgeable zookeeper called "Mr. B," who teaches children about their new animal friends.
A percentage of the purchase price is donated to the zoo or sanctuary where the animal lives. When consumers purchase a Planet Rascals toy, they can send off for an adoption certificate in their name. The plush animals retail at $34.99 and are recommended for children ages 3-10.
For more information visit planetrascals.com.