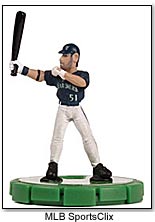 WizKids, LLC gets into the big leagues with its soon-to-be hit the MLB™ SportsClix™ ($19.99). Scheduled for release during baseball's 2004 spring training, it features famous major leaguers sculpted as two-inch-high 3D game pieces.

Using dice together with actual statistics contained in each player-specific figurine, MLB SportsClix simulates real game situations that will likely enthrall baseball lovers of all ages.

MLB SportsClix will be available nationwide in March 2004. Starter Sets will contain a full team of nine figures, a stadium playmat, dice, rules and everything else one player needs to field a team. Booster Packs allow collectors to add major leaguers to their teams. Two-figure Boosters will retail for $4.99, three-figure Boosters for $6.99.