Versatility is the key to success in the new plush market. Today's kids are on the go, and plush manufacturers are keeping up with fresh lines that include everything from packable playsets and backpacks to purses and pillows.
You Can Take It with You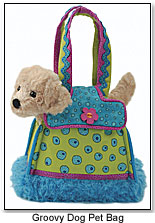 According to Susan McVeigh, communications manager at GANZ, "Plush that can keep kids organized, hold items or multi-task is very popular with parents and kids." This year, GANZ will introduce plush backpacks ($29.99) in a number of different animal shapes to enhance their popular line of pencil bags, CD holders, desk sets and purses. "These wacky backpacks serve a purpose, which we're seeing as a key trend in the plush industry," says McVeigh.
Douglas Toys (ToyDirectory) launched their Pet Bags (approx. $20; ages 3-10) this year. These pocketbooks can be used in the traditional sense or as a clever way to carry a favorite plush pet—with room for the head on one end and tail on the other—with six different personalities available.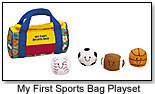 For the younger crowd, Gund (ToyDirectory)expands on their already popular Playsets plush line ($19.99; ages 6mos-4 yrs) with the addition of Fire Truck, Briefcase and Gardener sets. Each pack zips up to hold tiny, soft toys in the same theme as the case to make for easy clean up or convenient travel toys. Other new items in this group include the Most Valuable Playsets, with sports toys inside, and Beach Baby Playsets.
What More Can They Do?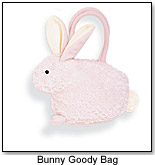 Accessories that make a splash, Fuzzy Wear and Goody Bags are new from North American Bear Company. Goody Bags come in a variety of shapes, from green shamrocks to bunny faces with floppy ears and, according to NA Bear's Lorene Shiraiwa, "are great fashion finds that combine form and function." Whimsical Pink Bunny and Yellow Chick jackets ($50) come with matching Goody Bags ($10) and Headbands ($10).
Six of the most popular Care Bears will glow in the dark this year (Glow-A-Lot-Bears, $14.99), and Teletubbies ($3.99-$16.99) will sing their special song, give a unique giggle and speak their signature phrase when their hands are squeezed. Both will come with a VHS cassette of an original episode of the television shows that made them famous.
GANZ has added sound to their popular Soft Spots line ($5.49), which will now bark, meow, neigh, chatter and even utter recorded phrases in the buyer's own voice. "Sounds turn plush from a child-focused toy into a gift that will charm recipients of any age," according to McVeigh. "It means retailers who don't carry plush but do carry seasonal gifts can feature the line."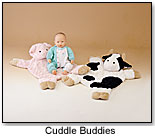 Bestever's (ToyDirectory)new Cuddle Buddy™ ($33) comes in five styles: Pink Piggy, Black and White Cow with horns and three Teddy Bears in pink, white and blue. These machine-washable friends can be rolled out and used as a rug, a blanket, as a clean surface for babies or just as something to snuggle. "Plush companies have had to move beyond the traditional teddy bear to keep their business alive," comments Bestever's Elaine Wolf-Baker. "This gives Mom a reason to buy a cute plush animal if it also serves a practical purpose."