The breakdancing Freeze can pull off a mean elbow pose (read: a complicated handstand), while the admirably green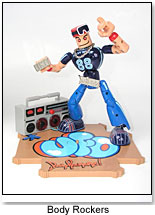 Frankenstein Fright prefers to impress from behind his drum kit. These 6-inch tall hotshots star in the Body Rockers and Monsters of Rock lines, both part of Geospace International's Titanium Collections. Each ultra-flexible, die-cast figure has 32 joints to manipulate and comes with musical accompaniment.
The Titanium figures appeal to a whole range of ages, from Tweens on up. "A teenager may pick up [a Body Rocker] because he saw someone breakdancing in a new, hip music video. His little brother may just like the fact that he looks cool and the boom box plays music," said Nathan Tabor, the collections' lead toy designer and self-confessed pop-culture junkie.
Geospace International and its partner Play Mind Toys predict that the form and functionality of the toys will also appeal to collectors. "If you pick up one of these guys, they are next to impossible to put down, no matter what age you may be," said Tabor.
The four Body Rockers figures ($15 ea.) come with a boom box, and the four Monsters of Rock ($18 ea.), including a werewolf and a mummy, boast their own rock-band instruments that play two different songs. The infrared "jamming" feature on the Monsters of Rock figures allows them to communicate with one another, and when a song is selected, the monsters can, as Tabor put it, "rock out with one another."
Also in the Titanium collection, Heavy Artillery figures ($15 ea.) are geared for battle, as opposed to the dance floor. All are available at geospaceplay.com.