Like the puppets that come to life onstage, puppet theatres come in all shapes and sizes, from a full-sized floor-standing model to a traveling stage complete with carrying case.
Floor Standing Models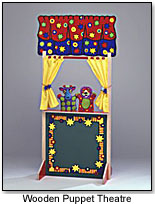 Alex Toys offers two Floor-Standing Wooden Puppet Theatres ($80 each). Winner of an Oppenheim Toy Portfolio Gold Seal, the 6-inch tall theatre features brightly painted walls and a chalkboard where puppeteers can write the title of their latest production. Another variation of the theatre has a toy clock with movable hands at the peak of its roof.
Taking the Show on the Road
With its carrying case and hidden pockets, Manhattan Toy's (ToyDirectory) Puppettos Finger Follies Theatre Set ($34.99) makes travel simple. Made of lush fabric, this tabletop theatre stands only 14-inches tall and is an ideal stage for finger puppet productions. Another collapsible fabric theatre is the 18-inch Tippy Toes Theatre ($30) by Mary Meyers, which includes nine animal finger puppets.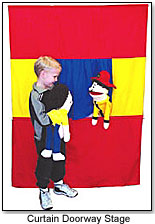 Solving Storage Problems
Puppet Partners' (ToyDirectory) Curtain Doorway Stage ($34.99) fits virtually anywhere. This hand puppet theatre is made of broadcloth and can be hung in a doorway using two retractible curtain rods (not included). After playtime it can be taken down in minutes and stored in a drawer.
Scenery Included
Scenery changes are a snap when backdrops are included. Folkmanis Inc.'s (ToyDirectory) Wooden Puppet Theatre ($79.99) includes four backdrops. The tabletop theatre is also reversible, offering both an enchanted forest and Shakespeare's Globe Theatre. Bozart's Marionette Theatre ($130), also shaped as an enchanted forest, includes six backdrops.
Breaking with Tradition
A few companies offer alternatives to a fairy tale world. Alex Toys produces the Robot Tabletop wooden theatre ($35); another version ($50) comes with two robot puppets. Manhattan Toy recreates another magical world with How the Grinch Stole Christmas Finger Puppet Theatre ($59.99). The tiny tabletop theatre includes four Seuss character puppets. The Zoom a Zoop Theatre ($39.99) features the characteristically wavy walls of Seussian architecture. The soft, pillow-like construction of both theatres makes them ideal for young children.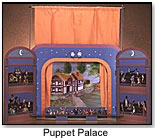 Versatility
Reprint Mint's Puppet Palace ($129.99) is a hardwood theatre that can stage productions using either marionettes or hand puppets. It can be hung over the edge of a table, creating a spot where children can hide while bringing hand puppets to life. It also has a top curtain making it an ideal theatre for marionette puppets.