The story of Yu Yu Hakusho goes like this: the protagonist Yusuke, an angry young brute, dies while saving a child from a speeding car. The spirit world gives him a second lease on life as a Spirit Detective with several powerful friends backing him up. As a comic book serial, Yu Yu Hakusho can´t lose. On the TV screen, it is a popular series on the Cartoon Network´s Toonami anime timeslot. Now, Score Entertainment, the Texas-based maker of mainly sports trading cards, is beginning to profit from Yu Yu Hakusho on cardboard.
"An aggressive marketing program was built around the launch of Yu Yu Hakusho in September of 2003," said Jonathan Quesenberry, Score´s marketing director. "Over the course of the convention season and up to the September release, we distributed close to 500,000 demo decks, released a demo video and launched a strong ad campaign in consumer and trade magazines."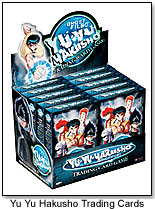 Yu Yu Hakusho the Trading Card Game is in a capitol position to displace Yu-Gi-Oh! from Upper Deck as the king of anime trading cards. Short of throwing down the gauntlet, Quesenberry observed, "With high consumer interest, a strong product and advance retail solicitation, we feel confident that Yu Yu Hakusho will remain in the top tier of its anime-based peers."
Kids ages 11 and up have depleted the first printing of the Ghost Files at high-volume retailers such as Toys ´R´ Us, Target, 7-11 and GameStop. In December, Score followed up its successful Dark Tournament series with a kit ($30) and booster packs ($2.99).
Given the alternative of video games, which include Atari´s Yu Yu Hakusho, many parents may be more supportive of trading cards since they involve mind-stimulating strategies. Yu Yu Hakusho offers children three stages of play-draw, main and attack-to mount a defense and then overpower their combatants. The key is to accumulate Spirit Energy by pumping up one´s deck with the right cards before going on the offensive. It´s not bridge, but Yu Yu Hakusho the Trading Card Game is an exciting step beyond Go Fish and other card games kids outgrow by the end of grade school.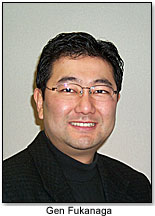 FUNimation Productions, Ltd. in Fort Worth, Texas is the brand management firm that licenses Yu Yu Hakusho to Score Entertainment and other companies. Early into the Yu Yu Hakusho invasion, there are already products for every kind of fan. The licensor´s President and Founder, Gen Fukanaga, said, "Yu Yu the Hakusho Trading Card Game is a significant part of our Yu Yu Hakusho licensee family, and is considered one of the ´drivers´ of the Yu Yu Hakusho brand along with home videos, action figures, video games and apparel."
Fukanaga saw the Yu Yu Hakusho TV series seriously challenge Dragon Ball Z, the highest rated manga production in Japan. "The scripts for all of the FUNimation properties are translated and are ´Americanized´ to account for cultural differences," he said.
"Also, for the U.S. market in particular, FUNimation recognizes that theconsumers are very demanding and particular about their brands," said Fukanaga. As the brand management company responsible for Yu Yu Hakusho, FUNimation works with our licensees to ensure that the products are of the highest quality to meet the stringent demands of our consumers."
FUNimation provides creative guidance to its licensees, including the action figure manufacturer JAKKS Pacific. Like Score Entertainment, the Malibu, California toy maker must adhere to the Yu Yu Hakusho storyline as it prepares to release seven-inch action figures of the most popular characters in the cartoon: Yusuke, Kurama and Hiei. The action figures, card game and other products will help propel each other´s popularity in the months to come.