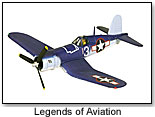 New from Corgi (ToyDirectory,ToyShow), the History Channel Legends Collection features seven highly-detailed 1:72 scale die-cast warplanes ($19.99 ea.) of the U.S., German and British WWII air forces. Each aircraft features rotating propellers, fixed landing gear and historically accurate markings. The P-51D Mustang is a reproduction of the plane flown by Captain Leonard "Kit" Carson, the top ace of the 362nd fighter squadron. Also available is the F4U Corsair "White 3" flown by Lieutenant Frederick Streig in February 1944 when he destroyed five Japanese aircraft. Other planes include a Spitfire MkI, Avro Lancaster, Hawker Hurricane MkI, Messerschmitt Bf109E-1, and the FW190-3.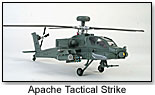 Corgi Classics has also just released its Tactical Strike Collection featuring modern military vehicles and aircraft. The collection features 1:64 scale trucks, tanks, helicopters and a fighter jet. Each model features authentic combat markings and is accompanied by a detailed specification manual and poster from Osprey Publishing. The Tactical Strike Collection also includes figures from the US Army and Marines that come equipped with helmets, camouflage uniforms and fighting gear.
M2A2 Bradley Infantry Fighting Vehicle, Army: Introduced in 1981, this personnel carrier was used during Operation Iraqi Freedom along the route to Baghdad, where it lived up to its reputation as one of the best fighting vehicles in the world.
AH-64D Apache Longbow Helicopter, Army: The most high-tech fighting helicopter in the skies today, the Apache flew over 850 combat hours during Operation Iraqi Freedom without suffering any losses.
F-14D Tomcat, VF-2 "Bounty Hunters," US Navy: The F-14D has stood as an icon of US Naval aviation since its inception in the early 1970s. During Operation Iraqi Freedom, the VF-2 model was a key element of the "Shock and Awe" missions against Baghdad.
Other vehicles in the Tactical Strike Collection include the AH-6J "Little Bird" Helicopter, US Army; Humvee with Avenger Missile System, US Army; Humvee 1097 A2, USMC; M1A1 Abrams Tank, US Army; and M1A1 Abrams Tank, USMC.
Corgi is donating a portion of the proceeds from the sale of Tactical Strike to the Marine Corps Scholarship Foundation, a nonprofit organization that provides scholarships for higher education to deserving children of active duty and retired marines.