"When a child goes to a new place, it can be comforting for him or her to see and hear someone like them so they feel more comfortable and have something to immediately identify with," — Elizabeth Gonzalez, Language Littles
With the popularity of multicultural toys on the rise, retailers and manufacturers who've jumped on the global product bandwagon say their products are selling like hotcakes.
Many of those toys double as educational tools that teach language skills to kids, and others help children who are striving to find, remember or hang onto a distinct cultural identity.
"When the dolls were first introduced five years ago, there was nothing like that on the market," said Elizabeth Gonzalez, accounts manager for New York-based Language Littles (ToyShow), a company that sells plush dolls designed to represent children from France, Italy, China, Japan, Israel, Germany, Greece and Russia as well as Spanish-speaking countries.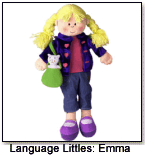 Language Littles products have steadily increased in popularity. The toys are popular among adopted children, who may be comforted by the sound of their native languages. "When a child goes to a new place, it can be comforting for him/her to see and hear someone like them so they feel more comfortable and have something to immediately identify with," Gonzalez said.

Catherine Ines, of Livingston, Calif., purchased a Spanish-speaking Language Littles doll for a friend's daughter, who was having difficulty fitting in at school because of language barriers. "Her face lit up when she heard the doll," Ines said. "It didn't solve all her problems, but it helped her feel less alone."

"It's good for a child to develop language skills at an early age — and it's an opportunity for kids who come into the United States to keep a piece of their culture," according to Asako Yoshino, owner of International Baby (ToyDirectory), which specializes in language products.

Shana Kirsch, western regional manager for Putumayo Kids (ToyDirectory), said there is more openness to cultural products overall than there was even a few years ago. Putumayo offers activity kits and music from all over the world, including Africa, Asia, South American countries, the Middle East and others.

"We gear ourselves more toward mom-and-pop boutiques," Kirsch said. "We have built up a really loyal base of retailers and it works for us."

Nostalgia is the name of the game at Baby Abuelita, where two "grandma and grandpa" dolls — called Rosa and Poncho, respectively — are making waves. The Rosa and Poncho dolls each sing authentic songs from Spanish-speaking countries.

"When we first conceived of it, we had it in mind for small children because we wanted to preserve the cultural heritage — but it's become a trans-generational phenomenon," said Carol Fenster, chief operations officer for the company. "The nursery rhymes are special and have been passed down from generation to generation."

Linda Hambly, owner of the San Diego-based Freddy's Teddies and Toys, said her shop carries 5" dolls that hail from different countries, such as Holland, France and Germany as well as African nations. "We've had children who need them for school projects," Hambly said. "There's more demand now than ever before."

Likewise, Carol Knaebel, a manager at Home and School Connection, in San Diego, said language-learning tools, like flashcards and bulletin board sets, are more popular than ever.

What follows is more information on products that exemplify this trend:

Bonjour, hola, ciao, ni hao, kon nichi wa, shalom, hallo...in any language it means hello. Thanks to ingenious dolls called Language Littles, children everywhere will be spouting international phrases learned from their cuddly companions.

.

AD

This lifelike Asian doll wears diapers and has his arms open wide, ready for a snuggly embrace. He has short black hair and is made of high-quality materials.

.

AD