Tools:








Preventing Kindergarten Dummies and Social Morons
How the Toy Industry Can Help
"Retailers are promoting more products to younger kids as the older kids put down their toys and turn to video games." — David Manga, Outset Media
According to Kathy Oxley, founder of Preschool Prep Company (ToyShow), research shows there is a direct correlation between kids falling behind in reading skills in the 2nd grade and dropping out of high school. So how can this be prevented with pre-K learning?
"Children learn thousands of words through their developing speech pathways very easily at an early age. [Toddlers] know who Scooby-Doo is, why not letters?" Oxley argued. "If we make them curious about letters, they will learn letters. They are just 'animals' of a different kind."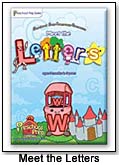 She completed a two-month study of more than 50 babies and toddlers, who watched her video, "Meet the Letters." More than 90 percent developed complete upper and lowercase letter recognition. Many of the older kids (age 2 to 4) learned in less than two weeks. Of those younger than 2 years, 70 percent mastered the alphabet.

If it's so easy to learn at such a young age, why then, should parents worry about their child's pre-K education? Some would argue video games are to blame. And, they would argue, the games are affecting more than a child's capacity to prepare for a formal school education.

Ahuvh Geffner, game creator of Geffner Ltd.-Play and Learn, sees a focus on toddlers' concentration and social communication as key "at a time when electronic devices [TV, computers] have taken over the world of the child from a very early age." He added that family time is very important and that parents need to "learn to play so their children can play to learn."

In fact, David Manga, president of Outset Media (ToyDirectory), pointed out that an increased emphasis on early education products might be just what the toy industry needs. "Because of age compression, retailers are promoting more products to younger kids as the older kids put down their toys and turn to video games."

"It's definitely a trend in traditional toy-making because with older kids, they're more interested in video games," agreed Jason Cheung, sales manager at Huntar Company Inc. (ToyDirectory) "The alternative is to make more toys for younger kids."

Others in the toy industry would argue that an increased emphasis on a child's early education is less about clever marketing than it is about changing social demographics.

According to Lisa Bogart Carvajal, founder and president, TOTO Products, parents are finally beginning to understand how to negotiate the dual income parent dynamic that has become the national norm. "I think that in the United States, when it comes to discipline, parent involvement and being on track in school, those things have really disintegrated. Now we're getting more organized."

"It used to be that most people's moms stayed at home and kids would play with each other as part of play groups," said Jakki Liberman, owner and president, Bumkins Finer Baby Products. These days, "with good childcare, hopefully [kids] keep stimulated. If not, then the kid has a harder time."

This may lie at the core of what has been spurring increased concern over early education needs. When parents can't be there to keep watch, then who is?

Good daycare, Erika Radich, marketing manager of Douglas Cuddle Toys (ToyShow), pointed out, can be a boon. "Daycare often comes in the form of preschool, so when children enter kindergarten, the bar for readiness has been raised." She stressed that learning social skills is as important as learning cognitive skills.

And for those that haven't been lucky enough to receive good daycare or preschooling, many fear, those children could fall behind. The following products are here to help early learners get a leg up.









.

AD
---






Kids can take a short step to a big reward that lasts a lifetime by making a choice of healthy foods and physical activities. By making daily schedules and by eating healthy and being active, players accumulate up to 100 award points. The game includes four baseboards, four award lists, four erasable crayons, a clock dial and 60 food and activities cards.

.

AD
---






Rhyme Thyme is a fast-action matching game for 2 to 5 players that will have kids racing to get rid of their cards first. When players spot a rhyme in another player's hand, they race to be the first to call out the match. Players need keen eyes and fast hands to "catch the match" in this game. Rhyme Thyme helps children develop their hand-eye coordination, word recognition and reading vocabulary skills. It includes an instruction booklet and 108 illustrated cards.

.

AD
---






This toy lets the monkey do the math. Kids hang up a bunch of bananas in one of the monkey's hands, then balance the monkey by adding the correct number of banana bunches to his other hand. The scale will not move until the monkey has an equal number of bananas in both hands. Once the problem has been solved, the monkey straightens up and uncrosses his eyes. The monkey is 7" tall; his 15 perfectly balanced banana bunches range from 2-1/2" to 3" tall. The bananas can also be played with separately to reinforce counting. Huntar expects this to be one of its best sellers for 2006, said Jason Cheung, the company's sales manager.

.

AD
---






This adjustable apron comes with a toggled neck and waist tie to provide a tight fit for tiny artists. It includes a three-sectioned pocket along the bottom and a cotton trim. Durable, stain-resistant, colorfast and machine-washable, this apron comes in all of Bumkin's fun and colorful patterns, everything from Leopard print to Yellow Bug.

.

AD
---






This collection of mystical mermaids and fantasy seahorses was designed (by fabric choices and hues) to be ideal for a true under-the-sea look. Mermaids with their multicolored locks come in two sizes — 11" and 9". Tangerine-and-pink Seahorse and lime-and-pink Seahorse are 9". They are priced at $8.00 to $12.00.

.

AD
---






The Teaching Tank is an affordable, award-winning, "visually exciting" teaching aid educationally designed for children to do hands-on science. The tank's large viewing area allows students to easily see what is happening. Its 150 experiments let children view roots, worms and chemical reactions like with no other product. The tanks are a snap to assemble, a breeze to clean and fun to use. In addition, the Teaching Tank can be converted into a small aquarium in about 3 minutes.

.

AD
---






Based on Mozart's incomparable masterpiece, this CD-ROM is an exceptional introduction to music in general and to the life and work of the great composer. In the Magic Flute Music Game, children meet Mozart when he is just a boy. Wolfie, as he was known, falls asleep and dreams the fantastic story of "The Magic Flute" opera. Players join Wolfie inside his dream to participate in the story of the Queen of the Night stealing the Sun. Throughout their travels, kids are treated to beautiful sights to go with the rich, orchestral sounds. Scenery as well as game settings are rendered in lush, watercolor-washed animation, a perfect accompaniment to the otherworldly escapade, creating an unforgettable and one-of-a-kind musical experience kids will want to revisit again and again. A winner of The Parents' Choice Gold Award, Parenting Magazine's Software of the Year Award, Instructor Magazine's Teacher Raves Award and many others, The Magic Flute Music Game features different games, music puzzles and riddles, an animated encyclopedia of musical instruments, Mozart's biography, music trivia and more.

.

AD
---






This award-winning CD containing 17 original songs is designed to offer a fun way for children to learn manners. It teaches basic social skills and releases parents and teachers from nagging. Kids can enjoy singing along at home or in the classroom, without even knowing it's educational. The album is written and produced by Steve Megaw and performed by Steve and the "Cool Kind Kids." Each song teaches a different social skill. This CD has won 10 national awards, including Teachers' Choice, Parents' Choice, Toy and CD of the Year, and The National Parenting Center's Seal of Approval.

.

AD
---
Catalog Request Form
THIS BANNER IS AN AD:
---
---