Brian Kessler, founder and president of Maui Toys, seemed born for playthings:
His father invented the Hula Hoop, he has a diversified background that ranges from writing to business and he's a creative guy. A shoe-in for the toy industry? Not exactly, to hear him tell it: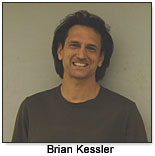 Dad Did What?
I didn't realize my dad was the man who patented the hula hoop. I found out in college when I was sitting in a business class that the professor had dedicated to The Man Who Invented the Hula Hoop.
At the end of class I sheepishly stuck my hand up and said, "I think you're talking about my father." I eventually asked Dad, "Did you do something with the hula hoop in the '50s?"
See, the family business wasn't toys. We were rust belt manufacturers out of Ohio. My grandfather went bankrupt in the Depression, and my dad was an inventor. He invented the push-pull cap on water bottles, that sort of thing.
Who knew he'd created the hula hoop?
What Makes a Toy Maker?
I have a very diversified background. I worked for the Kennedys right out of college. Then I worked for the family in manufacturing. I went to Washington, D.C., to edit, direct and produce for PBS.
Then I came cross-country to Los Angeles and worked with NBC in comedy development for a couple years, but it wasn't a consistent income. So I went to work for First Interstate Bank, which led to going back to Ohio as an investment banker. Did well, until Michael Milken crashed everything, and I sold the company.
Right after that, American Greetings Company approached my family about bringing back the original hula hoop. But I wanted to do more. I wanted to do Maui Toys.
Why Santa Monica?
We started in Ohio … and Las Vegas. But I kept coming to Los Angeles for other reasons: I knew artists, set designers, friends in the entertainment industry, and even people in the automotive design business. So we opened a satellite office eight years ago, just to stay in touch.
Three years later, we shut down Las Vegas. We wanted to create a space with good energy to feed off the great weather, the outdoor things of Southern California. Take all the creativeness of the area and make fun things for kids.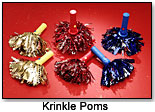 Now we're coming up with all sorts of ideas. Cosmic Hoopo, a whole new kind of hula hoop. Or Power Poms, motorized pom-poms. The kind of things you don't get in Ohio.

We're going to have a handheld bubble shooter, Bubble Light Fest, which is kind of a Lawrence Welk bubble show, with spinning 3D lights, that shoots a bazillion bubbles. And LEDs on a computer chip that shoot laser lights into the bubbles, so at night the bubbles really light up.

We evolved micro-sized motorized vibrating bouncing balls and put a brain in them: Head Bangers. You can charge them up for 30 seconds of power. We made them into characters, created a sumo arena, and then … first ball to push the other ball out of the ring, wins!

Here to Stay?

Santa Monica is a Mecca for us. All of the music, film and television that comes from this area complements what we do. We create art in our toys and being in an entertainment industry hub keeps us in sync with what consumers are looking for.


What follows is more information on a couple of products offered by Maui Toys.

This exotic hoop, made for hula-ing, includes motion-activated LED lights that create a sensation as the hoop twirls around a child's midsection. Sparkly and fun, the hypnotic effect will have children a-glow for some time.

.

AD

This is the world's first motorized set of pom poms. With the push of a button, the pom poms rotate in circles on their own.

.

AD