In addition to raising two girls, ages 7 and 2, Maryam Seyedhosseini has a degree in child and adolescent development from the
California
State
University
, Northridge. She currently teaches the arts to pre-kindergarten children and has previously counseled at-risk youth. Her background as a mother and as a childcare professional gives her a unique insight into toys. Here she shares her impressions of new toys with TDmonthly Magazine.
The Knit-It Kit for Kids by Chronicle Books for Children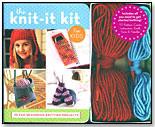 Age: 4 and up
Gender: Girls
Price: $16.95

First Impressions
This kit is packaged very nicely and compactly in a way that makes it attractive for girls who like crafts. Even the packaging is full of ideas of projects that girls can make with knitting. Included are a detailed 36-page instruction booklet, a circular needle, a ball of yarn and 10 pattern cards.
Developmental Stage
The Knit-It Kit for Kids requires a lot of eye-hand coordination and motor skills. Therefore, it is almost impossible for young children to use, but it is great for older children. Although the package recommends its use for children ages 4 and up, I'd say that 10 and up is a better bet.
Skills Reinforcement
Knitting requires and improves concentration as well as eye-hand coordination. Because it takes effort to learn and more effort to finish a project, the Knit-It Kit also reinforces self-esteem because children can be truly proud of the projects they create.

Playability
My 8-year-old daughter loves the Knit-It Kit for Kids because she can make something for herself and that makes her feel good. Some of the designs are too complicated for her, so we need to spend more time on them. Knitting requires some adult supervision at first because otherwise the patterns might get frustrating for children.


Recommendation
The only recommendation I have is that they change the age grade on the project. Otherwise, for children of an appropriate age, it's a wonderfully challenging and rewarding kit.
Name: ME! etc. by Dimensions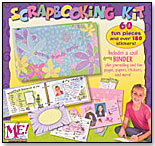 Age: 6 and up
Gender: Girls
Price: $14.99

First Impressions
The ME! etc. scrapbooking kit provides an interesting and fulfilling activity for girls. By going through the process of collecting photos and information, they get to know their friends better. It also keeps them very busy! The kit comes with themed paper, stickers, a keepsake envelope and other accessories. Themes include My Life, Family, School, Friends, Pets, Future, Sports and Celebrations.
Developmental Stage
This scrapbooking kit is great for school-aged children, especially girls. There are lots of different activities and assignments to keep them interested in and learning about themselves and others.


Skills Reinforcement
Many different skills are needed to complete the scrapbook. The scissors required to cut photos and decorations help develop fine motor skills. Children need to match shapes and colors to come up with a good design for their pages. They have to sort both patterns and ideas. Scrapbooking also helps with information-gathering as well as with organizing their thoughts and ideas.


Playability
My 8-year-old couldn't wait to share the kit with her best friends. The scrapbook she made was very cute. An added bonus to the kit is that the binder is fashioned so that girls can continue to add more pages to the book, as they wish.
Recommendation
I loved the ME! etc. scrapbooking kit. So did my daughter and her best friends.
Wai Lana's Little Yogis Fun Songs CD & Lyric book by Wai Lana

Age: 3 and up
Gender: Boys and Girls
Price: $18.00

First Impressions
The colorful packaging attracts the eye and gives a good idea of the kind of fun, cheerful music inside. The CD of 12 catchy songs comes with a cartoon songbook filled with lyrics so children can sing along.
Playability
I took the CD to my arts classroom last week and so far it is the only CD that we have used through the whole week. The children are 4 years old and just love every single song. They don't want to listen to any other CD. It is fun to listen to the songs while at the same time learning about animals and trees.


Recommendation
This is a great CD for teachers to use in their classrooms, or for parents to share with their children.
Animal House by Play Smart (ToyShow)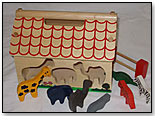 Age: 18 months and up
Gender: Boys and Girls
Price: $11.00

First Impressions
Each of the seven wooden animals has its own opening to the little wooden animal house. They can also enter through the gate. This is a good sorting and learning tool for young children. The paint is nontoxic.
Developmental Stage
Sorting is a great way for children to learn about sizes and shapes. This toy also helps to teach about animal shapes.


Skills Reinforcement
The fine-motor skills and shape recognition required for sorting are given a workout with this animal house set.


Playability
My two-year-old loved the fact that she could carry the lightweight animal house with her. But the design of animals made her withdraw from the product. The animals don't go into their specially shaped slots as easily as other as other sorting toys. The animals are too thin. It's difficult for the little children to grip them and put them in the hole at the same time. I took the house to my class. Although it was easier for 4 year olds to sort them through the holes, there was lack of interest because they considered it a "baby toy."


Recommendation
Using the small handle in the middle of the cut-out animals helps children manipulate them. The child usually needs a little help. However, we need to consider that kids aren't supposed to be helped with sorting and stacking toys.
Wordzzo by Westwind Games (ToyShow)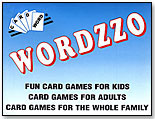 Age: 7 and up
Gender: Boys and Girls
Price: $9.95

First Impressions
This is a portable educational game.
Skills Reinforcement
Wordzzo helps build vocabulary. It teaches about cooperation and taking turns. It also builds self-confidence. It combines games of words and sentence building in one set of cards. Wordzzo game cards allow players to change the rules, if they wish.

Playability
Wordzzo is a very flexible game that can be played according to the knowledge and age of the child. Children can even come up with their own ideas of how to play the game. There are enough cards to last a long time. It's a great family game and is also ideal for keeping kids occupied while traveling.

Recommendation
This is an educational and amusing game in a small box that can go almost anywhere and is my favorite of the games I've evaluated. I loved it, as a mother for my child, and as a player too.

Cardformers by Rainbow Games Inc. (ToyShow)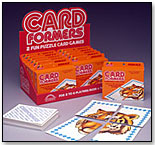 Age: 4 and up
Gender: Boys and Girls
Price: $20.00

First Impressions
This very portable game can be used as a "puzzle" for very young children and/or for playing card games such as "Go Fish" and "Rummy." It's really two games in a small box.
Developmental Stage
Children can use the illustrated playing cards to sort and match pictures. Children have to first sort by "picture frame" and then use the various cards in each category to make pictures of animals and fruit. Playing "Go Fish" serves as a memory challenge for older children.

Skills Reinforcement
This puzzle/game helps young children learn about matching, sorting and animals. The pictures' borders help them learn about colors and find missing pieces. For older kids, playing "Go Fish" helps them with memory and matching.
Playability
I loved the fact that different age groups can enjoy this toy. It is like having two different toys in one packet. It is great for traveling.

Recommendation
This is another one of my favorite games. It's a very nice idea and a very nice toy.

Ancient Egypt Toob by Safari, LTD. (ToyShow)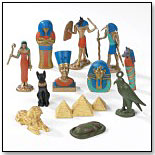 Age: 3 and up
Gender: Boys and Girls
Price: $7.50

First Impressions
This decorative and educational toy is great for school projects. It consists of a plastic tube topped with a whirling globe and is filled with historically accurate and detailed figures based on an ancient Egyptian theme.
Developmental Stage
The tiny figures in the Toob teach children about ancient people such as the Egyptians, and how they looked.

Skills Reinforcement
This toy provides a nice introduction to both social studies and history.

Playability
The Ancient Egypt figurines are good for playing alone or in a group. The figures have a very nice design and great colors. The realism of the pieces makes them especially interesting. My 8-year-old was very excited with this toy, as was my 2-year-old.

Recommendation
My only criticism is that the information sheet has very tiny print and it is therefore difficult for the children to read by themselves. Other than that, it is a great toy for children to play with and for the educators to teach with in their classrooms.

No Bake Chef Deluxe Kit by B-Bel Inc.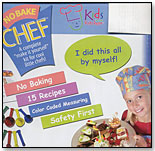 Age: 5 and up
Gender: Boys and Girls
Price: $19.99

First Impressions
The No Bake Chef Deluxe Kit is a very complete cooking set for beginners. The implements are colorful and durable. None of the recipes call for raw eggs, which means that kids can taste as they go. Since there's no baking, only minimal adult supervision is required for older kids. The set includes 15 recipes, measuring cups, measuring spoons, bowls and a chef's hat and apron. Also included are stickers to place on ingredient containers so that kids can, for example, avoid pouring salt instead of sugar.
Developmental Stage
Children of any age can enjoy this toy. Cooking ideas aren't limited to the given recipes, which fosters creativity and experimentation.


Skills Reinforcement
By using the No Bake Chef Deluxe Kit, children learn to measure and sort. They exercise their fine motor skills when using the small measuring spoons. It's also fun for them to pretend to be chefs!


Playability
This is a very easy kit to play with. It's not breakable. The apron and hat are adorable.


Recommendation
I use this toy in my classroom for our weekly cooking projects. Every week, I pick one star student who gets to be my helper. This person is allowed to wear the apron and the hat and use the utensils on our cooking day. Believe it or not, this kit is one of the reasons that most kids want to be the star student
—
even boys! This is a great product. In addition to selling for home use, it should be sold at educational and teacher supply stores.