If you have been considering going to the international markets with your brand, but were afraid of someone stealing your trademark, there is a way to protect yourself.
In the world of business, we all want to be not only financially successful but also to create something lasting. Frequently, many of us find that we have come up with an idea that has the capacity to be successful not just in the
United States
, but worldwide as well. But how do we protect our ideas … "out there?" And for a reasonable price?
At my company, Celebriducks (ToyShow), our foray into gaining trademark protection began with an Australian distributor who offered to help us trademark our brand "down under."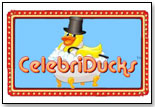 This was our first big lesson.
Always control your brand. Being a little naive, we let the distributor do the paperwork on our behalf. Little did we know — the company had trademarked Celebriducks in its own name, and to make matters worse, was now trying to sell our name back to us ... our worst nightmare!
Resourcefully, we used the Internet to track down the phone number of the Australian trademark office.
Sure enough, this other company had trademarked our name. That was the bad news. The good news was that if it were accepted for registration, we would have a three-month window to appeal it — for only $250.
Still, there were no guarantees as to how it would turn out, and not only would we have to appeal, but then we had to file ourselves. And this was just Australia. As we continued to grow, would we be dealing with this issue in country after country? Would we have to spend tens of thousands of dollars in legal fees, research, time and energy to trademark all over the world?
But then, out of the blue, a bit of good fortune smiled upon us. A gentleman in Australia, Ian Lesser-Spoule, who was inquiring about our ducks, told us the answer:
No, it's not the most recent Dan Brown novel. It is an international treaty signed by 61 countries that allows companies to trademark their name in those countries by filling out a single document. The beauty is that you can do it right on the Internet and without a lawyer!
When I found out that the people who were attempting to trademark Celebriducks in Australia had been denied, the time for the Madrid Protocol had arrived.
I began filling out the form at 9:30 a.m. the very next morning and by 11:00 a.m., I was done. In truth, if it weren't for the time spent trying to educate myself about all this, I actually could have filled out the form in less than 30 minutes.
The legislation, regulations and guide for implementing the Madrid Protocol in the United States and notices regarding paper filings are posted on the U.S. Patent and Trademark Office Web site. If you have questions not answered by clicking on the Madrid FAQ link, you can call 571–272–8910 to get a real, live operator to help.
About the only thing you'll need to get started is the registration number of your trademark, which you should have gotten when you originally filed the name of your product or business in the United States.
The rest is just decisions.
At a certain point you will be asked to choose how many countries. If you hit the EU button, you will get all the European Union countries that are a part of the Madrid Protocol at once. You will also be asked to choose a second language for the EU. Most people choose French.
I would recommend procuring a trademark for your product at the very least in the European Union, China and Japan. I also added Russia and Korea, and the total bill was only $3,732. I could have picked only certain European countries and China and Japan for half that amount, but I wanted full protection. It was worth it after my experience with Australia.
If you have been considering going to the international markets with your brand, but were afraid of someone stealing your trademark, here is a way to protect yourself. Yes, there are always people out there who will try to take advantage of you, but it's nice to know that all size businesses now have a level playing field in which to protect their creative endeavors.