There is a good reason that Dr. Toy has ranked Numbers Count ($14.99) by purple pebble games as one of the 100 Best Children's Products. In fact, this game was very well near the top of the list.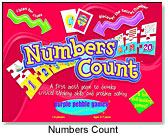 Numbers Count offers several great mathematical games to choose from, and there are variations in which each of those games can be played, so children have many options for learning and entertainment. Each of the games helps to teach children vital concepts such as number recognition, matching, sequencing and comparing. What this equates to is a game that drastically improves children's critical thinking and problem solving skills. Additionally, the game wonderfully connects math to literary development.
Aspects of the game that are entertaining include illustrated secret number cards, listening for clues, children clapping their hands to correspond with various numbers, and much, much more!