"If we get good at this, we could open our own jewelry shop!" — The Wilson kids
This month both the homeschooled girls and boys had fun crafting items to play with, wear or display. Their moms were pleased with the quality of the craft sets and the items their kids produced.
"I would give any of these kits to a child for a birthday present," commented Lynn Costine, a former art teacher.
Participating were Lynn Costine with Sarah (13 years), Anna (11), Emily (9) and Will (7); former business owner and current nursing student Julie Petoia with Cabot Lee (11), Talia (10) and Malynne (8); Susan Ledford, editor of the Homeschoolers Resources Directory, with Victoria (11) and Joe (7); former corporate workshop manager Shawna Hughes with Alexa (11); and Teresa Wilson with Timothy (13), Andrew (11), Elise (7) and Steven (6). Click here to view the full results of the survey: Homeschool Families Rate Toys.)
Design Studio by PAMELA DRAKE
A more sophisticated product from the Woodkins line, this toy lets kids design outfits by placing swabs of fabric in a wooden template shaped like a tween girl.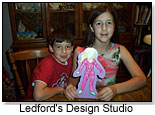 "The Pamela Drake Design Studio was a huge hit for both Malynne (8) and Talia (10)," began Petoia. "We had owned Woodkins in the past, and they were thrilled to have an updated version."
Costine's older girls moved quickly from nostalgia to disinterest in the toy, but 8-year-old Emily "loves it," commented her mom. "I'm making costumes for a local children's production of Alice in Wonderland and she's following me around, picking up the scraps."
Both Joe and Victoria Ledford liked the different fabrics and the different ways to make clothing pieces, said their mother.
"She looks like a gymnast in that!" proclaimed Joe.
"Let's try a dress next," suggested Victoria.
"I loved that everything needed to play with this toy was included — even the scissors!" noted Wilson. "My 7½ year old daughter loves this toy! She would definitely request a companion module to this toy, like additional mini bolts of cloth and/or patterns."
Suggestions to improve the Design Studio included providing a carrying case, information on the history of fashion and more variety in the cloths.
"It's a great product and a very interesting way of allowing fashion design without using up materials," concluded Hughes.
Jewelry Kit by PAMELA DRAKE
Wire replaces strings in this jewelry kit, which was a hit with moms and kids alike.
"My girls had a big fight over the findings in the kit because they quickly realized they'd be limited to a certain number of earrings," said Costine. "They made really cute things with it. (13-year-old) Sara wore her earrings out in public, and she has high standards."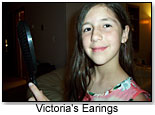 "This kit would make a great gift for any tween girl," affirmed Ledford.
"The jewelry kit was great because it allowed each of the girls to complete several pieces of wearable jewelry, and after they were done designing, there were no leftover beads to be sucked up by the vacuum cleaner! What a bonus," sighed Petoia.
"Alexa liked the different beads and wires," Hughes told TDmonthly. "It's different from the bead kits you see everywhere, but it still is jewelry making for kids who really like that. It is a good product."
"It's easy for small fingers to use," noted Wilson.
"Wow! If we get good at this, we could open our own jewelry shop!" enthused her kids.
Suggestions for the kit included more color variety in the beads.
"My kids would be very likely to purchase a similar toy," concluded Wilson.
Getting Started Drawing & Sketching
by
FABER-CASTELL
Everything a kid needs to know to start drawing better comes in this kit — including a variety of pencils.
"Each of my three kids who'd just finished a sketch class felt this was a perfect set for someone taking art lessons — or wanting to learn on their own," commented Wilson.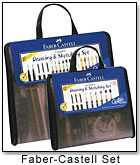 "These are what REAL artists use!" said her kids.
"The art kit was wonderful," agreed Petoia. "The instruction booklet regarding how to improve your drawing skills was a big help to Cabot Lee (11). It is definitely a keeper."
"It's a really good thing to have," verified Costine.
"This kit is great for ages 9 and up, our family decided. But a much simpler kit with a real charcoal pencil and a real graphite pencil, along with a booklet showing the very simplest of sketching techniques, would be appropriate for and welcomed by a 7-year-old," added Ledford.
"Alexa liked how the instructions showed how to draw things," said Hughes. "She'd be very likely to request another kit like it. She loves drawing and really liked this kit."
"I can do some of the things they show in the book now!" said Alexa.
The kit could be improved with a "how to draw" page with step-by-step instructions and a carrying case, said some of the moms.
"I think it is great the way it is," concluded Hughes.
Ancient
Egypt
Mummies and More
by
FABER-CASTELL
Kids can make a mummy, decorate a sarcophagus and construct a pyramid bank with this Ancient Egyptian-themed craft kit.
"It's equally good for boys and girls," noted Costine.
Her kids enjoyed the kit, but she said, "We've already done Egypt to death! A couple of years ago, we mummified a chicken and made a sarcophagus and pyramid. This was much simpler but it was cool."
"This kit had interesting ideas and makes learning fun," said Hughes, though her daughter at 11 was already too old for the projects.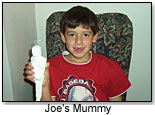 "The instructions were clear and toy came complete with everything needed," noted Wilson. "The children liked the fact that it was messy but manageable." In other words, they loved working with the plaster strips and sand and being allowed to do so indoors. "They have already inquired whether kits were available for Ancient Rome and/or Greece," she added.

Ledford suggested that the kit include information on the purpose and process of mummification. "Perhaps you could also build (rather than assemble) a pyramid … out of sugar cubes, for instance."

The parents agreed the kit was best for younger children. Seven-year-old Joe was able to do it himself, though 8-year-old Malynne needed a bit of assistance.

Here are the toys that taught the homeschoolers this month, plus a few extra toys by the same companies:

The Getting Started Drawing & Sketching Set from Faber-Castell is a complete set to learn basic drawing and sketching techniques such as hatching, shading and smudging. The set comes with a fully illustrated 24-page instruction booklet to help students get started with drawing. The set features four graphite sketch pencils, two charcoal pencils, one blending torchon, a sharpener, an eraser and a pad of acid-free art paper.

.

AD

Kids discover the secrets of ancient Egypt as they wrap a mummy, paint a sarcophagus and construct a pyramid bank. They can decorate their artifacts with specially formulated water-activated plaster gauze, sand paint, shiny jewel rhinestones and metallic accents. Designs are finished with authentic hieroglyphic stickers. The kit includes latex-free crafting gloves, table cover and a handy no-mess mixing tray. It was launched in March 2006.

.

AD

This 17-piece ceramic tea set comes with four cups, four saucers, four plates, a teapot, a creamer and a sugar bowl. Girls can paint the tea set with any pattern or design using ceramic paint. A tea party is a timeless activity enjoyed by both children and adults. Older girls will enjoy painting this miniature set as a collectable for their room or as an accessory for their doll collection.

.

AD

Creativity for Kids has come out with a brand new flip-flop kit that gives tween girls a little elevation: They have wedge-style heels for maximum fashionability. The kit comes with two flip-flop styles so it makes a great mother/daughter activity or fun for two friends. The larger pair features a fun, chunky heel and has blue and pink stripes, and the smaller pair is pink with circles. They come with self-adhesive sequin trims, sparkling angel eyelash yarn and iridescent butterflies. The kit was launched in February 2006.
— "Flip-flops have been hot," enthused Michelle Deutschmann, owner of Kaleidoscope Toys in Falmouth, Mass. Half of retailers who sold make-your-own clothing kits said that flip-flops were their best items, and it was the most popular kit in this survey.
— "Flip-flop kits keep selling," agreed Rich Gordon, owner of the Learning Express in Exton, Pa.
— "Flip-flops have been strong for a couple of years," said Kate Tanner, owner of Kid Stop Toy & Book Store in Scottsdale, Ariz.

.

AD

Each box comes with two hats. The kit includes an adjustable fabric baseball hat and a visor. Peel-and-stick felt shapes let little hands decorate with ease. The hat can be finished off with pretty fabric ribbons. Launch date: 2006.
— "It's really darling," enthused Trish Garlock of Treasured Child in La Grange, Ky. "There's also a ribbon-and-felt tote bag that looks like it'll match."
— Of the 14 retailers who carried make-your-own clothing items, 10 said that Creativity for Kids kits were among their best sellers.
— Boys who want cool caps, too, can make CFK's "Creature Caps."

.

AD