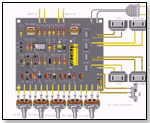 Electronic science kits used to be a relatively snoozy staple in toy stores, but recently they've "exploded in popularity," retailers reported to
TD
monthly Magazine
. One reason: Girls are buying them in record numbers.

These kits are "totally different from the normal school curriculum and really make kids think and explore," pointed out Greg Bonner, owner of Heights Toy Center in Little Rock, Ark.
"Kids just love to experiment," added Neil Ramyad, assistant manager at Zittles and Zitomer in New York City.

Find out what kits are getting young scientists fired up in next issue of
TD
monthly Magazine
.
Writer's Bio:
Mark Zaslove is an entertainment industry veteran in developing content (writing, directing and producing television and feature films) for the major studios, including Disney, Universal and Warner Bros. A two-time Emmy Award winner for writing and recipient of the Humanitas Prize (for writing uplifting human values in television and movies), Mark is also Head of Content Development for Nice Entertainment.
Read more articles by this author