---
Retailing Tips: Brand Your Toys
Unique Gift Wraps Are Easy Advertising
"We go for bright colors — not a lot of choices because that makes it hard."—Diana Glasier, Green Caboose

"The only thing that separates us from other stores is customer service. ... Knowledge is one [component]. Gift wrap is the other," said Kate Tanner, owner of Kidstop Toy & Book Store in Scottsdale, Ariz. She and 19 of 22 other retailers from Arizona to New Hampshire told

TD

monthly Magazine

that free gift-wrapping brands their merchandise and acts as a subtle form of advertising.

Judge a Gift by Its Wrapping
"We are known by our Father Goose paper," said Helen Noland, owner of Father Goose in Macon, Ga. "It is customized, and when people receive a gift in Father Goose paper, they are excited because they know it will be a quality gift."

Tanner commented that the June 2006 edition of a local parenting magazine contained a photo of a table piled with presents at a child's birthday party. Every present in the photo had been bought at her store. How could you tell?

By the gift-wrap: Every gift was wrapped in Kidstop's unique paper and tied with its characteristic bow.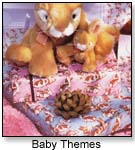 Simplicity is the key for successful branding, retailers agreed. Only a few colors and patterns are needed to appeal to both sexes and all ages.

"We go for bright colors — not a lot of choices because that makes it hard," said Diana Glasier, owner of the Green Caboose in Stroudsburg, Pa. She picks wrapping that's "not necessarily just for a boy or a girl … maybe a rainbow."

At Imagination Toy & Furniture Company in Blacksburg, Va., customers can choose "baby, birthday and a generic because a lot of people get a baby gift and one for an older sibling," owner Paula Bolte explained.

Bolte tries "to find seasonal paper — like kites or bugs," while Tanner stays away from "children's" paper. "We keep a very upscale look that's very different."

The wrap at BeBeep — A Toy Shop in Severna Park, Md., is "plain white paper with colorful ribbon" according to sales associate Nikki White — not what comes to mind when you think of children and gifts, but eye catching and attractive.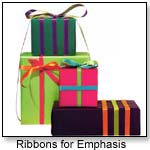 Make Gift-Giving Easier
When a busy parent or grandparent leaves your store with wrapped gift in hand, it means there's one less thing for them to do. As Glasier put it, "It helps a lot for moms who are on the go."

"We also ship out, so grandmothers can ship gifts anywhere in colorful wrapping," said Natalie Reese, manager of Angel's Toy Barn in Greensburg, Pa. "We also have a gift registry for kids to pick out what they would like. This eliminates the guesswork. When customers use the gift registry, they get 10 percent off their purchase."

Although gift wrapping is a sure way to please customers and brand your sales, the 60-year-old Phillips Toy Mart in Nashville, Tenn., gets so busy during the holiday season that they suspend the service, according to owner Powell Philips. (VIEW ARTICLE)

Whether it's paper decorated with rainbows or insects or elegant white, "Your gift wrap is your signature and it really does set you apart," concluded Tanner.

That's certainly worth the price of a ream of paper and some pretty ribbon.

What follows is more information on gift wrap and related products.
Gift Wrap
by
GLITTERWRAP
Other products from GLITTERWRAP
Shop for It!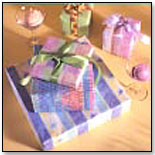 Glitterwrap features a beautiful selection of wrapping paper inspired by artists from around the world.

ToyDirectory Product ID#: 8708

(added 7/25/2006)

.

AD
---
Gift Enclosures
by
PINX A CARD CO. INC.
Other products from PINX A CARD CO. INC.
Shop for It!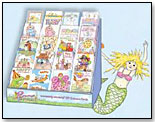 Customers can wrap their gifts in style, when topping them off with these adorable foldover gift enclosures. Styles include pirates, puppies and pink elephants. They're printed on recycled paper. A dozen come in a pack. They're new for 2006.

ToyDirectory Product ID#: 6977

(added 2/22/2006)

.

AD
---

Writer's Bio:
Elizabeth Greenspan edits and writes for trade and technical publications. She has interviewed and collaborated with some of the top practitioners in their fields. She lives in Philadelphia and travels extensively for her work.
Read more articles by this author
THIS BANNER IS AN AD:
---
---