---
Kids Want Carrots for Birthdays
But Babes Choose Chewable Plush
"The food is the best seller."—Dianna Boyd, Toys & Company
With additional reporting by regional correspondents Virginia Davis and Brenda Ruggiero
Food is the best offering for a little kid's birthday, retailers from the South told TDmonthly Magazine correspondents — more specifically, veggies and fruit by Melissa & Doug and International Playthings that doesn't spoil or wither. For baby showers and first gifts, soft plush toys by Gund (ToyDirectory), Gantz, Douglas (ToyShow), Manhattan Toy (ToyDirectory) and others are still the best choice, retailers from both North and South said, though one noted customers picking up tiny Bobux shoes as an add-on.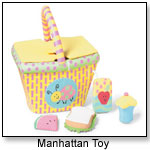 Little Food Makes for Big Shoppers
Melissa & Doug was named by 9 of 22 retailers.
"Customers ask for that brand and then look for the item. The food is the best seller," said Dianne Boyd, owner of Toys & Company in North Myrtle Beach, S.C.
"The food is a winner," agreed Shindele Liberman, manager of Gretchen's in Atlanta.
Four others singled out fake food by various manufacturers as a top gift choice for kids.
"International Playthings' grocery items and My First Purse," are big with little shoppers, added Joyce Matthews, owner of Just 4 Fun in St. Simons, Ga.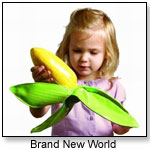 "HABA's wooden grocery items are made so small because they fit better into the children's hands. It is not meant to be 'life sized.' The fine attention to detail and the variety of items we offer, such as potato chips in tins, tea bags in tins, chocolate bars and gummi bears make the HABA grocery especially endearing," Lea Culliton, vice president of HABA, told TDmonthly.
Give Babies Something to Baby
Babies, though, need something soft to chew on, so the first choice for shower and welcoming gifts are plush toys and dolls, said six retailers.
"In the baby category, textures are incredible. Fabrics are so soft and silky," explained Diana Glasier, owner of Green Caboose in Stroudsburg, Pa. "It's a long way from the Steiff bear that you basically could have scrubbed with because it was so stiff."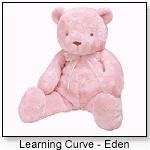 "Today's 'blankie,' Lil' Snugglers are irresistibly soft and comforting," explained Erika Radich, of Douglas Cuddle Toys. "They are lined and edged with that soft satin of those favorite security blankets of yesteryear and have the sweetest sleepy animal heads with embroidered eyes."

"Small soft dolls for babies by Madame Alexander and Corolle (ToyShow)," are the top-selling baby gifts for Helen Noland, owner of Father Goose in Macon, Ga.

When asked why Corolle baby toys are a good choice for gifts, Maggie Moss-Tucker, public relations representative for the company said, "The main reason is because they're really soft. And what makes Corolle truly distinctive is the vanilla scent in the vinyl, so it smells like a baby."

She added that Corolle's Bébé Do is a helpful gift for a child who's expecting a sibling. "When my son was having a sibling, we had a doll for him," she told TDmonthly. "It's very empowering for the little kids to take care of something."

Satisfy a Tiny Shoe Fetish
Paula Bolte, owner of Imaginations Toy & Furniture Company in Blacksburg, Va., commented that baby-gift shoppers are supplementing plush by Manhattan Toy and Gund with Bobux shoes. "They've done really well," she said.

Keeping "food" well stocked and the plush handy will help gift buyers find the right toy for the right kid. Here are the gifts that retailers said were doing well for babies and tots, as well as a few scouted by TDmonthly staff:










Expanding upon the already successful babyGUND brand, babyGUND Nursery line explodes onto the scene with pale colors of pink, blue and yellow. The Bear Tales Collection offers exciting new nursery décor products for the infant and preschool child and is sure to add that special touch to any baby's room.

.

AD
---






.

AD
---






Kids "crack" open this plastic egg and out spills a plush white and yolk. They can make breakfast for their other plush toys while mom and dad take a much-needed rest.

.

AD
---






Corolle's Classic 14" Bébé Do is dressed in white velour pajamas and comes in a rattan Moses basket complete with a pink and white ruffled liner. The soft-bodied Bébé Do features a realistically sculpted face, eyes that open and close and delicately tinted vinyl skin that is lightly scented with vanilla, a Corolle signature. Bébé Do comes with her own soft bunny, baby bottle and a small picture book with ideas of how her new mommy can take care of her.

.

AD
---






.

AD
---






Kids can serve up good health with these fun, nutritious snacks. This set of 18 plastic foods encourages children to make healthy food choices and includes fruits and vegetables, milk, cheese, yogurt, pretzels and crackers all packaged in a vinyl lunch sack. The set is also great for teaching everyday vocabulary to English language learners. The milk carton measures 2.75" x 3.25". The foods are made of durable, non-toxic plastic.

.

AD
---






Horace is the 1904 Steiff bear of Priscilla Longfellow Thorpe — the granddaughter of 19th century poet Henry Wadsworth Longfellow. Horace was well traveled and rubbed shoulders with some truly famous people of the early 20th century. He even "shook paws" with his namesake, Theodore Roosevelt! Steiff has reproduced Horace as he appears in turn-of-the-century family photographs. His velvet paw pads are an exact reproduction of those that were patched over by a nanny in the 1920s with material from an old velvet cape. Horace is mohair and comes with a book that tells his life story in words and pictures. A North American Limited Edition of 1,500 pieces, it's "new" for 2006. He comes with an embroidered bag and stands 60 cm high.

.

AD
---






.

AD
---






These pretend play food fruits and veggies are a great way for toddlers to learn about the rewards a garden can bring. Each lifelike fruit and vegetable can be pulled apart, peeled, or sliced as if it were the real thing. This soft plastic food set includes lettuce, pineapple, orange, banana, pea pods, cauliflower, onion, peach, an ear of corn and a plastic knife for "cutting" fruits and veggies. The included canvas tote has a mesh bottom.

.

AD
---






The Grabby Elephant is a super-soft elephant friend that is easy to grab and hold. Inside his belly is his little friend, the Wiggle Mouse. Pull the mouse out and he wiggles right back into place.

.

AD
---






This stuffed animal monkey is a smiling interactive toy whose stunning purple, yellow and green patterns attract babies' eyes. When the infant or toddler claps the monkey's hands together, the monkey plays the song "If You're Happy and You Know It." Launch date: 2006.

.

AD
---






This cute infant footwear, called Madeline, comes in light pink/pink and offers a pretty look for baby girls on the go. This soft pink leather shoe with dark pink accents is the perfect footwear choice for Spring and Summer fashions from dresses and rompers to jeans and shorts. The style is new for 2006.

.

AD
---






.

AD
---






The Bumble Bee's motion encourages baby to follow, building upper body strength needed for crawling. Its bright patterns and multiple textures and crinkle offer both visual and auditory stimulation.

.

AD
---
THIS BANNER IS AN AD:
---
---