Every year, new curricula and styles of teaching come into vogue that affect back-to-school product designs. How are manufacturers keeping up with current demands from educators and parents for the 2006 to 2007 school year? TDmonthly Magazine spoke with them to find out.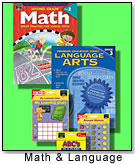 Choosing a Focus
"Overall, parents and educators really seem to want to see math and language resources that can help to prepare children for school and proficiency tests," explained Theresa Gamble, director of marketing at Learning Horizons. "Children need resources that strengthen the child as a whole person, including language and vocabulary, school social skills (i.e., sharing, following directions, taking turns), early math (including shapes, adding, counting) and various other basic skills that are necessary in early school years (e.g., opposites, sorting, time, money, etc.)."
Other manufacturers chose specific product categories in which to create new designs. "This year, our focus is in science," said Alice Martin, director of marketing at Dowling Magnets (ToyDirectory). She said that based on company research, "Parents are looking for science projects they can work on with their kids."
So Dowling has updated science kits they sold years ago by providing easier-to-follow instructions and creating more experiments. For ages 12 and up, the Science Discovery Kids kits are expected to be on store shelves by the time science fair season picks up in late summer, when the company traditionally receives requests for such products.
On a similar note, Julia P. Morgan, CEO of Pal Toys LLC (ToyShow), said her company's activity-laden Reading, Writing and Math Bright and Beyond decks have been selling well to teacher outlets because of current educational curriculum. "Teachers tell us that they have to be more creative to keep classes interesting in this era of worksheets and testing …. We've also been told that there are always those 'gap' times, when a teacher needs to fill in with a 10-minute activity or reward time. Bright and Beyond decks fit the bill."
Likewise, Kelly Christensen, national sales manager at Kidz Delight, said, "We work with a lot of different teachers — our president has a degree in education. We're building more logic into our products. We try to get kids to think outside of the box." The company is coming out with an interactive memory matching game that works off the traditional Concentration model, but asks kids a question that they have to answer through matching.
Revamping Products
Toro Luby, president of Bulls-Eye Creative (ToyShow), took the advice of his sales rep and created a new product, DoodleFoam, to meet retailers' desire to find more versatility in his flagship product, the Tieramid.

"We took the same basic pattern design and moved it to arts and crafts," Luby explained. "The category has been booming, and this product will fit into a lower price bracket."

He added that he will receive more feedback this summer through the opinions of test market groups that will include homeschooled children and those taking summer classes.
"I feel the trend for this year will be more focused on the creativity and imagination front, rather than on just telling them what to do," agreed Edmund Shen, president of Shinet Corp., makers of KidInventor kits. He explained that the learning process is the truly important aspect and that can't be found in a book: Kids need hands-on experiences.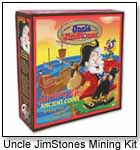 David Bishop, president of Planet Import Inc., parent to Uncle JimStones, echoed this notion. His company is busy creating materials for use in geology discussions. "We create a lesson plan, if you will. We begin looking at what's being taught and tailor our products to meet that need." This year, many second and third graders in will be taught a gem and fossil program, so Uncle Jim Stones is coming out with two Classroom Adventure Kits that get kids involved in learning.
Capitalizing on Computers
Charlie Kapp, technical director at My Little Genius, maker of kids' computer equipment, noted that his company is meeting that same need while providing kids with advanced technological know-how. "Computer and keyboarding skills are ever more important these days — and for younger and younger kids. As these trends continue, it's just as important for kids to develop these skills as early as possible, for both their educational and daily use," he said.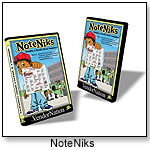 Another hot topic resulting in many educational products is nutrition. Mindy Myers, CEO of Sound Advice Inc., spoke about the NoteNiks Menu Templates CD. "The software was designed to make it easy for a food service director to input their menu into a pre-fabricated design, but the grids also contain healthy eating comics. Kids (and parents) are drawn to the comic strips, which impart messages about the importance of drinking less soda and eating more vegetables."

Beyond new educational focuses, there are always new ways to teach old concepts. "We heard that a lot of schools teach geography at certain grade levels, but that there weren't a lot of classroom learning materials available," said Bob Galinsky, founder of GeoToys (ToyDirectory). "Teachers like the GeoPuzzles because kids like to do them, so you're not forcing them to learn geography."

Still, some manufacturers are sticking with the tried and true. "My favorite product for back to school is the Bonnie Terry Reference Pack," said Bonnie Terry, M. Ed., BCET, and head of Bonnie Terry Learning. "It consists of two guides that give kids and parents everything they need to address any writing project and/or math assignment they will have this school year."

Others pointed out that if an educational product isn't fun, it just won't work. When it comes to Rainbow Treasure Hunt, "kids are the ones asking to play it," offered Jacquie Watkins, president of Write-To-Read Inc. "While guessing and finding clues, they are learning how to write and read."

What follows is more information on back-to-school products manufacturers will have in store for Fall 2006.

This set of lightweight foam shapes come in circular, triangular and square motifs as well as a variety of colors. The kit builds on the structural concept that debuted in the Tieramid format. The kit comes with an activity book that shows kids how to make every alphabet letter and every number as well as more complex designs, such as a castle and lighthouse. Launch date: September 2006.

.

AD

Award-winning Rainbow Treasure Hunt is a great game for educational play at preschools, day care and homeschool classes. Designed for ages 3.5 to 8 years old, this exciting, versatile treasure hunt for the alphabet combines the simplistic fun of the classic children's games I-spy-with-my-little-eye and hide-and-seek with the excitement of an Easter egg hunt. Kids have fun while learning word and letter recognition and begin writing and reading. More than that, it fosters critical playtime between children and parents.

.

AD

LeapFrog products are designed to motivate, stimulate and encourage young learners to master and reinforce important concepts in language and math, while having fun and being active. Engaging photographic covers, challenging content, full-color pages and a bonus CD make this new series of workbooks distinctive. Icons are used throughout the books to help guide young readers through the educational exercises. Special Get Moving! activities are featured on various pages to help foster learning with creativity and physical activity. The bonus CD contains printable review pages, printable stickers, a progress chart and an award certificate to present to the child upon completion of the workbook lessons. The titles included in the series are Basic Skills, Reading and Writing and Math.

.

AD

This is a unique memory-matching game that challenges kids to find matching pairs by answering questions. It includes 10 double-sided learning activity cards that can be inserted in the plastic holder. Removing the 12 plastic pawns reveals each of 12 colorful graphics to be memorized. It includes 240 card side topics and 20 activities in varying difficulty levels. The game comes in a colorful try-me box package, and the plastic holder has a card-storage compartment on back. Batteries are included.

.

AD

This creative and educational kit allows kids to work on 120 stimulating electronic projects. Kids can create different music, sounds, light, flash, radio, a turning fan and more. The kit includes colorful blocks each with a visible component and a standard electrical symbol. The snap-together parts make circuit connection and assembly easy and secure with a simple click. No soldering or wiring is necessary. An easy-to-follow color instruction manual is included with some 1:1 size circuit diagrams. Kids need only place the "motherboard" on top of diagrams and match it with component symbols, IDs and colors to make fun projects and begin inventing.

.

AD