"The exchange of gifts is directly correlated with gratitude and appreciation for that other person."—Michael Brielmann, Gift Giant
Does the ubiquity of retailer gift cards mean that traditional gift-giving is out of style? Not according to manufacturers who spoke with TDmonthly Magazine.
Know Their Passions
"Gift-giving continues to be strong because it's an emotional attachment," said Roger Richards, president of Unimax Giftware Inc. "It has a personalized effect to it."

His best-selling line is Forces of Valor, which comprises detailed and authentic miniature die-cast reproductions of military vehicles and soldiers.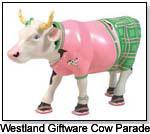 "Our product is purchased by boys 8 to 80, and is really appreciated by those 'boys' who watch the History Channel and the Discovery Channel," he continued. Products such as his demand that the giver be familiar with the passions of the recipient, which makes them "rewarding for the giver, too."
For fans of the Western motif, Westland Giftware's No. 1 line is called the Trail of Painted Ponies.
"It's a very strong gift line, focused primarily on Native American art," commented Jim Bradshaw, vice president of sales and marketing for Westland Giftware. "It has strong acceptance in the marketplace in the southwest, and it's growing across the country."
The company just introduced new Christmas ornaments, including a set that features the Painted Ponies.
"When you give a gift, it's truly to let another person know you care about them and have good thoughts about them, making them feel special," noted Kimberly Pfeifer, director of sales for Giftworks by Clegg (ToyDirectory).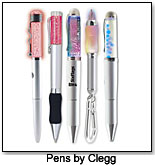 One of her company's special gift items is the Color-Morphing Pyramid, a pedestal lamp that's just 2" high and contains multicolor LEDs. "It's small enough to be a party favor," she pointed out.
Show Appreciation
"The exchange of gifting is directly correlated with gratitude and appreciation for that other person," said Michael Brielmann, CEO of Gift Giant. "I don't think that'll change in the next thousand years."
Gift Giant specializes in personalized gifts. The company has eight new collections coming out, including a coordinated line of Christmas ornaments and new Personalized Stockings that come with a marker. "Our retailers who've been in the business a long time are thrilled about these," he said.
"Taking the time out of a hectic schedule to find a special gift for someone is a demonstration of caring," emphasized Holly Kenny of Groovy Holidays. "Adding an element of craft to the gift that you don't see everyday in the big-box stores (e.g., Toys R Us, Target and Wal-Mart) makes the person receiving the gift feel like an extra effort was made. Our Birthday Banner is a gift that can be brought out year after year for kids young and old."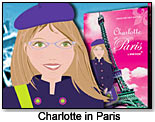 Bobbie Carlton, director of marketing for Beacon Street Girls (ToyDirectory) predicts that the company's new Charlotte in Paris line will be "huge" with tween girls for the holidays. Charlotte in Paris is a series of adventure books accompanied by products such as a messenger bag, passenger bag and pillow with a pocket and flashlight for under-the-covers reading.
"The messenger bag is really striking: Purple corduroy with a lime-green strap and trim," she said. "I was talking to product placement people about putting it in their film, and they were drooling … they went for it! We shipped it out to location, and they're filming."
She couldn't yet divulge the name of the movie, but promised TDmonthly that she'd let its readers know as soon as she could.
Carlton doesn't think that gift-giving will ever be replaced by e-mailed gift certificates or other high-tech doodads: "Virtual gifts are hard to wrap!" she quipped.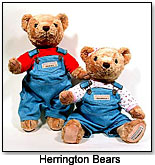 For tween girls and others reading about anyone's adventures, the Thumb Thing and Silly String bookmarks by Fun-N-Nuf could be just the right stocking stuffer.
"These products are always a nice addition for when someone buys a book or gift to give to readers," said Fun-N-Nuf president and owner Jenean VanBreene. "Bookmarks encourage kids to read."
It's in the Details
Vida Valencia, a new gift card company launched last June by graphic artist Debra Valencia and her partner, Herrington Bear Company (ToyDirectory) founder and chief artist Chris Herrington, might disagree. They are introducing a new line of "wrappings" for gift cards that feature modern designs appealing to young adults. They have pop-up cards, cards shaped like purses and cards shaped like pets to make the presentation of a gift card a gift in itself.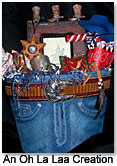 Daniel Wiechert of Disegno knows all about presentation: His company makes special gift wraps that may even last longer than the gifts.
"Some of our gift wraps are designed like picture books," he explained to TDmonthly. "This will encourage a child to 'tell stories' — just like with a real picture-book. He can also cut out single scenes to make up a new story in different combinations. Gifts in such a special packing will not just be torn open … they are well noticed and give a special value to a gift."
That level of detail is what appeals to purchasers of Oh La Laa's (ToyDirectory) gift creations, too, said Laurie Mirman, owner of Oh La Laa. "They're customized and personalized in such a unique design that the recipient is filled with warmth. What could be better than to receive a gift that is fun, colorful and filled with all the things that are reflective of you?"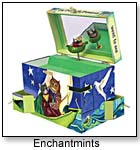 "Gifting indicates you've given some thought as to what the individual would like to receive," stressed Bob MacKerricher, president and owner of Northern Gifts Ltd., whose company licenses Anne of Green Gables for North America and just received the Curious George license for Canada. "You did planning and work and that speaks volumes about how much you care about that individual."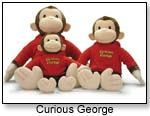 "I think that if you choose a gift carefully, it shows your love and thoughtfulness to the person you're giving the gift to," agreed Kathy Magid, of The Reprint Mint Inc., which produces Enchantmints jewelry boxes in designs from ballerina to horses. "Also, hopefully, the gift will remind the recipient of you, and when they look at it, they'll remember you."


Here are the gifts that manufacturers told TDmonthly would be among their most memorable for the holidays, 2006:

The purple corduroy bag is just like the one Charlotte uses in the "Charlotte in Paris" book series. Complete with Eiffel Tower patch and plenty of room for cell phone, wallet and even missing priceless works of art (you have to read the book to understand…) it is trimmed in green with an adjustable shoulder strap and button snaps, and measures 11-1/5" x 2-1/5" x 8".

.

AD

Eiffel towers and French phrases, a purple velvet pocket trimmed with black and white grosgrain ribbon, and black velvet piping festoon this fancy pillow. There's even a mini flashlight for after-bedtime reading, and a "Charlotte in Paris" book to peruse.

.

AD

These stockings will be hung by the chimney with extra care and everyone will know which one is theirs. Personalized stockings make a fun and warm Christmas gift — especially when they're all filled up!

.

AD

Forces of Valor is a range of authentic reproductions of World War II and modern military vehicles and soldiers. The reproductions are available in several scales, including 1:32 and 1:72. The vehicles and soldiers are recreated in astonishing detail in die-cast metal and plastic and meticulously painted and weathered to represent specific campaigns. This U.S. M4A3 Sherman, complete with tank commander and three riders, has hatches that open and tank tracks that roll along the working suspension. Made of die-cast metal, the tank has the look and feel of the real tank in action at Normandy in 1944.

.

AD

The U.S. M3A2 Bradley includes a tank commander and gear for an entire squad. Tank tracks roll, hatches open, turret turns and gun barrel elevates. This is an authentic replica of the Bradley Fighting Vehicles on the ground in Iraq today.

.

AD

The Painted Pony line began as a hugely successful public arts project in Santa Fe, N.M., in 2001. Westland Giftware began producing miniatures based on the Painted Ponies in 2005, and is now going into its third year of offerings. This trotting horse is decorated with designs inspired by numerous Native American cultures. Launch date: June 2006.

.

AD

One of the newest Painted Ponies for 2006 is decorated just right for the holidays. Based on a successful public arts project in Santa Fe, N.M., the Painted Pony line is Westland Giftware's most popular gift product. Launch date: June 2006.

.

AD

This series of gift wraps is illustrated with pictures that kids can use to tell a story. After a present is unwrapped, they simply cut out the illustrations, rearrange them and let their imaginations go.

.

AD

.

AD

This is a gift that can keep on giving throughout the recipient's lifetime. A Happy Birthday Banner makes every party special and festive.

.

AD

The tallest style is excellent for tiny treasures. Earrings, bracelets, charms and sachets are all safe and comfortable inside. There are four drawers: one in front and one on each side. It measures 6" x 4" x 6".

.

AD