---
TDmonthly's Developmental Expert
New Toys, CDs and DVDs Get Kids Dancing
Christina Liu has a B.A. in Child Development and Family Studies from California State University and has worked for more than three years as an early intervention specialist, concentrating on children 0 to 3 years old. Her goal in working with children with or at risk for developmental delay is to educate parents on how children develop and to sensitize them to the uniqueness and individuality of their child. She uses toys to foster development, which makes the whole process a lot more fun. She is currently pursuing an M.A. in Human Development at Pacific Oaks College and Children's School.

Taggies Fun Shapes Cuddlin' Cube by TAGGIES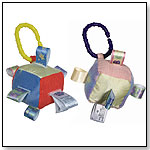 Category: Infant and Toddler
Age: Newborn and Up
Gender: Boys and Girls

First Impressions
This soft, pastel Cuddlin' Cube is uniquely adorned with tags printed with pictures of bears, sheep, numbers and letters. Inside the cube is a rattle.

Skill Reinforcement
The different textured materials and patterns on both the cube and the tags stimulate children cognitively. The rattle inside promotes sound awareness and localization. This toy will promote cognition and visual stimulation as babies learn to track the object with their eyes and ears.

Recommendations
The Taggies Fun Shapes Cuddlin' Cube is a very well-thought-out toy. I love that the designer utilized the tags as a stimulation tool. The babies loved looking at the geometric shapes and animals and shaking the Cube to make a sound.

---
Drop Stop by ATEA INC.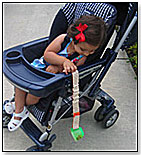 Category: Infant & Toddler
Age: Infant and Up
Gender: Boys and Girls

First Impressions
The Drop Stop is a strong strip of cloth designed to prevent items from falling to the floor. It can be attached to baby seats, such as a stroller, car seat and high chair. The other end has an elastic band with a cord stopper ideal for lighter items, such as a sippy cup, stuffed animal or toy. There is also a Velcro section that can be wrapped around heavier items.

Recommendations
This is an ingenious invention because children tend to drop things. The Drop Stop is a great tool for parents and caregivers. It allows toys and other items to be within easy access for children, and parents never have to worry about the toys getting dirty or lost.

---
Kammi Teething Doll by BABY EMPORIO LLC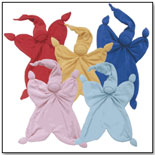 Category: Infant and Toddler
Age: 0 to 2
Gender: Boys and Girls

First Impressions
The soft Kammi Teething Doll has knots on the hands and feet for chewing. The caregiver wets the knots and places the doll in a freezer for about 15 minutes. The coolness of the knots relieves the discomfort of the teething process.

Skill Reinforcement
Even when children are not teething, they tend to place objects in their mouth. This is an important developmental stage because it gives them the opportunity to learn about the world around them by discovering different tastes and textures.

Recommendations
As with any toy or object, it is important to wash and sanitize the Kammi Teething Doll often, especially since the child is in the stage of putting everything in his or her mouth. The great thing about the doll is that it's machine washable.

---
Elephant by B*Posh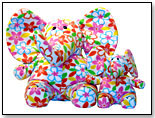 Category: Plush
Gender: Boys and Girls

First Impressions
This colorful elephant is soft and cuddly. It's printed with flowers and leaves of different colors and has a big smile. Other details include toes, fingers, big ears and a cute little tail.

Skill Reinforcement
Children have a new friend with this elephant. This is a great comfort toy and the designs reinforce visual stimulation.

Recommendations
This elephant is extremely soft and very cute. It can easily be a child's new best friend ― one that he or she can grow up with and never let go. The children squeezed and hugged the elephant. I introduced the different body parts to them and talked to them about elephants.

---
Stylin' Pony by AVAN INC.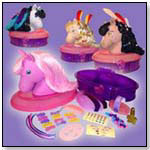 Category: General Toys
Age: 4 and Up
Gender: Girls

First Impressions
The Stylin' Pony has beautiful long hair that can be styled however a little girl chooses. The set comes with all sorts of accessories, such as beads, feathers, glitter paint, ribbons, and barrettes. All of these accessories fit neatly in a grooming tray.

Skill Reinforcement
Girls can be creative as well as reinforce their fine-motor and self-help skills as they beautify their favorite pony. They can create a variety of different styles and looks for the pony with the many accessories that come with the set. They can even invite their friends over and hold a pony salon.

Recommendations
Four unique ponies have a personality of their own: Jewel, the circus pony; Anabelle, the princess pony; Miakota, the Native American pony; and Savannah Jo, the American cowgirl pony. They all come with different accessories that match their individual styles. The great thing about the accessories is that the little girl can style herself to match her pony.

---
SteveSongs: Marvelous Day by ROUNDER RECORDS
Category: Audio and CDs
Age: 2 to 9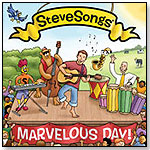 Gender: Boys and Girls

First Impressions
Marvelous Day is a collection of 17 songs that range in music styles from funky rock to ska. The music is upbeat and includes children singing with Steve.

Skill Reinforcement
There are three songs in "Marvelous Day" that children from three different elementary classrooms helped write. The lyrics are about what was happening in their classroom at the time, and the songwriting helped the children connect with what they were learning. For example, "Ducks Hatching" is about a 3rd grade class in New Rochelle, N.Y., who got 12 eggs from a farm and waited for them to hatch. Many of the songs teach children different lessons, such as the "The Veggie Song," which is about the importance of putting good food in their bodies.

Recommendations
This CD is filled with new songs and unique renditions of favorites, such as "She'll be Coming Round the Mountain" and "Gloria." Children are beautifully incorporated into this CD, which makes it extra fun for the kids who are listening. The children danced and laughed to the music.

---
The Monkey Doos: Things That Go! by MAZZARELLAMEDIA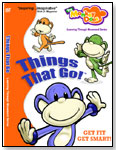 Category: DVDs
Age: 2 to 6
Gender: Boys and Girls

First Impressions
This "Learning Through Movement" series features Flip, Tumble and Twist ― three monkeys that explore the different movements of jets, scooters and more. This DVD will get children moving with the beat along with host Maureen and her co-host kids.

Skill Reinforcement
Exercise and movement are important to enhance children's physical development. This is an entertaining way to get children to exercise while having fun and learning, too. The exploration of different vehicles and transportation modes will encourage cognitive development as well.

Recommendations
Having a group of children exercise together will facilitate social development. This is also a fun exercise DVD for the whole family. "Things That Go!" will teach children the importance of staying fit and healthy.

---
Jack Grunsky: My Beautiful World by CASABLANCA KIDS INC.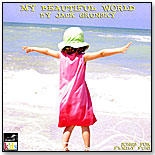 Category: Audio and CDs
Age: 0 to 6
Gender: Boys and Girls

First Impressions
"My Beautiful World" is a 17-song CD filled with music made from a variety of instruments, from an oboe to pots and pans. Jack Grunsky plays more than 25 instruments from around the world. His unique multi-cultural style can be heard in songs such as "Mayim" (water), which is an Israeli folk dance, and "Lugar Bonito" (pretty place).

Skill Reinforcement
When listening to "My Beautiful World," children not only enjoyed the music and singing, they learned a little bit about other cultures and places around the world. Incorporating other instruments allows children to hear different sounds and teaches them that they can make music anywhere and with anything. Each song has a theme, such as peace and harmony, nutrition, quality family time, responsibility and caring.

Recommendations
This is a great way for children to be creative. Children can find an object in the room and make music along with the CD. Caretakers can introduce the different instruments used and, if possible, find a picture of them or even find the instrument. This CD can be used just for dancing and physical development, or a specific lesson can be taught by talking more about the theme of a particular song.

---
Fifteen Minutes: Of Mice and Mops by AMALGAMATED PUPPETWORKS LLC
Category: DVDs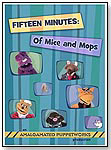 Age: 6 and Up
Gender: Boys and Girls

First Impressions
This DVD includes cute characters and the funny adventures of the Global Puppet News staff. As the staff presents the news, several mishaps occur with lovestruck mice and ninja chefs.

Skill Reinforcement
This puppet DVD is a new way to entertain children. With funny characters such as Wes Naxman and Owl Capone, there's always something going on in the newsroom.

Recommendations
By having puppets of their own or making some with socks, children can become puppeteers themselves and create storylines of their own.

---
Cantos y Rimas by CANTARIMA
Category: DVDs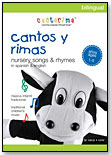 Age: 1 to 5
Gender: Boys and Girls

First Impressions
"Cantos y Rimas" is filled with nursery songs and rhymes in both English and Spanish. Included are new songs and familiar favorites such as "Itsy Bitsy Spider" and "Ole McDonald." There are children, puppets, singing, dancing and cute stories.

Skill Reinforcement
This DVD is geared for children ages 1 to 5, when language acquisition is at its highest. Children at this age are constantly learning and seeking out new and different skills. The use of songs, visuals, words and music is a great combination because it hits on more than one sensory tool.

Recommendations
Children will be introduced to a new language and words in "Cantos y Rimas" by hearing both English and Spanish.

Writer's Bio:
Christina Liu has worked for more than three years as an early intervention specialist, concentrating on children 0 to 3 years old. She uses toys to foster development, which makes the whole process a lot more fun. She has a B.A. in Child Development and Family Studies from California State University and is currently pursuing an M.A. in Human Development at Pacific Oaks College and Children's School.
Read more articles by this author
THIS BANNER IS AN AD:
---
---