---
New and Notable Toys: Water Toys
Check out these noteworthy toys.
Extreme Ball by WABOBA INC.


Play life to the extreme. The Waboba Extreme is the most versatile of all the Waboba balls. It is perfect for all open water play at the beach, lake, or even the local city fountain. Its ability to bounce high and fast makes it a fun and challenging water sport to be enjoyed by everyone. With its extreme wow factor, you'll get attention everywhere you take your Waboba ball. 5/20/2013 (Price: $8.99) [Add to my Inquiry Basket][?]



Pooligans™ by SWIMWAYS CORP
Children will build confidence in the water with their new swimming buddy. These sweet, huggable plush toys have buoyant flotation, and quick-dry outer fabric and stuffing, making them the perfect companion for kids in and out of the water. Take Pooligans in the water for floating fun and out of the water for poolside comfort. Created with anti-microbial materials for long-lasting enjoyment. Four characters available: Dolphin, Shark, Penguin, and Polar Bear. Each character sold separately. Launch date: February 2013. 2/18/2013 (Price: $19.95; Age: 4 and up) [Add to my Inquiry Basket][?]



Sunny Patch Blossom Bright Sprinkler by MELISSA & DOUG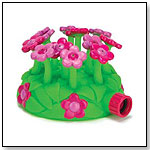 It's easy to keep cool with the Melissa and Doug Sunny Patch Blossom Bright Sprinkler. Simply attach to a garden hose and begin playing. The beautiful Blossom Bright flowers shoot steady streams of water for hours of water play. This durable water sprinkler makes a perfect spring or summer activity. 5/24/2012 (Price: $19.99; Age: 3 to 6)



KAOS Nemesis Wrist Launcher by IMPERIAL TOY LLC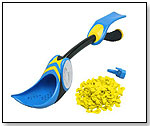 KAOS Nemesis reinvents the traditional water balloon fight by taking it to a whole new dynamic level of "getting soaked." Kids and adults can kick-up the level of insanity with an extreme water balloon fight. Each KAOS Nemesis launcher is designed to comfortably launch water balloons up to 100ft with a simple flick of the wrist. The KAOS Nemesis has a large scoop top for quick reloads and comes with 25 Balloons. 4/30/2012 (Price: $14.99; Age: 8 and up) [Add to my Inquiry Basket][?]



Splash Golf Set by PRIME TIME TOYS


Shoot for a Hole-in-One in the pool! Complete golf set for the pool or backyard. Includes One Extendable Splash Golf Club; Three Splash Golf Balls; Floating Splash Target. 4/30/2012 (Price: $19.99; Age: 5 and up) [Add to my Inquiry Basket][?]



Sights 'N Sounds Splash Table by INTERNATIONAL PLAYTHINGS LLC


The Sights N Sounds Splash Table is great entertainment for toddlers 18 months and older. Lights, sounds and plenty of action are in store on this light-weight table that lets kids scoop, strain and spin. This kids water table is great for warm summer days, or can be used inside as well. 4/30/2012 (Price: $62.99; Age: 2 and up)



SWIMTRAINER "Classic" by FREDS SWIM ACADEMY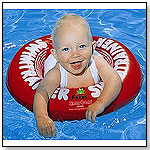 Using the 3-stage learn-to-swim SWIMTRAINER "Classic" children develop the perfect swimming style. In accordance with the company motto "it's safe to have fun," from the age of 3 months children can safely enjoy independence and have lots of fun while learning how to swim. Specially designed swimming aids are introduced according to the child's age and learning ability (red, orange, yellow). The SWIMTRAINER "Classic" comes in three different sizes. Red, for ages 3 months-4 years, is used for early habituation with the water and for learning the correct leg movements; orange, for ages 2-6, focuses on encouraging proper leg and arm movement; yellow, for ages 4-8, provides a methodical progression towards swimming with no swimming aids. These training techniques are applied for the child to achieve a perfect swimming style. SWIMTRAINER "Classic" offers children: Ideal swimming position in the water, Fast and easy to put on with clip fastener, Inflatable pads to prevent slipping through, Adjustable safety belt to prevent tipping forwards. 4/10/2012 (Price: $24.90; Age: 0 to 8) [Add to my Inquiry Basket][?]



Nerf Super Soaker Thunderstorm by HASBRO INC.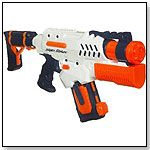 Fully automatic for maximum speed, this blaster lets users just pull the trigger to begin the drenching action. Fill the water clip, attach it to the blaster and begin sending soaking streams up to 25 feet away. Requires no pumping action. 6/14/2011 (Price: $22.50; Age: 6 and up) [Add to my Inquiry Basket][?]



Anchors Away Water Play Pirate Ship by LITTLE TIKES INC.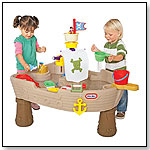 The Anchors Away Pirate Ship is made of durable plastic construction and features two fun characters, a squirting shark and a constant running water fountain. Kids can keep the water moving by pumping or pouring the water into the crows nest; the spinners cause a current in the ship which moves floating objects around. Kids can aim and squirt water from the water cannon to see the steering wheel spin, and the anchor raises and lowers by cranking the handle.
— As of 6/6/2011 this product had 3.2 out of 5 stars from 39 reviews on Amazon.com. Pros: Interactive; keeps kids engaged. Cons: Numerous reports of the plank and the cannon squirter breaking; expensive; water flow in fountain isn't strong enough to make the wheels spin smoothly. 6/6/2011 (Price: $79.99; Age: 3 to 6)



Mushroom Baby Pool by INTEX RECREATION CORP.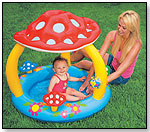 The Intex Mushroom baby pool features a built-in mushroom shade for added comfort on hot days. It has a soft, inflatable floor that allows for gentle play. Adult supervision required at all times.
— As of 06/02/2011 this product had 4.8 out of 5 stars from 12 reviews on Amazon.com. Pros: Shade keeps baby protected from sun; easy to blow up; inexpensive. Cons: One customer said one of the floats that came with the pool had a hole in it; if you aren't kneeling next to the pool when the top is on it's hard to see the baby in the pool. 6/2/2011 (Price: $12.99)



Slick Sand by DUNECRAFT INC.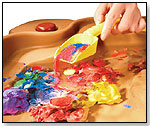 Slick Sand will not get wet. Slick sand is saturated with silicon vapors. Silicon is a very slippery substance and these vapors reverse the way Slick Sand interacts with water. When kids pour water on it, the water will stay on top and flow, instead of wetting the sand and sinking down as happens with ordinary play sand. Paired with the fun experiments, the science behind Slick Sand is explained. Kids will be introduced or further versed to terms and concepts like hydrophobe, hydrophile, conservation of mass, the biological composition of sand, and surface tension. Non-toxic. Slick Sand Includes: 1lb each of Red, Yellow, Blue, Green & Purple Slick Sand; Instructions and Information on Slick Sand. 5/11/2011 (Price: $29.99) [Add to my Inquiry Basket][?]



Pool Puzzles by FUNDEX GAMES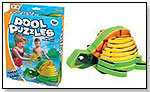 Putting Pool Puzzles together is simple- just pop the foam puzzle pieces out and assemble them by number. Once together, they become floating friends- a dolphin, turtle, or lobster. They can be taken apart and put together again every time a child plays in the pool. 4/15/2011 (Age: 3 and up) [Add to my Inquiry Basket][?]



Banzai Splash Blast Lagoon Pool by TOYQUEST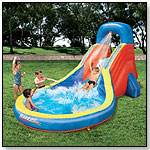 Scale the climbing wall and slide through the water-spraying arch into the connected splash pool. With the included continuous- airflow blower motor, the pool and slide inflate in two minutes. With a garden hose connected to the top of the slide, water will spray down so kids can slide into the pool. Heavy-duty Dura-Tech construction ensures lasting strength and durability. Includes 1 Inflatable Water Slide, 1 Blower Motor, 3 Blower Ground Stakes, 1 Water Spraying Hose Assembly, 6 Water Slide Ground Stakes + 1 Extra, 1 Carrying Bag, 1 Repair Kit (Glue for repair kit). Safety Warning - use with adult supervision. 4/13/2011 (Price: $329.99; Age: 3 and up) [Add to my Inquiry Basket][?]



NoodleBlox by NOODLEBLOX LLC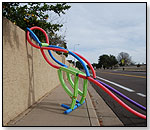 This product connects pool noodles together. The Link, the End, and the EL shaped links allow kids and adults to create many different combinations of pool noodle shapes- chains, squares, seats, and more. Each shape comes in a pack of four. (

Watch Video) 3/29/2011 (Price: $9.98) [Add to my Inquiry Basket][?]



Water Cannon by FIZZ CREATIONS
This water cannon stands on a tripod. It can be connected to a garden hose directly for an endless supply of "ammo." Launch date: June 2011. 2/24/2011 (Price: $29.99) [Add to my Inquiry Basket][?]



Tie-Not Filler by TIE-NOT INC.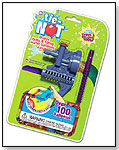 The Tie-Not Filler attaches to your hose and works with our Tie-Not tool to fill and tie water balloons in seconds. Made in the USA. The Tie-Not Filler is the "Only filler on the market that attaches to the hose and does not need to be clamped to a table. [It] can work anywhere your hose goes!" Laura Sikorcin, President of Tie-Not Inc, told TDmonthly. Launch date: February 2011. 2/9/2011 (Price: $9.99; Age: 8 and up) [Add to my Inquiry Basket][?]



Easy Fill & Tie Fun Pack by SPLASH PARTY INC.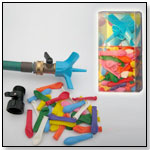 Easy Fill & Tie features a way to fill and tie water balloons easily, quickly and finger friendly. This kid-friendly device can screws onto an outdoor tap to enable everyone to make water balloons. Using Easy Fill & Tie, one can tie water balloons with just two fingers.
Awards: 2010 INPEX Silver Medal awards in Toy/Games, Sports, Gadgets, and Lawn/Garden categories. 12/7/2010 (Price: $8.99; Age: 8 and up) [Add to my Inquiry Basket][?]



Nammu Swimming Hats by NAMMU SWIMMING HATS INC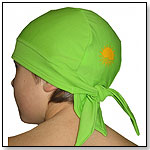 Nammu is a UV-blocking sun protection swim cap designed to protect the head from the sun's harmful rays while in and around water. Fashioned like a trendy bandana, the fitted swim cap is designed to stay in place during any activity. It is easy to care for and conveniently tucks away in a pocket or bag. The Nammu swim hat is "fashionable and fun to wear, and it ties in the back so it never falls in the water," Nammu Owner Atar Morgenstern told TDmonthly. 9/13/2010 (Price: $19.00; Age: All Ages) [Add to my Inquiry Basket][?]



Yo Gabba Gabba Bath Buddies by SPIN MASTER TOYS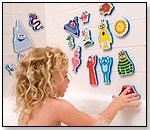 This 21-piece set includes all the Yo Gabba Gabba characters. Bath Buddies are foam "stickers" that stick to the bath tub and can be used again and again. 7/27/2010 (Price: $29.99; Age: 3 and up) [Add to my Inquiry Basket][?]



Aviva Cosmic Slide by AVIVA SPORTS
Slip, slide and splash the days away with the Aviva Cosmic slide. Set up is simple: inflate and connect a hose to the Water Jet for sliding fun. Recommended ages 6-12. Recommended water depth: 5'. 7/20/2010 (Price: $117.99; Age: 6 to 12) [Add to my Inquiry Basket][?]



SplashJack floating playing cards by MILLIWIK LLC

The SplashJack set of cards allows for card play in the water. SplashJack is simply Slap Jack, but played in water. To play, distribute the deck of cards evenly among all of the players. The player holds their pile of cards face down. Each player takes a turn placing their card face up in the middle of the group on the water. When someone places a Jack down in the pile, the first player to splash the pile of cards wins the cards. Play continues until a player has acquired all of the cards from the deck. Splashing the cards may also happen if the same number is laid down twice in a row or the same number sandwiches only one other card. 7/12/2010 (Price: $11.95) [Add to my Inquiry Basket][?]



Geyser Baseball Bat and Baseball by GEYSER GUYS

Dunk the Geyser baseball into the water, hit it with the bat and get sprayed with water! Play with this great set with or without water. 5/28/2010 (Price: $15.99; Age: 5 and up) [Add to my Inquiry Basket][?]



Big Squirt! Water Toys by Big Squirt!®
Make summer fun and successful with The Big Squirt!® water toy. Every Big Squirt! comes with a refill adapter that attaches to an outdoor faucet or garden hose. Fill it, squirt it, and let the fun begin! Made in the USA. 3/26/2010 (Price: $7.99; Age: 5 and up) [Add to my Inquiry Basket][?]



Submarine Learning Boat by VTECH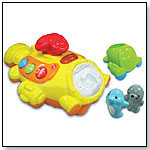 VTECH's Submarine Learning Boat offers a boat load of fun and learning inside and outside the bath. This bright yellow submarine holds an exploration craft and playful otter and dolphin figures. The Submarine Learning Boat plays several electronic games that teach numbers, colors, and animals via a squirt reward system. Launch date: 2010. 2/16/2010 (Price: $17.99; Age: 1 and up)



Captain Owen's Dolphin Explorer Boat by SPRIG TOYS, INC.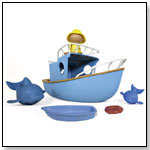 Join Captain Owen on the open seas! Our rugged boat playset is great for the bathtub, beach, and pool. A complete playset. It includes an 2 boats - Explorer Boat and Rescue Boat, a Life Preserver, two Dolphins - Mother and Baby, an Adventure Guide - Captain Owen, an Adventure Hat (interchangeable with other characters), and a Backpack Accessory. 2010 TOTY Award Winner. 2/15/2010 (Age: 3 and up) [Add to my Inquiry Basket][?]



Water Blaster Water Cannons by WATER BLASTER INC.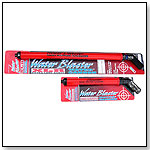 These Water Cannons can soak a target over 60' away or fill water/air balloons with one push of the handle. The user simply submerges the end of the water cannon, pulls back on the handle, and is ready to fire. The Water Cannon features a non-slip grip and comes apart for cleaning out sand and debris. It is made in the USA. Launch date: December 2010. 2/4/2010 (Price: $19.95; Age: 5 and up)



Turbo Fill Blaster by FISHER-PRICE INC.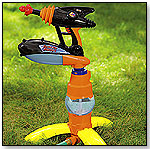 Fisher-Price calls this squirt gun a "one stop, fast fill water station for kids." It comes with a base that children can quickly attach to the gun and fill its tank in 15 seconds or less. It's then ready to squirt with no pumping required. Kids can recharge and go right back to the action. The system includes one water blaster and a base with a hose connector. Launch date: Spring 2009. 4/9/2009 (Price: $34.99; Age: 3 and up)



Floating Target Game for Pool/Lawn/Deck by POOLMASTER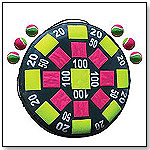 Kids can test their skill in this dartboard-style game that floats on the water or can be stationed pretty much anywhere outside. It comes with six balls for teams to compete for accuracy. 4/9/2009 (Price: $21.99; Age: 5 and up) [Add to my Inquiry Basket][?]



Skip 'n' Splash by GREAT AMERICAN MERCHANDISE & EVENTS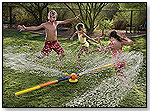 The AquaAntics Skip 'n' Splash is a spinning sprinkler that creates exciting, whirlwind water sprays for cooling down on hot summer days. As soon as the Skip 'n' Splash is connected to a standard garden hose, it playfully spins and sprays, for a hoppin', skippin', jumpin' good time. Children can jump over the rotating foam arms or run in circles with them while getting soaked. The speed can be easily adjusted by increasing or decreasing the water flow. "The spinning action makes this an interactive toy, encouraging healthy, active play," Elissa Pollack, media relations agent for Great American Merchandise & Events, told TDmonthly. Launch date: March 2009. 12/12/2008 (Price: $19.99; Age: 4 and up) [Add to my Inquiry Basket][?]



Spurtbat - W/ 70 mm Ball by EVERRICH INDUSTRIES, INC
The Spurtbat can be used as water gun that hold 220 grams of water and is able to shoot 10 meters. The PE foam-covered Baseball Bat Set is also good for kids to play a baseball game safely. Launch date: January 2009. 10/27/2008 (Price: $19.99; Age: 3 and up) [Add to my Inquiry Basket][?]



Battling Water Toys - Octopus by FROLICKING FLOATERS


The inflatable toy floats on water, with an open head cavity for swimmers to place their head. There are two handles under the toy for gripping the two squirt guns. Other available varieties include turtle, killer whale, helmet and more. Launch date: January 2008. (

Watch Video) 11/7/2007 (Price: $25.95; Age: 10 and up) [Add to my Inquiry Basket][?]



Battle Blaster Hammerhead by DISCOVERY COMMUNICATIONS INC.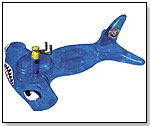 Sharks are the coolest. And sharks that shoot water? Discovery Kids' Battle Blaster Hammerhead is an inflatable pool shark complete with a 180-degree rotating water cannon (taking "ammo" right from the pool, so no need for refueling) and puts other water toys to shame. Discovery Kids reports good pre-orders for the summer season. This thing will turn any sunny day into Jaws: dum-dum ... dum-dum-dum-dum! 3/29/2007 (Price: $24.95; Age: 5 and up)



Pirate Pip Theme Ring by THE LITTLE LITTLE LITTLE TOY COMPANY
Learning to swim and being comfortable in water is an essential part of growing up. Little 3's swim line offers fun mermaid and pirate graphics to enhance five products each with Pirate Pip and Maisey Mermaid designs for children 3 years and up. The inflatable selection includes body boards, snorkel sets and armbands. The blue Pirate Pip Theme Ring backrest is the ship's bridge. 3/12/2007 (Price: $14.95; Age: 3 and up) [Add to my Inquiry Basket][?]



AquaStruct XXL™ Ultimate Extreme Shower Adventure Construction Set™ by AquaStruct Inc.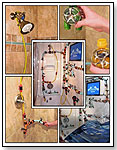 This 44-piece set includes an assortment of valves, tubes, hoses, caps, suction mounts and a sprayhead, as well as the AquaStruct WaveRider OceanSpray Surfboard Tub Mat and the AquaStruct TubeWave OceanSpray Shower Curtain. It is designed to help tweens create a low-flow shower adventure, and it intuitively teaches circuit logic, problem solving and resource allocation. It also saves water with AquaStruct's 2.5 gallons per minute earth-friendly AlphaValve. Launch date: August 2007. 3/1/2007 (Price: $95.00; Age: 7 and up) [Add to my Inquiry Basket][?]



Bathtub Fun Center by RAVENSBURGER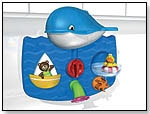 Bath time can be so much fun when a friendly whale doubles as a water scoop. Tots can pour water into the whale tank and choose an exciting function by turning the red dial. They'll see the duck swim in circles and the starfish spin, switch the pink sea anemone from faucet to shower, and watch the bear's boat rock back and forth. It's easy to attach with suction cups. 11/28/2006 (Price: $19.99; Age: 1 to 2) [Add to my Inquiry Basket][?]



Soft Sprinkles Tide Pool by SMALL WORLD TOYS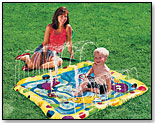 Designed especially for younger children, this plastic play mat keeps kids amused, while a gentle, adjustable stream of water keeps them cool. Activities include whimsical, floating characters, a safe plastic mirror, three squirting fish and water spraying fountains. The pool attaches easily to any standard garden hose.
— "This is the one that parents get because it's for the very young," commented Terry Meyers, owner of Kaleidoscope Toys in Round Rock, Texas. "It's like a mini water park for little ones."
— "When blown up, the sides are higher than the bottom, so it's safe for kids 12 months and up," Small World Toys president Debra Fine told TDmonthly. "The water only comes up about 1 to 1½ feet."
— This product was launched in 2005 and has been selling well ever since, added Fine. 6/27/2006 (Price: $22.00) [Add to my Inquiry Basket][?]



Battle Boogie™ NXT Generation by WHAM-O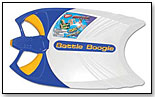 This cool board has a built-in water trigger that draws water straight from the pool.
— "We just keep selling out of it every time we get it," said Steve Meynig, manager for Tom's Toys in Beverly Hills. "This one has a way of disappearing very quickly off the shelves."
— One-third of retailers surveyed said that spraying and squirting toys are hot when it's hot.
— The Battle Boogie NXT Generation has gotten "lots of press" said an anonymous source at Wham-O. 6/27/2006 (Age: 5 to 12)



Catalog Request Form
THIS BANNER IS AN AD:
---
---