---
Baby Roundtable: Tots Tickle the Ivories
Schoenhut Inspired Toddlers to Make Music
"Look Mommy! I'm playing rock and roll!" — Collin (3), while playing the piano with his feet

This month,

TD

monthly Magazine's Infant/Toddler Roundtable participants evaluated SCHOENHUT PIANO CO.'s My First Piano II, which received glowing reviews.

Participating in this month's Roundtable were: Rebecca Heinrich, mother of Collin (3); Penelope Pauley, mother of Lucy (3); Christy Chambers, mother of Nigel (2); Diana del Pozo, mother of JoJo (1); and Sharri Hefner, mother of Sydney (1).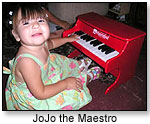 My First Piano II from the SCHOENHUT PIANO CO. INC.

What It Is: A colorful and sturdy wooden toy piano.



TD

monthly rating:



What the Moms Thought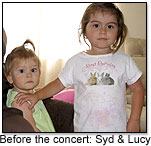 Christy liked the quality materials and durable construction of the toy. She said, "[Nigel] pounds on it and pushes it over and it seems to be very resilient." Penelope loved the scale of the toy and thought it was sturdier than the Melissa and Doug piano Lucy (3) already owns. Collin (3) had to hunch over to play, and the image reminded mom Rebecca of Schroeder from "Peanuts." Nevertheless, she appreciated that the look and sound were closer to that of a real piano than any other toy piano she had tested.


What the Kids Said
The piano arrived in no-frills packaging, but that didn't bother Sydney (1), who was drawn in by the piano's bright red color. The shiny finish and quality construction made it appealing to the children at first sight. When Diana, JoJo's mom, opened the box, the other kids in her house said, "JoJo, you're so lucky." Collin (3) liked the fact that it looks more like a real piano than other "toy" models. His mom, Rebecca, parted with another toy piano because he preferred this one.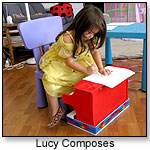 Soon after opening the box, Lucy performed a concert of children's "hits," played with feeling and intensity. When her mom, Penelope, asked if she wanted to take music lessons, Lucy said she did not need them because she obviously could already play piano and sing. Nigel (3) played with a Jerry Lee Louis style, using various body parts, and cried, "Look Mommy! I'm playing rock and roll!"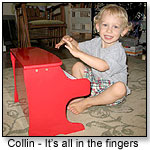 What the Kids Learned
Collin (3) watched his mom, Rebecca, play music from the book and was curious to learn how she knew which keys to push. He seemed to understand that the colors in the book corresponded with the colors on the key card, although he couldn't yet enact it. Christy felt that Nigel (3) learned to love music by playing the piano along with a CD. Sharri ascertained that although baby Sydney (1) was too young to learn piano, she did notice differences in sounds based on how and where she hit the keys. Penelope thought Lucy (3) got a sense of empowerment from playing the instrument.


How to Improve It
Rebecca thought Collin (3) would enjoy the piano more if it were taller; he'd tried to sit on the top of it within minutes of opening it, and other children had the same reaction. Penelope and Christy wished the color-coded chart could be painted on the keys, as the card could be easily lost. Sydney's mom Sharri thought the toy was great, though she acknowledged that some parents might want a more authentic sound.


Would You Buy Another Toy Like This?
Christy, Diana, Penelope and Sharri all said that they would definitely buy another product like this one, or recommend it to friends. Rebecca would consider a taller design from the same manufacturer.

Writer's Bio:
Sharri is a freelance writer living in Los Angeles. Most recently, Sharri wrote a one act titled "Spice" for Gene Rhee's "The Trouble With Romance," which stars David Eigenberg ("Sex and the City"). "Georgia Heat," a script Sharri wrote with fellow NYU alum Mora Stephens, is slated for production Summer 2007 (Janet Yang, Executive Producer). Sharri received her MFA from NYU's Tisch School of the Arts. Before NYU, Sharri was graduated summa cum laude from California State, Long Beach. While Sharri was completing her thesis, USAToday selected her as one of the top college students in the country. Sharri is the proud mom of Sydney, who was born in June 2006.
Read more articles by this author
THIS BANNER IS AN AD:
---
---