---
Homeschoolers Go Loco
Nacho Loco and Fairyopolis Have Them Begging for More
This month,

TD

monthly Magazine's Homeschool Roundtable participants found that the way to win is to prevent others from getting ahead in Buffalo Games' Nacho Loco. This distinctive card game delighted players of all ages. Popular with the girls was Buffalo Games' Fairyopolis scrapbooking puzzle and recipe.

Roundtable participants were Julie Petoia, RN, with Cabot Lee (13), Talia (11), Malynne (9), Jacob and Gabriel (6), and Jeremiah (5); Alison Shanahan with Elizabeth (14), Emily (13) and Katie (7); Teresa Wilson, editor of "HOMES Newsletter," with Timothy (14), Andrew (11), Elise (8) and Steven (6); Jill Zuidema, former retail manager, with Alyssa (7); and Susan Ledford, editor of the "Homeschool Resources Directory for SC," with Victoria (12), Joe (8) and Griffin (2) .

Nacho Loco from BUFFALO GAMES INC.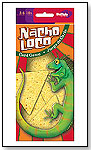 Age: 10 and up
Gender: Boys and Girls
Category: Card Games
Price: $7.99



TD

monthly rating:





What It Is: Nacho Loco comprises a deck of 94 triangular, tortilla-shaped playing cards. Play consists of building a playing field from the cards in your hand by matching card colors and/or symbols, selectively playing action cards (such as "go again") and strategically "closing the playfield" by blocking opponents' play. The first player to 20 points wins. The action is fast-paced, and the playfield is ever-changing.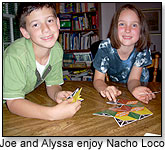 What the Moms Thought: "Who can resist a sparkly reptile?" asked Jill Zuidema, referring to the game's mascot. Susan Ledford liked that it "built upon strategic thinking and logic skills." Alison Shanahan said her entire family enjoyed playing. Both Julie Petoia and Teresa Wilson appreciated the game's portability, and Wilson said it is well-suited for players of all ages. Zuidema and Ledford liked the thick, durable playing cards.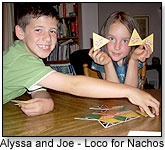 What the Kids Thought: "You usually don't find cards shaped like tortillas," Joe Ledford (8) said. Sister Victoria (12) found Nacho Loco "quick to learn, easy to play." The Petoia children "really enjoyed messing up play for the next player," their mother noted. Elise Wilson (8) exclaimed, "These cards make me hungry!"

How to Improve It: Shanahan said she "wished the games would last longer."

Would You Want Another Toy Like This? Mom Jill reported that Alyssa responded "with gales of laughter when she would win a round," and said, "This is fun! Wanna play again?" Wilson called Nacho Loco "a great party game — perfect for sleepovers!"

---
Fairyopolis from BUFFALO GAMES INC.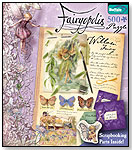 Category: Puzzles & Skill
Gender: Girls
Price: $9.99



TD

monthly rating:





What It Is: Fairyopolis: Blackberry Fairy is a 500-piece jigsaw puzzle featuring the artwork of Cicely Mary Barker. The puzzle comes with scrapbooking items (e.g., foil-embossed fairy-themed cut-outs), a small booklet ("The Secret of the Fairy Ring") and a bonus 11" x 18" poster.

What the Moms Thought: "Puzzles are educational; they stimulate and develop three-dimensional awareness and perception," said Ledford. "I love the endearing images from Cicely Mary Barker," she added. Petoia agreed, "Very pretty." Wilson noted, "The enclosed scrapbooking items add another dimension of enjoyment."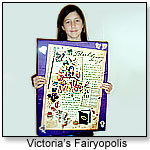 What the Kids Thought: Malynne (9) really liked the fairy theme, said her mom. Wilson said her daughter, Elise (8), glued the scrapbooking items to the poster, "leaving the puzzle unadorned and available for repeated play." Several children wanted to try the recipe for blackberry jam printed on the puzzle. Although Joe (7) does not care much for fairies, he did enjoy the notes about them on the finished puzzle.

How to Improve It: Victoria (11) suggested offering the same beautiful graphic but with larger pieces for the younger children to whom fairies typically appeal. Several moms were disappointed in the scrapbooking parts, which they felt were insufficient. Elise (8), who admitted she's "not a good cutter," would like the foil-embossed cut-outs to be self-adhesive stickers.

Would You Want Another Toy Like This? Victoria would: "I like doing puzzles with my family; this one is especially pretty."

Photos of children by SUSAN LEDFORD

Writer's Bio:
Susan Ledford is the writer, editor and publisher of the "Homeschool Resources Directory for S.C." She has been evaluating toys and games for
TDmonthly
's Roundtable reviews since 2005. She also is a homeschool veteran of seven years.
Read more articles by this author
THIS BANNER IS AN AD:
---
---