---
TDmonthly's DVD Expert
These Go Around the World and in Your Head
Many lands and cultures are the focus of two of the DVDs this month, with a third thrown-in that fosters creativity to get there without transportation.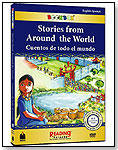 BookBox Stories from Around the World by MASTER COMMUNICATIONS
Age: 5 and Up
Gender: Boys and Girls
Category: Videos & DVDs
MSRP: $14.95

BookBox offers digital stories in multiple languages, all based on the concept of learning through SLS (Same Language Subtitling), as founded by child expert Dr. Brij Kothari. What you see is what you learn, and these stories have engaging audio-video experiences not only from in-country, professional authors, but also from almost anyone around the world. Many of the stories are retellings of various folktales.

Available in various languages, this DVD exhibits multicultural diversity and fun. With simple graphics and movements, it's not true animation, but it's interesting. The narrators vary in quality and are the weakest part of this DVD. Engaging, mellow and different from most modern-day entertainment, it's a good foundation for learning, as it's focused on story with no distractions.


| | |
| --- | --- |
| Budget | |
| Creativity | |
| Bells & Whistles | |
| Usefulness | |
---
One Wee World Celebrates Mexico by ONE WEE WORLD LLC
Gender: Boys and Girls
Category: Videos & DVDs

One Wee World makes DVDs with both children and grown-ups in mind, bringing different world cultures from far away into the home.

In "One Wee World Celebrates Mexico," Ambassador Tracy (One Wee World Founder Tracy Douglas) and her friend, Ambassador Kiki (an odd-looking little animated girl), hop about the country from the jungles of Aztec pyramids to the beaches of the Caribbean to Mexico City.

It's nicely filmed and there are kids throughout — singing, dancing, eating, hitting piñatas and just having fun. It's interesting, picturesque and thought-provoking, if a bit random. Still, that's what traveling is about: impressions that are sorted out later with the photographs. There's a real feel for the underpinnings of the country, as opposed to surface glitz, so it's worth a watch or three.


| | |
| --- | --- |
| Budget | |
| Creativity | |
| Bells & Whistles | |
| Usefulness | |
---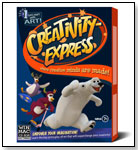 Creativity Express by MADCAP LOGIC LLC
Age: 7 and Up
Gender: Boys and Girls
Category: Software
MSRP: $29.99

This software program is like an arts-and-crafts class on disc, making use of the multimedia properties of computers to help unleash the viewer's imagination.

From games to movies, creating a comic book to building masks and even a time capsule, this DVD has everything a budding artist could want. You can create with household materials (pencils, pen, scissors and paper) or the digital paint program ArtRage, so that it can be either a sit-down or on-the-go experience (if installed on a laptop).

Games and puzzles revolve around art, a chance to visit with great artists from the past, a Da Vinci-code deciphering of art masterpieces, and even multicultural viewpoints on art. Also, there are a gazillion fun "tidbits" to do, play, discover and inspire (the Idea Gizmo is particularly thought-provoking). Even if a child isn't an artist at the moment, he or she may become one after using Creativity Express.


| | |
| --- | --- |
| Budget | |
| Creativity | |
| Bells & Whistles | |
| Usefulness | |
Writer's Bio:
Mark Zaslove is an entertainment industry veteran in developing content (writing, directing and producing television and feature films) for the major studios, including Disney, Universal and Warner Bros. A two-time Emmy Award winner for writing and recipient of the Humanitas Prize (for writing uplifting human values in television and movies), Mark is also Head of Content Development for Nice Entertainment.
Read more articles by this author
THIS BANNER IS AN AD:
---
---