---
Helicopters Hit a High
RC Flying Toys Take Flight in Hobby Stores
"Helicopters are on the upswing. Out of 90 aircraft sold, 20 are helicopters." — Mark Humphries, Mark's Hobby Shop

With additional reporting by regional correspondents Laurel DiGangi, Terri Hughes-Lazzell and Christine Lebednik

Flying toys remain aloft, according to a

TD

monthly Magazine survey of 17 specialty retailers. In hobby stores, radio-controlled helicopters account for a large percentage of sales, while more all-around retailers depend on wooden gliders and baking-soda-fueled rockets.

WHAT'S SELLING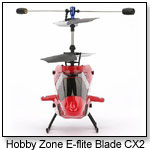 "Micro helicopters are hot," said Roy Walker, manager of Aero Tech Hobbies in North Canton, Ohio, noting that the E-flite is the most popular. "It's just what people are interested in right now."

One-third of the retailers surveyed said the E-flite helicopter from Hobby Zone is their best seller. "It's a great beginner helicopter," Owner Tina Houston of Fun4All Hobbies in Southaven, Miss., told

TD

monthly.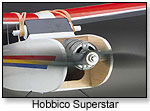 Mark Humphries of Mark's Hobby Shop in Little Rock, Ark., gets great results with the Superstar EP Select Airplane from Hobbico. "It's a trainer airplane that's completely outfitted with a radio-controlled engine, and it's ready to fly," he said, noting that aircraft account for 90 percent of sales in his store.

"Helicopters are on the upswing. Out of 90 aircraft sold, 20 are helicopters," he added.

Kid Galaxy's Backyard Flyer Double Pack scores highly with at least three specialty retailers. "You shoot them out of a gun. It's fun and has a lot of things to do with it," Dee Dee Culotta, owner of Victoria's Toy Station in Baton Rouge, La., told

TD

monthly.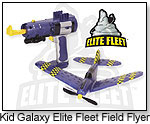 Classic make-your-own-rockets, such as Star Rocket from Scientific Explorer, are favorites of Charles G. Bonner, owner of Heights Toy Center in Little Rock, Ark. "It's great because it's all scientific, environmentally safe, and something that kids have been doing for a long time … only now it's packaged."

For the younger set, the Playmobil Jet Plane is a hot item at Miner's Doll & Toy Store in Ocean Springs, Miss. "Kids love it because it's really big!" Mary Alice Miner told

TD

monthly.

WHAT TO MAKE OF IT

For hobby stores specializing in electronics, the higher-tech helicopter and airplane items are doing best. Otherwise, simpler options — in the way of classic flyers or rockets — might be the way to go.





MSRP: $189.99

SKU or Item #: EFLH1250Launch Date: January 2006





In the world of electric radio-controlled helicopters, the Eflite Blade CX 2 radio-controlled heli stands out not just because of its looks, but because it also offers the latest technology available, such as a 2.4 GHz radio, which lets you fly anywhere without channel interference. This helicopter also features an improved gyro and servo control motors. The Blade CX 2 can be flown by almost anyone with some practice and can easily be flown indoors. It comes with a training gear set and qualifies for free shipping. The Blade CX 2 also comes with an instructional DVD and manual and is backed by solid phone tech support. Parts are widely available. Launch date: 2006.

ToyDirectory Product ID#: 9852

(added 10/30/2006)

.

AD
---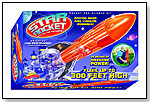 MSRP: $23.99

Age Range: 8 and upSKU or Item #: 215Gender: Boys And Girls





This 23" rocket takes only minutes to assemble and can soar up to 300' in the air. Experiments with baking soda and vinegar offer an introduction to chemistry and physics.

ToyDirectory Product ID#: 16044

(added 11/8/2007)

.

AD
---






This fully assembled helicopter can be test-flown indoors or out. It features symmetrical, covered wooden blades, a 120-degree eCCPM Swash Plate, full bearings and a beefy unibody airframe that offers more strength and protection. It also includes training gear, a start-up DVD, clip-on heat sinks, a trainer system on the true, five-channel radio, a Deans® Micro™ Plug on the battery, purple-anodized aluminum parts and a choice of six canopy colors with crack-resistant strength.

ToyDirectory Product ID#: 15848

(added 10/22/2007)

.

AD
---






Learning to fly doesn't come any easier! With Hobbico's ready-to-fly SuperStar EP Select, nearly all of the work is done for you – and everything you need to fly is included except charger and eight "AA" batteries. Factory-built main structures and detailed instructions make success a snap, even if you have no previous RC experience.

ToyDirectory Product ID#: 16045

(added 11/8/2007)

.

AD
---





MSRP: $49.99

Age Range: 4 and upSKU or Item #: 4310Launch Date: August 2007Gender: Boys And Girls





The jet contains room for cargo and passengers, movable seating for more cargo space, mobile doors and four figurines with luggage. "Reality playsets are a feature of Playmobil," Playmobil Inc. Advertising and Marketing Manager Michelle Winfrey told TDmonthly. This product is a Fall 2007 Parent's Choice Award winner. Launch date: August 2007.

ToyDirectory Product ID#: 10913

(added 1/4/2007)

.

AD
---

Writer's Bio:
Greg Rock is a freelance writer who lives in Los Angeles.
Read more articles by this author
THIS BANNER IS AN AD:
---
---