---
TDmonthly's Book Expert
One Educated Bookworm's Opinion
If you want to know which books to sell in your toy store, find out what the kids have to say. Each month, children's book author Amy Downing reads new titles to children, gives her educated opinion on positioning and sales to

TD

monthly Magazine readers, and rates them with 1 to 5

TD

s (for

TD

monthly!), with "5" as the highest rating.

Below she reviews Paleozoic history, travels the world with a turtle and learns from an aspiring architect.


Title: Let's Play!
Author/Illustrator: Deborah Niland
Publisher: KANE/MILLER BOOK PUBLISHERS
Gender: Boys and Girls
Age: 3 to 6
MSRP: $4.99



TD

monthly rating:




What It Is: A fun-to-read story with simple text and bright colors. Grown-ups and their little ones will love the surprises they find along the way.

Why You Should Carry It: While the title is pretty generic, the content of the book is creative. "Let's Play!" can be used as a read-aloud to a toddler or preschooler and can also be read by a beginning reader.

What Kids Think: They loved this title! This would be a fantastic title to share with a bookstore crowd of kids.


---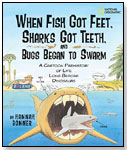 Title: When Fish Got Feet, Sharks Got Teeth, and Bugs Began to Swarm
Author/Illustrator: Hannah Bonner
Publisher: NATIONAL GEOGRAPHIC SOCIETY
Gender: Boys and Girls
Age: 8 to 12
MSRP: $16.95



TD

monthly rating:




What It Is: This nonfiction picture book looks at life before dinosaurs, specifically the early Paleozoic time, from about 450 million years to 360 million years ago. It tackles a complicated subject with entertaining sidebars, helpful captions, cartoons and interesting illustrations. A pronunciation guide, glossary, table of contents and illustrated timeline make this book useful for school reports and science projects.

Why You Should Carry It: A leading organization in science and education, the National Geographic Society is familiar to teachers and most parents. They could buy this book knowing that its information is as up-to-date as possible, given constant changes based on new discoveries.

What Kids Think: The mid-graders who perused this title enjoyed thumbing through and skimming the art and cartoons. Not one sat down to give it a read-through, though.

I found it difficult to follow, because my eyes were busy shifting to the numerous facts, captions and boxed information, all vying for my attention. This might be more effectively used by a teacher to point out one particular event or picture.

---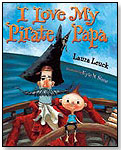 Title: I Love My Pirate Papa
Author: Laura Leuck
Illustrator: Kyle M. Stone
Publisher: HARCOURT
Gender: Boys and Girls
Age: 4 to 7
MSRP: $16.00



TD

monthly rating:




What It Is: "I Love My Pirate Papa" is a storybook told in rhyme about a young boy who sails the high seas with his father, a pirate. Together they uncover buried treasure, raise the Jolly Roger flag and do many other "pirate-y" jobs.

Why You Should Carry It: Pirates became a hot item with the movie "Pirates of the Caribbean." However, there are many fun pirate titles out there, including another title by Harcourt, "How I Became a Pirate" (which I think is better illustrated for kids).

Unless you have a lot of room for a wide variety of pirate picture books or you're crazy about pirates, I wouldn't bother with this one.

What Kids Think: The kids enjoyed the rhyming text, which makes it fun to read aloud. They didn't seem too enchanted with the art. If kids like something, they will ask to look at it after you read it to them. Nobody asked about this title.

---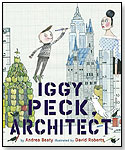 Title: "Iggy Peck, Architect"
Author: Andrea Beaty
Illustrator: David Roberts
Publisher: ABRAMS BOOKS
Gender: Boys and Girls
Age: 6 to 10
MSRP: $15.95



TD

monthly rating:




What It Is: A creative title about a very interesting second-grader named Iggy Peck. The story begins with 2-year-old Iggy building a tower with nothing but dirty diapers and glue. When the storyline jumps to Iggy as a second-grader, his teacher is not impressed with his amazing architectural aptitude, including his historical knowledge and his own abilities. It is Iggy's teacher who goes through a transformation and learns a lesson about herself and others — a worthwhile one at that.

Why You Should Carry It: I loved everything about this book. The art is clever and fun, and it matches an entertaining story. "Iggy Peck Architect" could be featured in a display with other amazing "storybook kids."

Sometimes it is difficult to find read-aloud picture books sophisticated enough for second- and third-graders. This book fits that more challenging audience perfectly.

What Kids Think: Both my second-grader and kindergartener wanted to read this book over and over. In fact, my second-grader has decided to become an architect when he grows up. "Iggy Peck Architect" delivers an inspiring message to children and adults.

---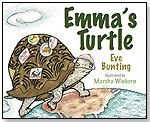 Title: Emma's Turtle
Author: Eve Bunting
Illustrator: Marsha Winborn
Publisher: BOYDS MILLS PRESS
Gender: Boys and Girls
Age: 3 to 6
MSRP: $15.95



TD

monthly rating:




What It Is: This book takes young readers on a trip around the world with Emma's turtle, as it imagines what life would be like in China, Africa, Australia and other places. The text and illustrations are simple and sweet.

Why You Should Carry It: "Emma's Turtle" certainly appeals to the preschool market with its cute illustrations, particularly of the turtle. It teaches little ones about what it is like in different places of the world and opens them up to how big our world is.

This book would make a fun story to share with a group of kids, though it's slightly smaller in size than other picture books.

What Kids Think: I read this to several 4- and 5-year-olds who loved the turtle. They were crazy about it!

---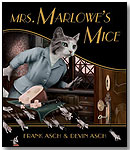 Title: Mrs. Marlowe's Mice
Author: Frank Asch
Illustrator: Devin Asch
Publisher: KIDS CAN PRESS
Gender: Boys and Girls
Age: 5 and Up
MSRP: $17.95



TD

monthly rating:




What It Is: This oversized picture book is an unlikely tale of a cat, named Mrs. Marlowe, and her many little furry friends. She dresses them, plays with them and reads to them. And when the police cats come to call, she hides them!

Why You Should Carry It: "Mrs. Marlowe's Mice" is beautifully illustrated, appealing to adults as much as to children. Any cat lover would enjoy adding this title to his or her collection.

What Kids Think: The children surprised me with this book. I found the art to be extremely sophisticated, but the 5- and 6-year-olds I read this to wanted to look at the pictures over and over again.

Writer's Bio:
Amy Downing has been in children's book publishing for more than 15 years. As the editorial director of a small juvenile publishing house in Los Angeles, she has developed hundreds of titles for trade, mass market, book clubs and fairs. She is also the author of more than 20 books for children, ranging from picture books to nonfiction titles for the library market.
Read more articles by this author
THIS BANNER IS AN AD:
---
---