---
Toy Buzz: Giddy Goose 'n Gander Unleashes Inner Pirates
Strategic Games Incite Battle 'Til the End
"Math is essential to the strategy, although this educational element goes largely unnoticed amidst adventure."

TD

Monthly Magazine's toy buzz this month features rough seas, pirate ships and swashbuckling adventure. Pirates are popular these days, and Giddy Goose 'n Gander Games is right in the high seas battle with its two games, Piratack™ and Piratitan™. The respective board game and card game invite players into a fantasy world where they can unleash their inner pirates.

STRATEGY ON THE SEAS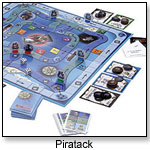 Events are unpredictable in the visually arresting Piratack, so suspense is high. Pirates fight until only one remains. Strategy is essential and nothing is decided until the very end.

Players use Horizon cards to move their ships around the Stormy Seas, Tranquil Seas or Tradewinds in order to battle or trade. Turn of Event cards add an element of chance — a player may find buried treasure or a crew might come down with scurvy. Whirlpools transport pirates who need to escape or sneak up on an enemy.

In the easy-to-learn Piratitan, players battle for treasure using two sets of cards. The Piratack cards are for attacks and escapes, and the dagger cards contain either treasure or a worthless skeleton. Ships are sailed, cannons are fired and pirates are seized.

Math is essential to the strategy, although this educational element goes largely unnoticed amidst adventure in the high seas.

FAMILIES BATTLE IT OUT

In both games, victory goes to the player who seizes the role of Piratitan — the most powerful of pirates.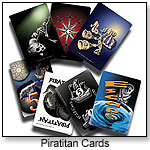 Giddy Goose 'n Gander designed these games specifically to appeal to the entire family — young, old, girls and boys. Even parents can play and devise sneaky strategies to sink their children's pirate ships!

No one feels left out of the game because players can never be sure who will win until the very end. A player on the brink of defeat might make a comeback and claim victory, and a player on the brink of victory may lose it all. The games have earned great response, as families find them fun and addictive (see what TDmonthly Magazine's Homeschooling Roundtable participants thought about these pirate games.)

WEBSITE HOSTS CONTEST

Giddy Goose 'n Gander is also running a contest on its website. The goal is to find the golden key that opens the treasure chest.

Contestants — otherwise known as pirates — follow a treasure map by answering riddles and questions, and clues are hidden on the Piratack website. Whoever figures out the puzzle can open the chest and claim the prize.

Even more danger lurks on the stormy seas, as Giddy Goose 'n Gander is planning to release additional games. Would-be pirates, beware…

In the meantime, brush up on your pirating skills with Giddy Goose 'n Gander's current pirate games:
Piratitan™ - The Card Game
by
GIDDY GOOSE 'N GANDER GAMES LLC
Other products from GIDDY GOOSE 'N GANDER GAMES LLC
Shop for It!
TDmonthly rating:






Wholesale Price: (Log in to view)





Aarrr! Piratitans are back. In this fast-paced card game, players pick their victims and seize their treasure. They can try to escape but must beware; they can't outrun Piratitans. This game is unpredictable fun for everyone. Kids won't even know it's educational when they battle each other with ships loaded with cannons.
— "I've never seen a card game like this before," said 11-year-old Victoria Ledford, a Homeschooling Roundtable partcipant whose family loved the game and gave it 5 of 5 TDmonthly stars. What did she like most about it? "Everything!"

ToyDirectory Product ID#: 10856

(added 1/2/2007)

.

AD
---
Piratack™ - The Board Game
by
GIDDY GOOSE 'N GANDER GAMES LLC
Other products from GIDDY GOOSE 'N GANDER GAMES LLC
Shop for It!
TDmonthly rating:





Wholesale Price: (Log in to view)





Aaarr! Hoist your sails and set your course for high seas adventure in Piratack. This thrilling new board game beckons you into a world where all can join in swashbuckling fun. Players must throw caution to the winds as their ships voyage through tranquil and stormy seas or pass through whirlpools. Ships must trade cargo to increase their strength in cannons because when time runs out, you can't escape...

Piratack. In the end, the fiercest will battle for the ultimate sovereign rule as Piratitan.

— "Innovative game play along with eye-catching graphics are two fundamental goals of our designs," Gerry Groundwater, owner and founder of Giddy Goose 'n Gander Games, told

TDmonthly

. "Although it costs more, we opted for hand-drawn graphics as a way of differentiating our product. This makes our approach and games particularly suited to specialty retailers."

— "The more players you have, the more fun you have (because there are more ships to attack!)," raved Susan Ledford, a

Homeschoolers Roundtable

mom who reviewed the game for

TDmonthly

.

ToyDirectory Product ID#: 10854

(added 1/2/2007)

.

AD
---

Writer's Bio:
Elizabeth Greenspan edits and writes for trade and technical publications. She has interviewed and collaborated with some of the top practitioners in their fields. She lives in Philadelphia and travels extensively for her work.
Read more articles by this author
THIS BANNER IS AN AD:
---
---