---
Order the 2007 TDmonthly Specialty Toys Report
Find Out What's Made Where and How It's Tested
TD

monthly Magazine's editors picked 300+ of the most promising products in the specialty marketplace based on consumer reviews, surveys of specialty retailers, and our own constant searches down the aisles of six trade shows in 2007.

The result is a collection of incredible toys and games, including dolls that encourage kids to contribute to charity, plush toys that transform into blankets, and sleek wooden cars that can be pulled apart and snapped together in surprising combinations.

WHERE IT'S MADE, HOW IT'S TESTED

The Report contains descriptions of toys (including pricing), safety and company profiles submitted by the manufacturers themselves, retailer comments on how well the toys do in their stores, consumer reviews and

TD

monthly staff evaluations.

All of the toys in the report were also nominated for

TD

monthly's first-ever toy awards (see winners below).

A PDF of the 2007

TD

monthly Specialty Toys Report - Industry Version is only $9.95 (includes SKUs and Wholesale Pricing for most products). We are also offering a 2nd version for Consumers and the Press — for just $5.95 (excludes SKUs and Wholesale Pricing).

Order your 2007 TDmonthly Specialty Toys Report - Industry Version for $9.95

A copy of the 2007 TDmonthly Specialty Toys Report - Consumer Version is available for your customers for $5.95.

To order, please fill out our order form.

USE IT TO PROMOTE SPECIALTY TOYS

Here are some suggested uses for the 2007

TD

monthly Specialty Toys Report:

Use information from the Report in Press Releases for the local media

Use the Industry Version as an easy reference for customer questions about certain companies, products and safety`

Consult Industry Version for buying and reordering decisions for 2008
Print out individual pages of Consumer Version to help customers make buying decisions
Introduce mainstream public to the best toys on the market
Urge customers to buy the Consumer version for just $5.95 from

TD

monthly.com so they'll have a permanent guide to some of the best toys!
Finally, feel free to post in your store the following Winners of

TD

monthly's Top Toy, Top Seller, Classic and Innovations awards, to help guide your customers' buying decisions this holiday season:





And here's a list featuring one winner from each category, in order. See ALL WINNERS.
















Wholesale Price: (Log in to view)

MSRP: $19.95

Age Range: 5 and upSKU or Item #: 689076173865Launch Date: February 2007Gender: Boys And Girls





America's new x-shaped ball is great for all athletic abilities. The ball has phenomenal aerodynamics that make it go super far when thrown. It is easy to catch, and its softness makes it safe. Yackle Ball games are fun for everyone and can help with hand-eye coordination and motor skills, as well as encouraging creativity and active play. The Yackle Ball is 100-percent made in the U.S. and is strictly sold in specialty stores. "It's a great way for children of all ages or whole families to have fun and be active together," General Manager Charles Littwin of Ttalf Corp. told TDmonthly. Launch date: February 2007.
— Ever seen a ball shaped like an "x"? The Yackle Ball worked its way up to a TDmonthly Innovations 2007 award based on sturdy construction, attractive design and color options as well as its potential to build coordination and shape active play in a whole new way.

ToyDirectory Product ID#: 15247

(added 9/19/2007)

.

AD
---






Ideal for learning balance and coordination, the Rody Horse allows children to hop around and can even be attached to a base that transforms it into a Rocking Rody Horse. The soft ride-on is often used in therapy for handicapped children, and is made of super-strong, latex-free vinyl. It inflates according to the size and weight of a child with a hand or foot pump. The maximum inflated height to "saddle" is 12".
— "Rodys have always sold well for us. Over and over, people tell us they were the hit of the party," Elaine Hackney, owner of Boing! JP's Toy Shop in Jamaica Plain, Mass., told TDmonthly in summer 2007.
— Nobody can resist a bounce or two on this high-quality rubber toy from Italy. Rody comes in assorted colors and has been a steady seller in specialty stores for more than a decade. The combination of high quality, great play value and universal appeal earned this toy a TDmonthly Classic Toy 2007 award.
— "We sell a ton of Rodys by TMI. This is one of the best sellers in the store," Peg Scholtes, owner of Capitol Kids Ltd. in Madison, Wis., told TDmonthly in March 2008.

Where to Buy: Really Great Toys

ToyDirectory Product ID#: 14605

(added 8/13/2007)

.

AD
---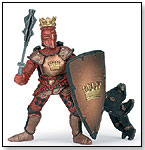 Wholesale Price: (Log in to view)

MSRP: $5.49

Age Range: 3 and upSKU or Item #: 39919Gender: Boys





Papo is proud to introduce its new line of Weapon Master for 2007. The hand-painted King of Knights is just one of 10 in the series. For added play value, each of the Weapon Master Knights can ride a horse and stand on its own.
— Shirley Reilly, owner of Let's Play in Hillsboro, Ore., discussed with TDmonthly the upcoming 2007 Christmas season, noting that Papo Knights will be big with little boys.
— "Papo has truly outdone themselves creating one of the most detailed knights on the market," said Brian Shackleton, operations manager for Hotaling Imports, the toy's U.S. distributor.
— Ask retailers' advice for how to sell to boys and Papo Knights ride to the rescue again and again, no matter what the season. They've been on three TDmonthly Top-10 Most-Wanted Toys lists over the last year, which is why they've been named a TDmonthly Top Seller 2007.

Where to Buy: Really Great Toys

ToyDirectory Product ID#: 13301

(added 6/7/2007)

.

AD
---
THIS BANNER IS AN AD:
---
---