---
TDmonthly's Multimedia Expert
CDs? DVDs? She Plays Them All
TD

monthly Magazine's Multimedia Expert has devoted her career to watching and listening to imaginative creations in a variety of media. Here she shares her opinions on multimedia products for kids, rating each one with 1 to 5 TD (for

TD

monthly!) stars; 5 is the top mark. This month, she also gives her thoughts on a remedy for colicky babies and a book kit bubbling with fun.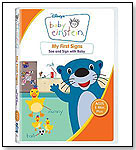 My First Signs by BABY EINSTEIN
Age: All Ages
Gender: Boys and Girls
Category: Infant & Toddler
MSRP: $14.95



TD

monthly rating:




First Impressions
Signing as a form of communication for infants not yet ready to speak has gained a lot of advocates, and "My First Signs" is a playful introduction to 20 words useful for basic communication.

What Reviewer Thought
Actress Marlee Matlin guides children through the use of 20 signs, which are demonstrated not only by her but also with puppets and children, giving young viewers plenty to watch in this playful, informative instructional video. Although the menu option doesn't allow easy access to specific portions of the 30-minute presentation, the DVD as a whole is well-produced with strong design, cinematography and pacing, which are geared to the attention span of younger viewers.

What Kids Thought
My 2-year-old sat riveted through the entire DVD the first time we viewed it, and it remains a favorite. Although she was initially hesitant with the signing, she quickly warmed up, and was soon easily communicating. She also would have enjoyed a second chapter with 20 more words.

Recommendation
This is an eminently watchable and entertaining introduction to signing for infants and toddlers, and achieves results quickly.

---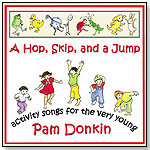 A Hop, Skip, and a Jump: Activity Songs for the Very Young by Pam Donkin by A GENTLE WIND
Age: 1 to 4
Gender: Boys and Girls
Category: Audio & Cassette & CD
MSRP: $14.95



TD

monthly rating:




First Impressions
Pam Donkin has a great reputation for her earlier CDs, for her work as a performer and as host of the children's show "Kaleidoscope Kids." She brings all of that experience to her latest country-tinged CD.

What Reviewer Thought
Although a couple of songs here are just too sweet for my taste ("Fluffy Puppies," for example), the CD has real charm throughout, with great twangy guitar riffs, and violin and piano here and there. There are lessons about the solar system, the cycle of water and even math, all of them keeping things lively from beginning to end.

What Kids Thought
Repetition, funny animal sounds and inviting lyrics make this CD a winner for kids. On "Fluffy Puppies," for example, my daughter happily barked along, and she was soon repeating the sing-songy "Woodpecker" lyrics, learning basic subtraction at the same time.

Recommendation
This is excellent entertainment for younger kids, who will find plenty to sing — and think about — in the strong mix of 18 songs.

---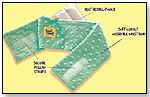 Happi Tummi by HOUSEHOLD NAME PRODUCTS INC.
Age: 0 to 9 months
Gender: Boys and Girls
Category: Infant & Toddler
MSRP: $24.95



TD

monthly rating:




First Impressions
Herbal remedies promise natural relief for all kinds of maladies, but few have noticeable impact. The Happi Tummi initially seems dubious — a soft, heated herb pouch wraps around your infant's belly, promising "instant relief" for colic as the herbs "release healing properties."

What Reviewer Thought
Happi Tummi's mix of chamomile, lavender, lemon grass and other herbs smells divine, and the super-soft velour waistband wraps easily around even an unhappy baby, soothing parents and babies almost immediately with just the calming aroma. Add the snuggly warmth and you get surefire relaxation.

What Kids Thought
Unhappy infants find the wrap either intriguing or irritating depending on temperament, but both tend to relax as the warmth and sweet herbs work their magic.

Recommendation
The Happi Tummi has already earned well-deserved awards from iParenting and Preemie Magazine and promises to become a staple among parents seeking a natural remedy for fussy babies.

---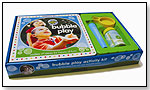 Gymboree Bubble Play Activity Kit by KEY PORTER BOOKS
Age: 3 and Up
Gender: Boys and Girls
Category: Books
MSRP: $16.95



TD

monthly rating:




First Impressions
Despite the increasingly high-tech nature of toys, bubbles still fascinate kids of all ages, inspiring wonder and glee. This kit, with its large board book, bubble solution, bubble-maker and tray, offers an easy intro to bubbles for younger kids.

What Reviewer Thought
The bubble-maker lets first-timers easily blow bubbles without the eye-hand coordination issues of old-school wands, and the book shows industrious parents creative painting options and party games that use bubbles. One will have to ignore, however, some incredibly obvious advice, such as "Show him how to poke bubbles by poking them with his finger." The kit itself is also limited: Where's the giant wand? Or the straw shown in the book? Given the price, I expected more.

What Kids Thought
My 2-year-old adores bubbles and was thrilled to blow dozens of tiny ones with minimal effort. However, she quickly showed that the "spill-proof" tray tips over easily, and the jar of bubble solution was gone in minutes.

Recommendation
What parents pay for here is the book, so if you're looking for ideas on how to use bubbles in innovative ways, "Bubble Play" will satisfy. But be prepared to buy more bubble solution immediately!

Writer's Bio:
Holly Willis is the Associate Director of Multimedia in the Core program at the University of Southern California's Institute for Multimedia Literacy. She writes frequently about film and video.
Read more articles by this author
THIS BANNER IS AN AD:
---
---