---
Toy Fair 2008 Attracts Attendees Early
TIA Preps for Show With New Sections and Networking Opportunities
"We estimate that about 20 percent of exhibitors at Toy Fair sell to both mass and independent specialty stores. That leaves 80 percent of the audience that is currently selling into independent retail." — Marian Bossard, TIA
Toy Fair 2008 looks great, according to Marian Bossard, vice president of meetings and events for the Toy Industry Association. Registration numbers are high for this time of year, and the show will feature brand new elements, such as the Inventors Center and the already sold-out Fundamentals section. Read on to see what else Bossard shared with
TD
monthly Magazine (watch videos from Toy Fair 2007):
How many exhibitors and buyers is TIA expecting for the show?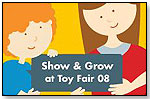 Fifty percent more attendees have registered than at the same date last year, and that's enabling us to help [buyers] identify who has the product they're looking for. Our exhibit space sales are up about 20 percent … and exhibitors are renting out larger spaces than last year. We had a very strong show in 2007, and our renewals have been brisk right from the beginning.

How would you describe the balance of mass-market vs. specialty vendors at Toy Fair?

[Based on attendance at Fall Toy Preview,] we estimate that about 20 percent of exhibitors at Toy Fair sell to both mass and independent specialty stores. That leaves 80 percent of the audience that is currently selling into independent retail.

What are some of the best ways attendees can network while at Toy Fair?

We have networking software called ToyConnections that we make available to all registrants. It allows buyers to reach out to exhibitors directly. This is the first year it's fully operational. We also used it during the October events. One exhibitor, on a whim, had his sales people go on … and they got seven or eight additional appointments that they didn't plan on getting.

Secondly, attendees can take a look at the industry events calendar printed in the Toy Fair Times preview issue mailed out a month in advance of the show. It includes the Toy of the Year Awards, ASTRA Party With the Stars, etc. When anyone tells us about an event, we are more than happy to put it out there.

What do you personally think will be one of the most exciting aspects of the show?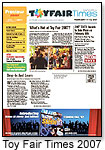 The most exciting thing about Toy Fair is the scope and breadth of the product. We have also added a new section at the show called Inventors Center … in cooperation with an organization called INPEX that runs the inventor's show in Pittsburgh. It will be set up with 16 to 20 inventors who will come to Toy Fair with their concepts — anything from a rough idea to a fairly good prototype. They're looking to make contact with others who may want to license or manufacturer the products.

Also, Creative Factor is really a nice place to showcase some of the technology to creative developers, and we really want to start to foster this new product development theme at Toy Fair.

We'll also have on-floor education sessions called Independent Thinking that address the hot topic issues of the independent retailer, such as managing inventory, managing displays and pricing for profit. Fair Game, in cooperation with Knucklebones magazine, will offer fun, informative, on-floor discussion [at different times of day]. It's a nice blend of education and fun without the commitment of a long-term session.

What else will be brand new for Toy Fair 2008?

We do have a new feature section called Fundamentals, for educational toys and games, which is a much sought-after product category. The area that we allocated for it [on Level 1 next to Specialty Source] is sold out.

If you've not yet registered for Toy Fair, click here for more information. And be sure to mention

TD

monthly on the registration form!

Writer's Bio:
Julie L. Jones has written articles for both newspapers and magazines. Before joining the staff of TDmonthly Magazine, she worked as a communications writer and provided editorial support for a market research company.
Read more articles by this author
THIS BANNER IS AN AD:
---
---