---
Homeschoolers: Building an Animal Kingdom
Kids Delight in Überstix' Mobility and Versatile Construction
"The finished Überstix animals with moving parts were huge hits."

This month,

TD

monthly Magazine's Homeschool Roundtable experimented with Überstix'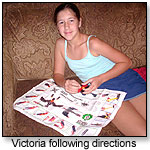 Animal Kingdom, constructing Überfrog, Übercrab, Überbird and Überbat as well as open-ended creations. The hardest part was getting the kids to disassemble the creatures so they could begin free-style building. And the best part? With Überstix, if you build it, you can play with it.

Roundtable participants are former corporate accountant Robbin Dawson with Ethan (8) and Sara (6); Alison Shanahan with Elizabeth (14), Emily (13) and Katie (7); Teresa Wilson, editor of "HOMES Newsletter," with Timothy (15), Andrew (12), Elise (8) and Steven (7); Jill Zuidema, former retail manager, with Alyssa (8); and Susan Ledford, editor of the "Homeschool Resources Directory for SC," with Victoria (12), Joe (8) and Griffin (2).




Animal Kingdom by UBERSTIX
Age: 8 and Up
Gender: Boys and Girls
Category: Construction
MSRP: $9.99 to $11.99 per kit



TD

monthly rating:




What It Is: Überstix features pieces in eight different shapes that work not only with each other but also with other building systems (such as LEGO and K'nex) as well as Popsicle sticks and other recyclables, allowing for distinctive configurations and limitless play.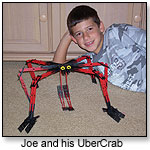 What the Moms Thought: Dawson raved, "This toy's greatest advantage is its versatility, limited only by my kids' imaginations … and perhaps the number of pieces we have." Zuidema said, "Because this wasn't a block-based building kit, experimental building was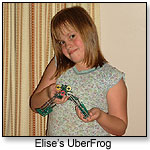 more creative." Wilson appreciated the 40-page manual with instructions for various projects.

Dawson noted, "The grouping of like pieces, as opposed to grouping in discrete sets, emphasizes the versatility." Shanahan commented, "I was surprised by how fast even the youngest learned to make a structure stable." Ledford said. "Completed creations are sturdy as well as interactive. … Once we figured out the unusual names of the different pieces, we were able to follow the directions relatively easily, depending on each individual's ability to work with spatial imaging."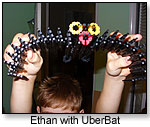 What the Kids Thought: The finished Überstix animals with moving parts were huge hits: "Look, Mama, the wings really flap!" came from Sara (7). Joe (8) said, "It's a bird, it's a plane, it's ÜBERCRAB!" Dawson said, "The sheer size of the crab seemed to heighten the sense of accomplishment Ethan (8) felt in building it." The designs are both fun and recognizable, Ledford said. Even Griff (2) was able to build and manipulate the pieces. Zuidema noted, "Alyssa (8) liked the unique parts and the odd configurations that she could assemble." At the Shanahan household, "No one built the suggested items in the literature; everyone wanted to let their imaginations go."

What the Kids Learned from this Toy: Moms listed direction-reading skills, stimulation of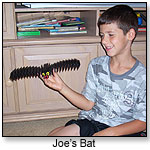 imagination, fine-motor-skills tuning, design concepts, construction, spatial-thinking skills and creativity. Dawson's children (8 and 6) "learned that rigid, unhinged pieces can be attached in such a way that motion is possible."

How to Improve It: Wilson and Ledford suggested a plastic storage container ("preferably divided," specified Ledford). Dawson noted that a hand-drawn sketch would facilitate understanding of the steps. Ledford's children were disappointed when several pieces broke during disassembly, although Zuidema pointed out that being able to reincorporate the broken pieces was a plus.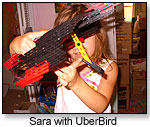 Elise (8) would like "more color variety." Dawson also pointed out that the box lacked any external reference to the animals' motion and suggested that a blurb and small pictures of the integration possible with other pieces would attract more customers and spur imaginations.

Would You Want Another Toy Like This? Zuidema reported, "(Alyssa) hasn't yet integrated Überstix with her other building sets but is anxious to see what she can create." Wilson's children agreed: "The boys are looking forward to testing the toy's integration ability with other building products."

Writer's Bio:
Susan Ledford is the writer, editor and publisher of the "Homeschool Resources Directory for S.C." She has been evaluating toys and games for
TDmonthly
's Roundtable reviews since 2005. She also is a homeschool veteran of seven years.
Read more articles by this author
THIS BANNER IS AN AD:
---
---