---
Selling "Time" Pays Off
Research and Flexibility Bring Success for Digital Bookmarks
"Don't be afraid to change your path. If you're a small enough company and something isn't working, don't be afraid to change it." — Maureen Farinella, Mark-My-Time

The first prototype for a Mark-My-Time digital bookmark came out of Maureen Farinella's constant struggle to track her children's required reading times, she told

TD

monthly Magazine.

"I wish there were a product that would track time and stay with the book, like a bookmark," she told her husband, Joe.

He left the kitchen and came back a few minutes later with a piece of cardboard taped to a digital head. Intrigued, Maureen quickly added her own modifications. The couple soon realized they'd created something unique, and Joe immediately made an appointment with a patent attorney.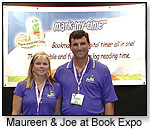 Less than a year later, the still patent-pending Mark-My-Time digital bookmarks were launched at Book Expo America 2004. They won the show's "Best New Product," and since then, sales have reached nearly 900,000 (and their patent has been granted, too!).

COMBINING TALENTS

As a former regional manager for Barnes & Noble, Maureen understood bookstore retailers, and had garnered design expertise from scrapbooking. She designed the product's packaging after thoroughly researching the psychology of color.

"I used a cross of colors that were appealing to both women and children, she told

TD

monthly.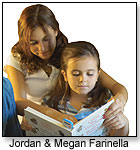 Joe's business experience as former worldwide vice president of field operations for Network Ice, a software security company, qualified him to handle Mark-My-Time's financing, overseas marketing and international distribution.

The product is currently available in the United States, Canada, Mexico, Australia, Japan and the United Kingdom. "When you're starting a business, it's your network that's going to help you out," Joe told

TD

monthly about the importance of having connections.

EXPANDING THE LINE

A digital metronome, which also helps a musician track practice time, was a natural extension of the product line.

"I wanted it to sound like an old wooden metronome," said Maureen, "and the quarter note flashes in case you can't hear it."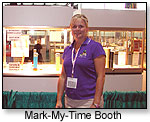 After launching at the summer convention of the National Association of Music Merchants, the metronomes received "Best in Show" for small goods, as well as awards from iParenting Media and Children's Technology Review.

MISTAKE CALLS FOR PR

The Farinellas took a little ribbing and decided to hire a PR agency after their initial forms and brochures read, "Make" in China, Maureen said.

Though having the bookmarks produced overseas gives the Farinellas a major price advantage, "You really have to manage inventory and product flow more closely," Joe advised

TD

monthly readers.

CHANGING PATHS — AND COLORS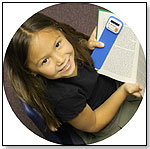 The product has gradually changed, based on customer response. A time-of-day clock was added, for example. And teachers expressed a need for a second timer to enable them to do fluency testing. But because students —especially boys — could be distracted by a second timer, only the last minute was broken down to seconds.

Around Christmas 2006, Maureen was shocked to learn that sales of orange markers had died. Why? Nobody's sure, but once a purple bookmark replaced it, sales rose again.

"I tell people, 'Don't be afraid to change your path. If you're a small company and something isn't working, don't be afraid to change it. You can turn on a dime if you're small.'"

See below the products that likely won't "mark time" on store shelves:
mark-my-time™ Digital Bookmark
by
MARK-MY-TIME LLC
Other products from MARK-MY-TIME LLC
TDmonthly rating:







This award-winning digital bookmark allows children to monitor and record their reading times. It features a countdown timer with an alarm, a cumulative timer for multi-session reading, a clock, a replaceable battery and a durable polyethylene body. It may also be used for music practice sessions, math fact practice, cooking and more. It comes in neon green, neon blue and neon purple.

— "The bookmark is compatible with small, paperback books, yet [the] screen is large enough to read clearly and [the] buttons are easy to operate," reported Teresa Wilson, a mother of four who reviewed this product for a

TDmonthly Roundtable

.

ToyDirectory Product ID#: 13994

(added 7/9/2007)

.

AD
---







Mark-My-Time™ Digital Bookmark Classroom Packs contain 20 digital bookmarks in assorted colors, one limited edition black teachers' bookmark and one tote bag.

ToyDirectory Product ID#: 13996

(added 7/9/2007)

.

AD
---






This all-in-one bookmark can fit neatly into a child's stocking and includes a metronome, A440 tuner and practice timer. The metronome allows one to guide a music student with the countdown timer, setting it for 15, 20, 30 minutes or more with the touch of a button. When the practice session is over, an alarm will sound. The cumulative timer can be used to accumulate total practice time over multiple practice sessions. All of these features can be used simultaneously. This product has received awards from the National Association of Music Merchants, iParenting and Children's Technology Review.

ToyDirectory Product ID#: 13997

(added 7/9/2007)

.

AD
---

Writer's Bio:
Laurel DiGangi's fiction has been published in Atlanta Quarterly, Asylum, Cottonwood, Denver Quarterly, and others. As a journalist for Entertainment Today, she's interviewed dozens of celebs, including the entire cast of "Lord of the Rings." Her nonfiction has been published in the Chicago Reader and many trade magazines. She is a Phi Beta Kappa graduate of University of Illinois/Chicago.
Read more articles by this author
THIS BANNER IS AN AD:
---
---