---
Video Game Market Beats Economic Odds
June Sees More Than 50% Growth
July 25, 2008 – I said a month ago:

There seems little doubt that the phenomenon of upward-trending growth rates for the video game category is over. That does not mean that they will begin to decline. However, I predict that the above 30-percent increases are now a thing of the past and that we will see a gentle downward trend to the +20-percent level by end of the year.

Well, I was wrong.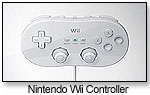 June saw an increase for hardware at a 54.3-percent clip, software at 60.6 percent and accessories at 25.4 percent. The entire category grew by a dizzying 57.2 percent. Growth rates in both hardware and software continued to accelerate. Given the dismal economic environment, this performance is indeed astounding.

The first graph below shows the cumulative percentage changes in sales for each month this year. In total, January sales fell below the same month last year, but the percentage went into positive territory in February and has stayed there since.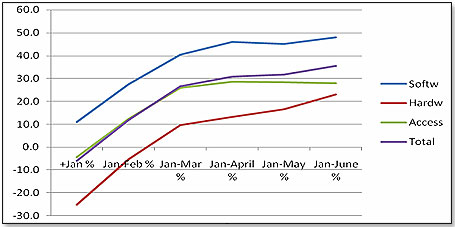 In terms of hardware units, the graph below shows us that the total growth is still accelerating at a steady rate. Of individual consoles, the Sony PS2 has clearly been in negative territory since January. All other consoles are showing growth over last year but at a declining rate as far as Sony's PSP and Microsoft's Xbox 360 are concerned. The Nintendo Wii appears to be flattening out, but the PS3 is still sharply accelerating.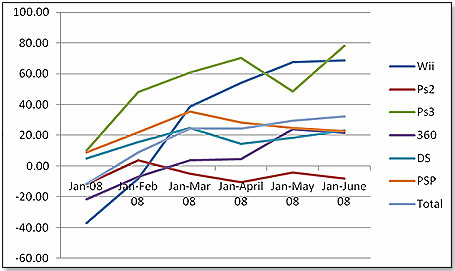 In terms of total units sold for the first six months of this year, the Wii is clearly the leader now, followed closely by the DS: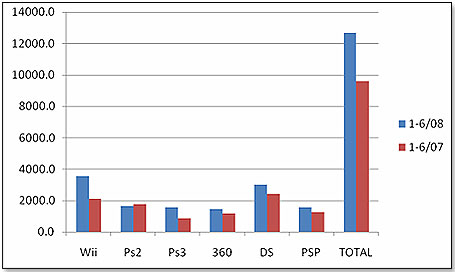 It has been Nintendo's avowed intention all along to break down the divide between hardcore players and those just dipping their toe into the water. This divide still exists but is starting to blur. Up to five years ago, up to 90 percent of gamers were young men, between 18 and 34 years old. Now, it is nearer 60 percent.

Just like Microsoft, Electronic Arts and Ubisoft have begun to focus on the potential of mass-market games, or casual games, as they are widely called. EA insiders believe this game category is likely to grow in the next five years to more than 50 percent of all the games played — leaving the traditional core games in the minority.

Demographic data suggest that Nintendo is the one company perfectly situated to take advantage of this structural shift in the games marketplace. The Wii has carved out a very strong position among the 17-and-under crowd, females, the affluent and the better-educated. This is really where you want to be with a technical entertainment product that not only requires a reasonably large investment but also depends on its consumers to buy fairly expensive software in regular intervals. At the same time, the Wii manages to be very competitive toward the other two consoles in the remaining profile categories.
Catalog Request Form

Writer's Bio:
Lutz Muller is a Swiss who has lived on five continents. In the United States, he was the CEO for four manufacturing companies, including two in the toy industry. Since 2002, he has provided competitive intelligence on the toy and video game market to manufacturers and financial institutions coast-to-coast. He gets his information from his retailer panel, from big-box buyers and his many friends in the industry. If anything happens, he is usually the first to know. Read more on his website at www.klosterstrading.com.
Read more articles by this author
THIS BANNER IS AN AD:
---
---