---
Retailer Spotlight: The Lollipop Shop
Franchise-Friendly Store Boasts Toys and More
"The cost to enter a franchise with the Lollipop Shop would be one-third of the cost for a similar, much larger franchise." — Jeff Gurley, The Lollipop Shop

Some people, like Jeff Gurley, are able to turn life's misfortunes into blessings. He took the loss of his job with a dot-com company in 2000 and turned it into a fun (and tasty) adventure,

TD

monthly Magazine learned.

DOT-COM FLOP PROMPTS ENLIGHTENING WALK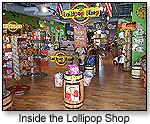 "The company went bankrupt and they closed. We were escorted to the door with police officers," Jeff explained. "That probably left a bad taste in my mouth as far as having the enthusiasm to go out and try to find another job."

Jeff had no desire to move and realized he might not get the same type of job again. But instead of searching, he walked the town.

"It was a four- to six-month process," he said, during which he considered "what it would be like to be walking around Jonesborough [Tenn.] as a child — what would I be attracted to. That's basically the market research I did. … The one thing that was missing is the one thing in this country that will attract a wider audience than most retail businesses … candy and toys."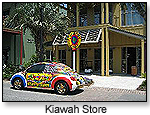 Jeff and his wife, Candy, now own The Lollipop Shop, with locations in Jonesborough and Kiawah Island, S.C.

FROM KIOSK TO FRANCHISE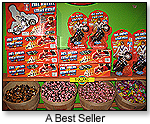 They started with a kiosk at the local mall during Christmas, and then combined that investment with their savings, and opened a 700-square-foot, free-standing store in March 2001.

"It was less expensive as opposed to malls and conventional shopping centers. But … there's also a lack of people during a good portion of the year," Jeff told

TD

monthly. "The most important thing we learned was patience. We listened [to] and observed customers."

Small-town approval also required patience.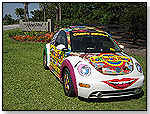 "People have a vision of what their town should be, and not everybody agreed that a candy and toy store was a good fit. That was voiced to us several times," Jeff explained.

In the end, the Gurleys proved that their store was, indeed, a good fit for Jonesborough. Two years later they moved to a 3,200-square-foot store in the next block, after Jeff met with the owner of the building four times, convincing him the venture would work.

"During our seven years in this part of town, 30 businesses have come and gone," he said.


But Lollipop's business is steady and growing. The Gurleys opened a second store in Kiawah Island, S.C., in March 2007, and two franchises — The Lollipop Shop of the Smokies (Sevierville, Tenn.) and The Lollipop Shop of Lake Chatuge (Hiawassee, Ga.) opened this summer.

"As of January 2008, we can now offer the concept as a franchise," Jeff told

TD

monthly. "When you look at candy stores and toy stores [in the United States], I believe we've hit a niche in combining the two. The cost to enter a franchise with the Lollipop Shop would be one-third of the cost for a similar, much larger franchise."

KEEPING BUSINESS SWEET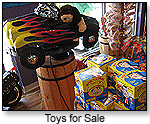 The Lollipop Shop stores carry nostalgic candy, such as wax lips, Razzles and candy cigarettes, as well as interactive toys. See the store's best sellers here.

"I don't want somebody to come into my store, go to the displays, pick something [up] … and bring it to the counter to pay," he said. "I want them to touch it and feel it, play with it, interact with it. Then maybe they'll buy two."

But before that happens, how do the Gurleys get customers into the store?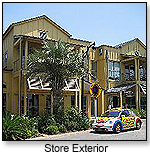 Jeff noted that early experimentation with traditional advertisements, such as newspaper and television, proved ineffective. So three years ago, the couple "wrapped" their cars, a Volkswagen Beetle and a Dodge Magnum, into "Candy Mobiles" for a one-time cost of $2,500. The cars attract attention and help people recognize the brand.

"That has been a very good investment," Jeff told

TD

monthly. "I don't have to take out a check every month and buy advertising. I just have to go someplace."

"The great thing about this country," he continued, "is that somebody could sell dirty socks if they were packaged well. … I believe, ultimately, it's [a matter of] finding your niche and knowing what you're good at."

Writer's Bio:
Brenda Ruggiero is a freelance writer from western Maryland.
Read more articles by this author
THIS BANNER IS AN AD:
---
---