---
Warm Whiskers Get Warm Welcome From Reviewers
Plush Designs are a Hit for Style and Practicality
"What a brilliant toy! Your child's best friend can also be used as an ice pack or heating pad!" — Teresa Wilson

Lavender-scented and buckwheat-filled, Warm Whiskers aren't typical stuffed animals,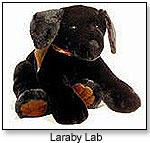 TD

monthly Magazine's Homeschool Roundtable discovered. They can be heated in the microwave or chilled in the freezer to act as a warm or cool compress for an injury or ache. The plush designs combined with the practical uses won rave reviews.





Warm Whiskers Polar Bear Buddy Body Pillow and Laraby Lab Body Pillow by WARM WHISKERS
Age: 3 and Up
Gender: Boys and Girls
Category: Plush
MSRP: $34.00 (Polar Bear Buddy); $39.00 (Laraby Lab)



TD

monthly rating: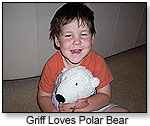 What It Is: Each body pillow looks like an adorable stuffed animal, but can be frozen or heated to act as a compress. Scented with lavender and filled with buckwheat, Laraby Lab and Polar Bear Buddy can also serve as sleep aids.

What the Moms Thought: "What a brilliant toy!" Wilson raved. "Your child's best friend can also be used as an ice pack or heating pad!"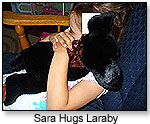 "I'm thrilled to have stuffed animals filled with buckwheat and flax seed, as opposed to mystery poly-chemical blends," Dawson commented. Christensen "liked the look, smell, softness and malleability of Laraby Lab." Wilson appreciated the emotional comfort the animal design brings while simultaneously able to deliver physical comfort — making it a "must-have" item.

"The organza drawstring bag the polar bear arrived in gave it a look of luxury," Ledford said. She liked the scent, design and warming/cooling capacity as well as the size and weight of the body pillow: "large enough to cover a sprain or upset stomach, but not so large a child cannot sit comfortably with it or carry it around."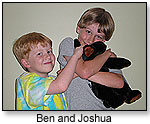 "The warmth and coolness aren't as intense as holding ice or a heating pad to a squirming youngster," Zuidema said. The body pillows also appealed to older kids and adults, including Zuidema's husband, who soothed an elbow injury with Polar Bear Buddy.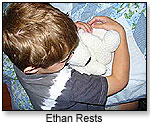 What the Kids Thought: "It was a love fest from the moment we opened the box," said Dawson, noting that Ethan (9) and Sara (7) liked the scent and designs of both animals. They also liked freezing their body pillows and snuggling with them on warm summer nights. Zuidema reported that "[Alyssa (8)] liked the lingering scent and the gentle warmth the bear provided, and the frozen bear didn't really freeze her or leave cold water running down her skin."

Joshua (10) liked "that he's nice and warm and cozy, and that his scent helps stomach aches." Timothy (15), Joshua (10), Ben (7), and Joe (8) didn't care for the smell of the heated body pillow. But Victoria (13) said, "I love the smell!"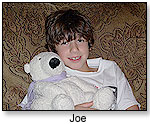 Joe (8) liked the other animal designs on the website. "It's cool that he can be heated or frozen," he said. Victoria (13) "liked the ability to heat or freeze the Polar Bear Buddy, depending on what sort of comfort is needed."

"Totally endearing," Elise (9) told her mom. She liked that her body pillow is "soft and comfortable to sleep with," Wilson said. Alyssa (8) also liked sleeping with her bear and "was happy that she didn't have to use it only when wounded," Zuidema noted.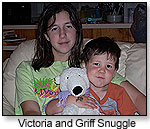 What the Kids Learned From This Toy: Ethan (9) and Sara (7) learned about the calming effects of lavender. "After several days, Ethan told me that the scent did indeed help him go to sleep," remarked Dawson. "We saw the positive effects of aromatherapy as the lavender scent helped Griff (2) go to sleep every night," Ledford noted.

How to Improve It: Ethan (9) and Sara (7) couldn't bring themselves to heat their beloved body pillows in the microwave, leaving Dawson to suggest that if there were a way to remove the buckwheat filling to heat and then return it to the body pillow, her children would be more accepting of it. "It just didn't feel like something we should be doing, and we wondered whether children who observed their parents preparing the bear for use would get ideas for small pets," said Zuidema, who suggested a warning label on the pillow.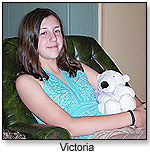 "A toy that is going to be used by children, particularly children who might not be feeling well, must be completely machine washable, in my opinion," Christensen pointed out.

Joshua (10) and Ben (7) found the scent too strong upon heating. "Joe (8) would like to see different scents available since he doesn't care for lavender," Ledford said. Wilson had difficulty finding an appropriately sized plastic bag to freeze the body pillows, and recommended the company include one with each product.

Would You Want Another Toy Like This? "Had I known about any of the products from Warm Whiskers, I would definitely have bought one for Griff (2) when he was younger," Ledford said.

Roundtable participants are Sue Christensen with Mac (14), Kent (13), Joshua (10) and Ben (6); former corporate accountant Robbin Dawson with Ethan (9) and Sara (7); Susan Ledford, editor of the "Homeschool Resources Directory for SC," with Victoria (13), Joe (8) and Griffin (2); Teresa Wilson, editor of "HOMES Newsletter," with Timothy (15), Andrew (12), Elise (9) and Steven (7);and Jill Zuidema, former retail manager, with Alyssa (8).

Writer's Bio:
Susan Ledford is the writer, editor and publisher of the "Homeschool Resources Directory for S.C." She has been evaluating toys and games for
TDmonthly
's Roundtable reviews since 2005. She also is a homeschool veteran of seven years.
Read more articles by this author
THIS BANNER IS AN AD:
---
---