---
Girls Give Language Littles Doll an "A" in French
Talking Doll Encourages Foreign Language Skills
"My children want more of these dolls." — Mildred Tong, mother

TD

monthly Magazine's Dolls Roundtable participants recently reviewed Language Littles' French doll, Jolie. While the two storeowners had several suggestions for improvement, the girls were intrigued by Jolie and enjoyed trying out another language.

The doll is part of a line of talking cloth dolls based on young girls from countries around the world. Equipped with a voice box that speaks both English and its native language, each doll features yarn hair and is dressed in a fashion representative of its country of origin. Each Language Littles doll comes with a book listing the words and phrases spoken by the doll in its native language and English, so that the child can read along.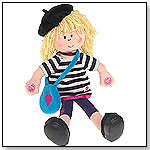 Language Littles - Jolie by LANGUAGE LITTLES
Age: 3 and Up
Gender: Girls
Category: Plush
MSRP: $39.99



TD

monthly rating:


PACKAGING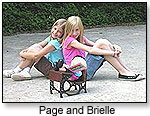 Mandt, Hobbs and Shockley liked the packaging because it showed the entire body of the doll and displayed pictures of other dolls in the series. "The box could be easily wrapped as a gift," said all three.

PLAYABILITY

"The yarn hair looks great," Thomas said. Paige (7) also liked the hair, and her grandmother Ruth noted that the girls love to sleep with Jolie (the soft-cloth body makes this possible, she explained). Brielle (10) and Rose (7) loved her outfit. All the participants thought the doll would be a great birthday or holiday gift. Liz (12) and Rose (7) loved playing with the doll, noted Thomas.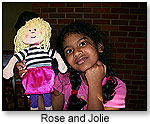 "My children want more of these dolls and I am considering buying the Chinese and Greek ones," said Tong. Thomas and Mandt also indicated that they would also purchase other dolls in this series.

EDUCATIONAL VALUE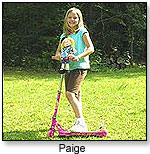 Several participants appreciated the interest sparked in another language by the Language Littles dolls. Tong said, "We are interested in learning another language, and this doll is a great way to learn." She added that the book "helps us understand what the doll is saying in French." Mandt commented, "The doll stimulates a child to want to learn another language and it is up to the parent from there." Thomas said her children liked trying to talk with the doll in her language.

"I think it is very educational to have dolls of different ethnicities, because it makes a child want to learn about children from other countries and about that country," Mandt said. Davis commented on possible school use of the doll. "There are so many ethnic groups in the average classroom today that I think a teacher could use these dolls as an aid to teach the differences and similarities of each country and to better unite the class," she explained.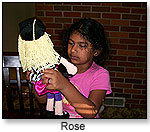 IMPROVEMENTS

Retailers Hobbs and Shockley thought the concept of the doll good but were disappointed in the doll itself. Both said the voice box was not loud enough, was scratchy and featured poor pronunciation. The doll was not designed so that a child could play with it on its own, but would have to have continuous explanation by a parent or teacher, they concluded.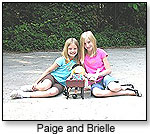 "The body and hair make the doll look like it is intended for a very young child, but the book and language are hard to understand, and only an older child would take time or be able to research the language or country on the Internet or at the library," Hobbs pointed out. "I don't think a parent that played with the doll before purchasing it would buy it. There are many international dolls that better represent their countries," Shockley said.

Roundtable participants were: Ruth Mandt with her granddaughters, Paige (7) and Brielle (10); Geena Thomas with her daughters, Liz (12) and Rose (7); Mildred Tong with her daughters, Alyssa (9) and Lexi (4); retailers Kim Hobbs from Hobbs House of Dolls and Colette Shockley from The Littlest Princess; and doll collector, Virginia Davis.

Writer's Bio:
Virginia Davis is a freelance writer who is considered an expert in the area of dolls and collectibles. She has written hundreds of articles on dolls and toys, as well as other subjects, for numerous publications. She lives in Georgia.
Read more articles by this author
THIS BANNER IS AN AD:
---
---