Bringing Action Figures To A Whole New Level
A new line of action figures from Hasbro, XEVOZ, enables kids to build, customize, and then battle, within a dynamic, multi-level game. XEVOZ parts are totally interchangeable and offer millions of combinations, each with its own special powers and abilities, thanks to the interchangeable ball and socket system. After building their unique XEVOZ warrior, players can use the battle system to take on their friends-rolling the BATTLE HELIX (the game´s re-configurable die) and demolish their opponent´s figure part by part. Action Figures will be offered in Basic Battle Kit Assortments ($6.99); Master Modifier Assortments ($9.99); and Battle Attack 2-Packs ($14.99).

Playmates Toys Makes It Big With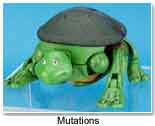 Turtles
The Teenage Mutant Ninja Turtles dominate the boys category, with over 40 new Basic figures, as well as a wide array of additional and innovative products, including new figures, vehicles, plush, youth electronics and role play toys. Highlighting the line is the introduction of Mutations, deluxe figures that transform from Pet Turtle into Teenage Mutant Ninja Turtle. The new Ninja Action Figures perform real spring-action martial arts moves and come with their own weapons and backdrops.
Also new from Playmates Toys are Speedeez, the fastest micro vehicle brand on the market to-date. A sleek and modern black Hummer H2 will be added to the line this year. The company will also be introducing all new Simpson collectible figures and playset environments. The toys will contain Playmates patented Intelli-Tronic technology that allows each character to talk when placed on a compatible interactive environment.
CDC Snowboarding Action Figures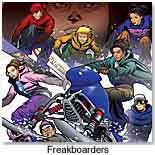 CDC has created a highly articulated line of snowboarding action figures called Freakboarders ($9.99). Each of the seven figures was designed after an actual existing person and has its own unique and wild appeal. The 3.8 inch tall figures have 12 bendable joints capable of being maneuvered in the ways that professional snowboarders move when performing tricks out on the slopes. Each figure comes complete with a video CD containing various styles of popular music, a computer game, a three dimensional animation clip, a jump/slide ramp, as well as a pack of stickers. Freakboarders are manufactured as limited editions of only 5,000 units per character and are bound to become collector's items.
Doh! The Simpsons Action Figures
This spring, master licensee Playmates will introduce two new and interactive Simpsons products to the toy market. The first of these is a World of Springfield Figure Assortment, which includes various Simpsons characters such as Benjamin, Gary, Doug, Evil Homer, Brainfreeze Bart and others. These 5" tall figures can be placed on top of the second product—the World of Springfield Town Square Environment ($19.99)—a recreation of the Town Square as it appears on the Simpsons TV show. Once a figure is placed on The Springfield Town Square Environment, it plays audio clips of random phrases exclusive to that particular Simpsons' character.
Hellboy's In Town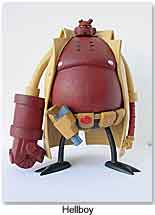 Dark Horse is debuting in March a new collectible action figure based on Mike Mignola's Hellboy comic book character. Created by Eric So, the 13" character will include Hellboy's trench coat and utility belt, as well as other accessories. Each figure comes with a certificate of authenticity, signed by Eric So and Mike Mignola.
Also from Dark Horse, and set to launch in conjunction with the theatrical release of Revolution Studios' production of Hellboy, are two boxed sets of PVC figures (3.5") based on the characters as they appear in the film. One set features the "good guys" (Hellboy, Liz Sheridan, and Abe) and the other features the "bad guys" (Grigori/Rasputin, Kroenen and Sammael).
Shockinis: A New Breed of Action Figures
They're small but tough. Shockinis, a new fully pose able action figure from Shocker Toys (ToyDirectory), are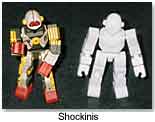 bound to be the talk of the town. Based on a character from the soon-to-debut Skocker Toys American Manga magazine. The all-white action figures are totally customizable, which allows collectors and kids alike to adorn and change the looks of the figures. The figures are set to dedut in three versions of the Ape-X robot, the first in a line up of 150 different robots. Also new are the Shoulder Action Figures, the only ride along action figure known to date, with cool sculpts and paint jobs that come with a base, decals and a harness for kids to pull.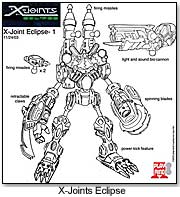 X Equals Fun
Continuing its "build and destroy" line, Geospace International is planning the release of a second line of X-Joints called X-Joints™ Eclipse. The Eclipse series "will represent the primal and savage characters of the series," according to Geospace Intl., and will feature glow-in-the-dark ball joints and colors suitable for "hunters of the night." All X-Joints can be disassembled and put back together in hundreds of combinations with other figures in the line.
Odyssey Toys Unveils Collectable Historic Figures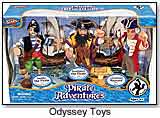 Odyssey Toys' new Three-Packs feature three of the company's popular pose-able World Stars figures packaged in historical themes, such as Space Heroes, Medieval Knights and American Patriots. Each figure has authentic sewn clothing, removable hats, flags, swords, maps and other cool accessories. The Three-Packs also contain biographical information on each character, making collecting fun and educational.
Dragon Models Unleashes a Series of Small-Scale Action Figures

Dragon's new Timeline 1:6 scale action figures embody the company's characteristic attention to detail. All the main characters from the movie are represented: Andre Marek, Kate Ericson, Chris Johnston, De Kere and Lord Arnaut, complete with clothing and weapons modeled after the actual movie props.
Just released in December 2003, Sepp Keifer and "Anna" come loaded with new equipment, such as Sepp's accurately recreated Feldfernsprecher 33 field telephone and Anna's M43 Gymnastiorka Tunic and Greatcoat. Both figures come with too many accessories to list here, but if you're familiar with Dragon military figures; you would expect no less.
Also new is a figure in the Operation Iraqi Freedom series that is so loaded with authentic equipment, you half expect to get a debriefing upon purchase. The Walt figure features the USMC Full Spectrum Battle Equipment, designed for the Maritime Special Purpose Force, Marine Expeditionary Units, and Walt—Force Recon. Also included is the Modular Integrated Communications Helmet (MICH).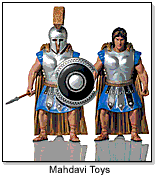 Mahdavi Toys Gets Into the Action
Mahdavi Toys (ToyShow) is scheduled to launch a line of educational action figures called Trojan Legends, based on the heroes of the Trojan War. Kids will enjoy playing with these life-like figures, which come dressed in authentic attire. The figures, which include Achilles, Odysseus, Hector and Aeneas, will be launched in conjunction with the Warner Bros. Major motion picture epic Troy, starring Brad Pitt as Achilles. Additionally, a video game produced by Mahdavi Toys will be launched immediately preceding the release of the movie.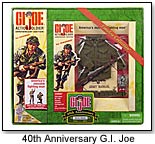 G.I. Joe Brand Introduces Special Edition Figures to Mark 40th Anniversary
2004 marks the 40th anniversary of the G.I. Joe brand, and to celebrate this occasion, Hasbro is releasing a line of special edition figures. The preview collection includes authentic reproductions of the original four G.I. Joe figures launched in 1964, one for each branch of the military. The line will feature the same outfits, packaging and accessory sets as originally released.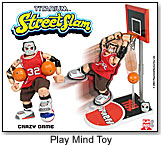 Play Mind Toys´ New Titanium Line is a Slam Dunk
Play Mind Toys/Geospace International is scheduled to launch the next figure line of Titanium action figures in the spring of 2004. This four figure, 6-inch lineup, called Street Slam, features the figures in various "street ball" poses and attire. The Titaniums´ signature 32-point articulation feature allows for countless b-ball dunks and aerial poses, thanks to trick sticks-clear pegs that allow for realistic, hands-free posing on the playground-inspired bases that accompany each figure. Street Slam is comprised of: Crazy Game, Moppa, Gold Rush and Pork Chop. Each tattooed figure is clothed in removable, cloth jerseys.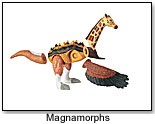 K&M International Builds on Wild Explorers Brand
K&M International introduces the Magna Morphs, a premier line of animal and adventure-related toys as part of its Wild Explorers brand. This innovative line of animals come with magnetic body parts that are interchangeable. Children can test their creativity by morphing different animal parts to invent their own unique species. The Magna Morphs product line includes 15 animals in themes such as Aquatic, African and Rainforest.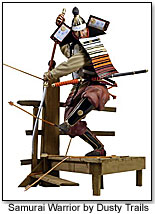 Dusty Trail Toys unveils 2004 line of 6-inch collectible action figures
Ready to debut at February´s Toy Fair, Dusty Trails´ (ToyDirectory, ToyShow) new line carries on the company´s tradition of creating highly detailed historic military and mythic figures. The Samurai Warrior is based on the historical figure "The Arrow Cutter," and there's also Sgt. Stryker, WWII USMC (1945 Okinawa), an old west US Marshall, 22 British SAS (with picture of Osama Bin Laden in hotel window, or if you prefer, Sadam Hussein or a generic terrorist.), Sgt. Ramirez, 1st MEU, Iraqi Freedom (on the bridge in ), SSG Rollins, 3rd ID, Iraqi Freedom (with Sadam mural).
The Paras line offers detailed parachute soldiers with working, non-tangling parachutes, including a WWII US Paratrooper, WWII British Paratrooper, WWII German Paratrooper, Modern US Navy Seal Airborne, Modern US Army 82nd Airborne, Modern US Army HALO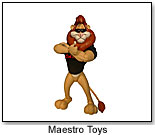 MAESTRO Toys Produces New Line of Action Figures
MAESTRO toys has partnered with D.A.R.E. America (Drug Abuse Resistance Education) to produce a new line of action figures of D.A.R.E. America´s street-smart mascot, DAREN®-the-Lion. The first series consists of two 7"action figures; "Graduation DAREN" complete with Cap and Diploma and "Cool DAREN" wearing sunglasses and a "thumbs-up" to show pride for saying "no" to drugs and violence.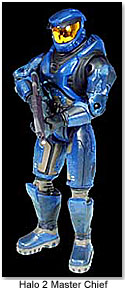 JoyRide Studios Action Figures
New figures based on Halo 2, the bast-selling sci-fi action adventure game, is scheduled to be released by RC2 Corporation (ToyDirectory) in conjunction with the highly anticipated release of the Xbox games Halo 2. The combined release of this successful video game franchise and the highly detailed and fully-articulated exclusive figures offer an opportunity to maximize the retail potential of this popular license.